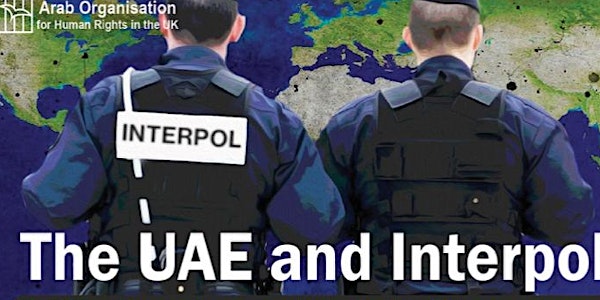 The UAE and Interpol: Politics, procedures and lack of Transparency
Event Information
Location
Holiday Inn London Regent's Park
Carburton Street
Room : Somerville
London
W1W 5EE
United Kingdom
Description
event has been moved to another date and venue sorry for any inconveniance
The UAE and Interpol: Politics, procedures and lack of Transparency
Arab Organisation for Human Rights in the UK invitesyou to attend a panel discussion on the use of the International Police Organization (Interpol) by the UAE for political purposes and objectives that violate the fundamental principles of the Organisation.
Leading international criminal and human rights lawyers, experts and campaigners will discuss the relation between INTERPOL and the UAE, its effects in the present and future.
Speakers:
Rhys Davies – Barrister (Chair)
Rhys has a broad common law practice, across the spectrum of chambers' work, with a particular emphasis in personal injury and motor insurance fraud litigation.
Ben Keith – Barrister
Ben is a barrister specialising in Extradition, Immigration, Serious Fraud, Human Rights and Public law. He has extensive experience of appellate proceeding before the Administrative and Divisional Courts, as well as applications and appeals to the European Court of Human Rights (ECHR).
Mark Hambling – Barrister
Mark is a member of the Bar of England and Wales and prior to qualifying as a Barrister, Mark was the Deputy Head of Interpol UK, and a senior investigative officer for NCIS/UK Law Enforcement, dealing with high profile and complex crime. Mark is an associate member of Guernica 37 International Justice Chambers.
Malcolm Hawkes – Barrister
Malcom has extensive experience in extradition and international law. He has defended in cases brought by EU countries, as well as Albania, Australia, Azerbaijan, Canada, Russia, Ukraine and the USA. He attracts instructions in grave and complex matters, ranging from alleged terrorism, to murder and international conspiracies.
Toby Cadman – Barrister
Toby is an international law specialist and co-founder of Guernica 37 International Justice Chambers. He has extensive experience in the fields of public international law, war crimes, human rights, terrorism and extradition law.
Conference Summary
INTERPOL, as much as it is essential in seeking to combat global crime and terrorism, has been subject to stark criticism over recent years, given the manner in which its system of 'Red Notice' and 'Diffusion Notice', have been subjected to manipulation by those who seek to target political and ideological enemies e.g. the Government of Egypt pursuing political opponents.
The risk of manipulation is now arguably even greater, given the announcement in March 2017 that it had accepted a contribution of €50 million, from the UAE, a state renown for its lack of respect for human rights, its willingness to ignore fundamental freedoms, and its penchant for pursuing political opponents or detractors through a domestic court system that has in effect been weaponised so as to become a further arm of state oppression.
It is accepted that the donation was made to INTERPOL's 'Foundation for a Safer World', an organisation that is described as being at 'arms-length' from INTERPOL's core functions, however, the fact remains it is still part of INTERPOL and thus it cannot be free from inference.
It is appropriate to consider its funding structure, and whether there is potential for manipulation or an inference of the same.
Further, INTERPOL's systems of Red and Diffusion notices are also worthy of scrutiny given the criticisms already made, and whether there needs to be an overhaul.
Date and time
Location
Holiday Inn London Regent's Park
Carburton Street
Room : Somerville
London
W1W 5EE
United Kingdom