Description
Do you want to unlock greater sales success, revenue and growth ?
Book Now For Our Intensive Sales Growth Training Event In Newcastle in November
Let me help you unlock your sales potential with Salestrong Bitesize. I am proud to be bringing my popular Bitesize training to Newcastle.
Watch the video here - What is Salestrong Bitesize ? to see why Salestrong Bitesize is the UK's most effective sales training and our testimonials at the bottom of the page.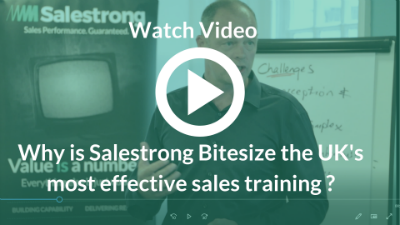 Watch the video - Click here - What is Salestrong Bitesize ?
Over the past 20yrs I have trained over 10,000 sales people from major corporates such as NFU, Worldpay and Pfizer to small sales teams of two people, driving a 48% increase in sales revenue in some companies.
Make sure you grab your Early Bird Discount Below
I have condensed my knowledge into my high impact Bitesize training day, a fast paced day of powerful 90 minute group sessions which are proven to supercharge your sales skills and grow your revenue.
The four 90 minute sessions focus on these four essential sales skills:
Emotional Intelligence - The Holy Grail Of Sales Success
Emotional Intelligence, or EQ, is the holy grail that salespeople need to develop if they are to succeed in today's buyer/seller environment. In this session you will understand your own preferred social style, how to understand the buyers social style and how to use this knowledge to collaborate more effectively with buyers for mutual gain.
Selling Value - Stop Offering Discounts - Learn How To Create & Quantify Value
People don't buy products, they buy the results the product will give them. Many sales people know this and yet the majority still end up discounting their products or feeling beaten up on price. We have created a method for creating and quantifying value with the customer, to the extent that sales people who use it are delivering significant increases in their own revenue and margin and positively impacting customers at the same time. In this session you will learn the different types of value, a process for working with the customer to quantify the value you can bring for them and the tools to communicate this value successfully.
Negotiation Skills - How To Create The Strongest Negotiation Position
Negotiation starts earlier in the customer's purchasing process than most sales professionals realise and by the time they do understand that, it is often too late to negotiate on value and all they are left with is price. In this session, you will learn how to use the BARTER framework to strengthen a negotiation position by communicating the differentiated value you can bring and understand different negotiation profiles and how to collaborate effectively with the customer for better outcomes.
Psychology of Influence - The 7 Secrets Of Sales Influence
In our opinion, the key role of the salesperson is to positively influence a customer to make a favourable decision and typically buyers are focused on both the rational and emotional part of their decision. Many sales people will state that "people buy from people (they like)" and yet do not explore the psychology that underpins our ability to build rapport and increase the chances of influencing for a favourable decision. In this session you will learn 7 ethical and costless secrets from the science of influence and how to apply them in your own sales situations. These 7 secrets will support you in all aspects of the sales process from initial introduction through to the final pitch and negotiation.
Here are what Bitesize attendees think

I look forward to meeting you in Newcastle and helping you to unlock more sales growth and revenue. Please make sure you grab the Early Bird discounts while there are some left.

See you there,
Steve Bussey
Founder - Salestrong
Your Sales Growth. Guaranteed