Description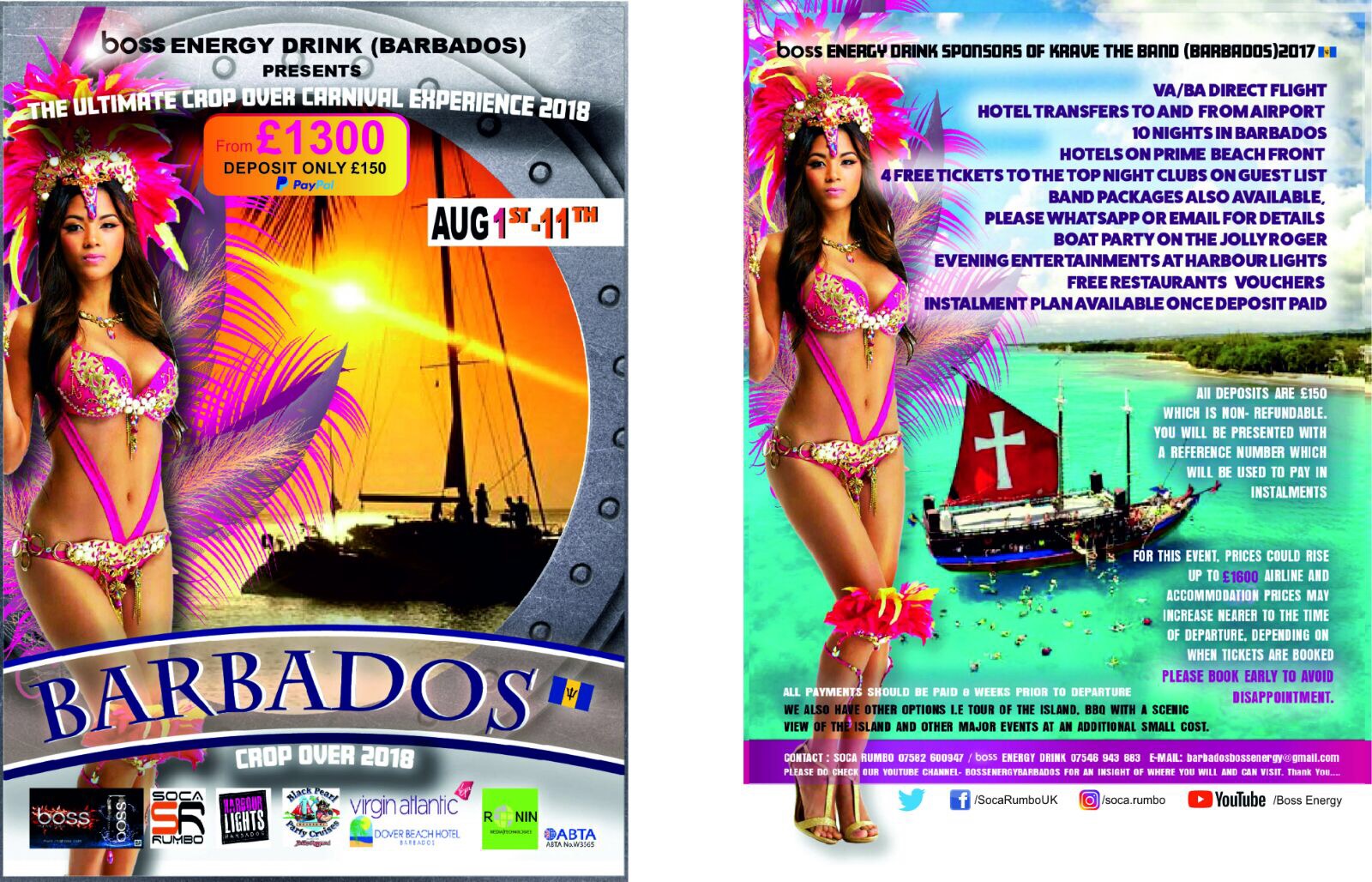 BOSS ENERGY DRINK (BARBADOS) PRESENTS THE ULTIMATE CROP OVER CARNIVAL EXPERIENCE 2018
- OUR PACKAGE INCLUDES VA/BA DIRECT FLIGHTS
- HOTEL TRANSFER TO AND FROM AIRPORT
- 10 AMAZING NIGHTS IN BARBADOS
- HOTELS ON PRIME BEACH FRONT ON DOVER BEACH IT SELF
- 4 FREE TICKETS TO THE TOP NIGHT CLUBS WHICH INCLUDES EVENING ENTERTAINMENTS AT HARBOUR LIGHTS
- FREE RESTAURANTS VOUCHERS WHERE YOU WILL EITHER GET A PERCENTAGE OR BUY ONE GET ONE FREE MEALS
- INSTALMENT PLANS AVAILABLE ONCE DEPOSIT PAID (DEPOSITS NON-REFUNDABLE)
WE ALSO HAVE OTHER OPTIONS, INCLUDING BAND PACKAGES, TOUR OF THE ISLAND, BBQ WITH A SCENIC VIEW, COOLER FETE, MAJOR LIVE SHOWS ONCE CONFIRMED IN BARBADOS, AND MUCH MUCH MORE FOR AN EXTRA CHARGE.
BOSS ENERGY DRINK SPONSORS A LOT OF THE MAJOR MUSIC EVENTS IN BARBADOS, INCLUDING KRAVE THE BAND ON THE LAST CROP OVER 2017.
SO LOOK OUT FOR BOSS ENERGY DRINK NEXT CROP OVER 2018
WE CAN ALSO CHANGE THE PACKAGES SLIGHTLY TO SUITE FAMILYS WISHING TO VISIT BARBADOS, INFO TO CONTACT US IS BELOW.
PLEASE CHECK SOCA RUMBO LIKE PAGE FOR MORE INFO OF EVENTS CONFIRMED IN BIM
THE PRICE FOR THIS EVENT IS BETWEEN £1300 - £1600, PRICES WILL RISE TIME TO TIME, DUE TO CONFIRMED BOOKINGS.
PLEASE CONTACT US BEFORE YOU PAY THE DEPOSIT TO GET THE LATEST PRICE.
DONT GET LEFT BEHIND....BOOK WITH US FOR AN AMAZING ULTIMATE CROP OVER 2018.
ABTA & ATOL PROTECTED
TEL:07582 600 947 / 07546 943 883
EMAIL: barbadosbossenergy@gmail.com