THE ULTIMATE RESILIENCE BLUEPRINT! BOUNCE BACK STRONGER IN 10 WEEKS.
About this Event
JOIN OUR ULTIMATE RESILIENCE BLUEPRINT FROM 24TH NOVEMBER 2020! 
This is a 10-week intensive resilience program that will enable you/ your staff to bounce back stronger and more resilient in just 10 weeks!
ONLY £199.99!
We live in such unprecedented times when resilience is a crucial and non-negotiable attribute we must all have and exhibit in our daily lives.
It is almost the norm to be pessimistic and constantly exposed to periods of violence, uncertainty, and hopelessness; which make us often vulnerable, distressed, and fearful. The result is an ever-increasing rate of stress, depression/ stress-related mental disorders, suicidal attempts, and suicides.
Many are hurting and full of resentment towards themselves and others; while others are tossed forward and backward by society/ the media—without any sense of direction and purpose! They seemed to have lost total control of their lives and being, and let their everyday life events/ society/ the media shape and determine which way their lives go.
Consequently, The Ultimate Resilience Blueprint is a timeless and Revolutionary Resilience Program ( derived from the author's bestseller, Seven Powerful Strategies for Overcoming Life Challenges) designed to build mental resilience, provide clarity/ guidance, and assurance of new hope and life...while encouraging you to be steadfast and never give up—in the face of life storms/challenges and uncertainty.
This program is revolutionizing the wellbeing industry and has seen many come out of depression by applying the principles laid out in the book/ workbook, in addition to the mentorship of the author. It is one of the most practical and contemporary manuals and resource workbook/programs on resilience, full of powerful life-changing strategies and examples to empower and enable you to cope better with life challenges and uncertainties. It reveals vital keys and strategies that you could readily incorporate into your life, and that will enable you to take complete control of your life, become more resilient, and experience a healthier and fulfilled lifestyle—irrespective of what goes on around you or in the world.
With covid-19 and the current crises affecting a lot of companies, academic institutions, senior managers/ CEOs, youths, etc. we are now bringing this cutting-edge program to senior managers, organisations, institutions, etc.Enrolling your staff/ team in this program is a significant investment in your/ their well-being, success, and personal significance/ performance. The benefits of learning and applying the timeless strategies taught through this program are life-lasting, long-lasting and span across a single generation.
Contact us today to deliver this program to your senior management team, staff, school, university, and/ or organization.
We could also train a member of staff and supply all materials, including workbooks, Powerpoint slides and audio through our "TRAIN THE TRAINER PROGRAM".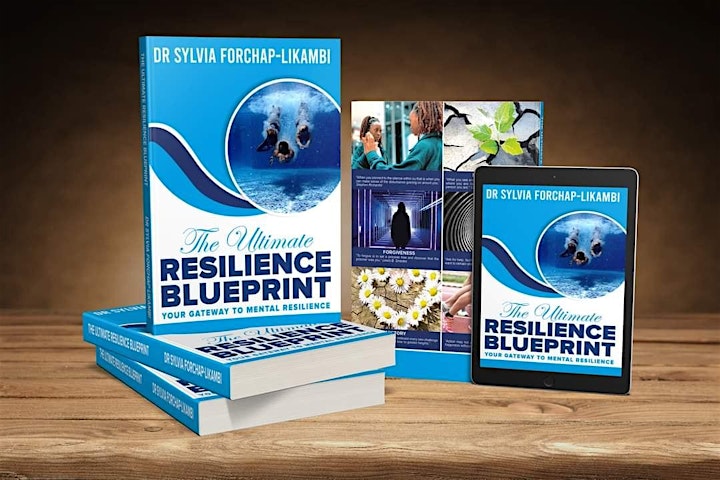 BOUNCE BACK STRONGER IN 10 WEEKS!
This is a 10-week intensive resilience program that will enable you/ your staff to bounce back stronger and more resilient in just 10 weeks.
We will cover the themes outlined below.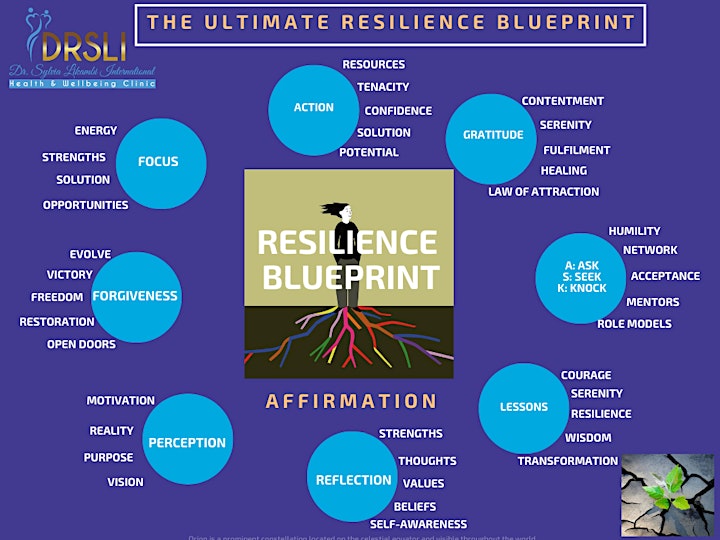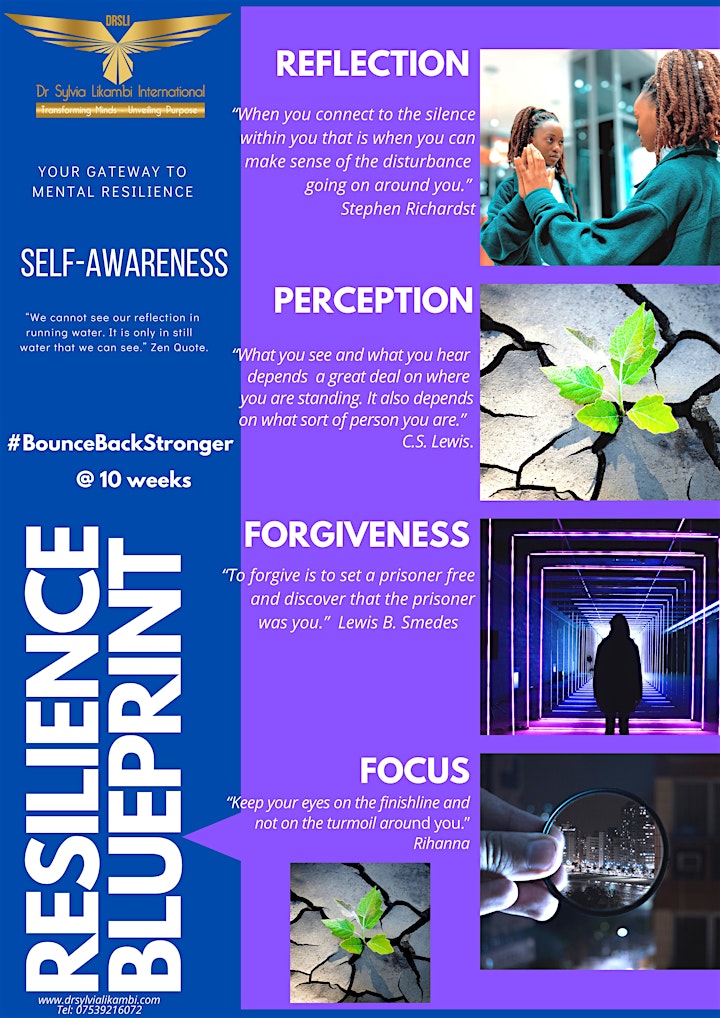 WEEK ONE - SELF-AWARENESS
"We cannot see our reflection in running water. It is only in still water that we can see." Zen Quote
WEEK TWO - THE POWER OF REFLECTION
"Be still ... Taking some time to look within and reflect... There is greatness and power within you to overcome every challenge you are facing right now." Dr Sylvia Forchap-Likambi
"When you connect to the silence within you, that is when you can make sense of the disturbance going on around you." Stephen Richards
WEEK THREE - THE POWER OF PERCEPTION
"What you see and what you hear depends a great deal on where you are standing. It also depends on what sort of person you are." C.S Lewis
WEEK FOUR - THE POWER OF FORGIVENESS
"To forgive is to set a prisoner free and discover that the prisoner was you."
Lewis B. Smedes
WEEK FIVE - THE POWER OF FOCUS
"Keep your eyes on the finish line and not on the turmoil around you"
Rihanna
WEEK SIX - THE POWER OF ACTION
"Action may not always bring happiness, but there is no happiness without action." Benjamin Disraeli
WEEK SEVEN - THE POWER OF GRATITUDE
"Never let a day go by without looking for at least one thing in your life to be happy and grateful for...there will be hundreds of reasons to be grateful, if your focus is on finding them." Dr Sylvia Forchap-Likambi
WEEK EIGHT - THE POWER OF ASKING
"Ask for help, not because you are weak, but because you want to remain strong." Les Brown
WEEK NINE - THE POWER OR WISDOM/ LIFE LESSONS
"Never walk away from failure. On the contrary, study it carefully and imaginatively for its hidden assets"
Michael Karda
WEEK TEN - THE POWER OF AFFIRMATIONS
"Death and life are in the power of the tongue..."
Love
"I am an epitome of love. My heart overflows with love towards myself and towards others"
Joy
"I find joy and happiness in the most basic things of life and nature.
Victory
"I am a victor and not a victim. I embrace every new challenge as an opportunity to grow and soar to greater heights"
CONTACT US TODAY TO BRING THE ULTIMATE RESILIENCE BLUEPRINT & RESOURCES TO YOU & YOUR TEAM OR TO ENROLL ON OUR NEW PROGRAM AT VOICE OF NATIONS FROM NOVEMBER 24TH 2020!