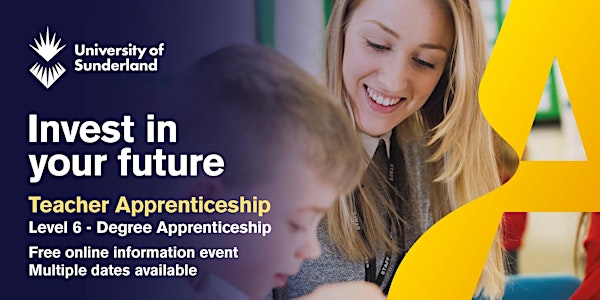 The University of Sunderland - Teacher Apprenticeship Information Event
The University of Sunderland presents - Teacher Apprenticeship Information Event
About this event
Learn while you earn!
Join our FREE online information event to find out more about our Level 6 Teacher Apprenticeship.
This event will provide a full overview of the Teacher Apprenticeship programme and offer a perfect opportunity to ask questions to our professional academics.
This is also a great forum for schools to discuss the benefits that apprenticeships have on developing there teaching workforce and to discuss your apprenticeship levy to fund a Teacher Apprentice!
The Teacher Apprenticeship is ideal for individuals who currently work in primary or secondary school education and are looking to progress to a teacher role such as teaching assistants or higher-level teaching assistants. It is also a great option for any unqualified teachers /cover supervisors.
This apprenticeship is designed to develop professional teaching and learning knowledge. Our expert academics have a wealth of experience in the educational environment and will support apprentices to engage with teaching and learning theories and practice, helping them to explore how to implement this in their own delivery.
To speak with a member of our team please email: apprenticeships@sunderland.ac.uk
Follow us on: Facebook Twitter LinkedIn
Visit our Level 6 Teacher apprenticeship website
*Please note that our apprenticeships are only available to organisations, employers and employees based in the UK.