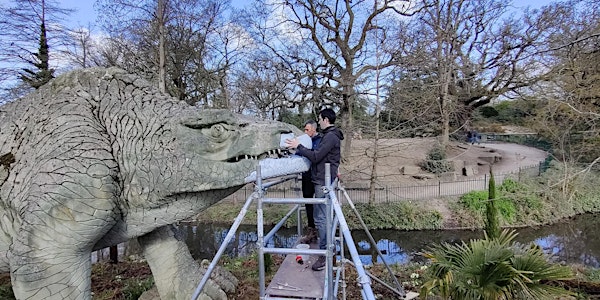 The Unusual Suspects: Investigating less familiar sculptural materials
Event Information
Refund policy
Contact the organiser to request a refund.
Eventbrite's fee is nonrefundable.
The Unusual Suspects: investigating less familiar sculptural materials from the 17th century onwards
About this event
Friday 28 January
10.00 Welcome and introduction: Joanna Barnes, Leonie Summers and Holly Trusted
Session 1 Chair: Dr Holly Trusted FSA
10.15 An Introduction to Brick as a Material for Sculpture. A Brief History and Our Methods of Making Sculpture in Brick - Rodney Harris and Valda Jackson, Artists
10.35 'A Born Traitor' Brick Sculptures by Per Kirkeby - Wouter Davidts, Associate Professor at the Department of Architecture & Urban Planning and the Department of Art History, Musicology and Theatre Studies of Ghent University
10.55 Infinite Geometry - Rana Begum , Artist
11.05 Building Blocks - Lewis Davidson, Artist
11.15 Q&A, Panel discussion: Rodney Harris, Valda Jackson and Lewis Davidson
11.30 Break
Session 2 Chair: Keith Taylor
11.45 The Spectacular Brief Life of Exsilite - Christopher Marsden, author
12.05 Concrete Thinking - Ally Rosenberg, Artist
12.15 Formless Concrete - Robert Cervera, Artist
12.30 Britain's next top roadman  - Richie Culver, Artist
12.40 Q&A, Panel discussion: Robert Cervera, Richie Culver, Ally Rosenberg.
12.55 Lunch Break
Session 3 Chair: Joanna Barnes
13.30 The Secret Lives of Cement Sculptures from the Crystal Palace to Post-war Housing Estates and Beyond - Dr Dawn Pereira, architectural sculpture historian
13.45 Crystal Palace Dinosaurs: Damage to the Megalosaurus - Tom Bardwell, Senior Conservator, Taylor Pearce Restoration Services Ltd.
14.05 The Politics of Matter: Laszlo Péri's 'London Life in Concrete' - Tobah Joy Auckland-Peck, PhD candidate at the City University of New York
14.25 Q&A, Panel discussion: Tobah Auckland-Peck, Tom Bardwell, Dr Dawn Pereira, Dr Philip Ward-Jackson and Peter Péri (Peter Laszlo Péri's grandson)
14.45 Break
Session 4 Chair: Robert Wenley
15.00 Slip - Julia Crabtree, Artist
15.20 Presentation of work - Gabriele Beveridge, Artist
15.30 Looking-Glass - Lex Shute, Artist
15.40 Q&A, Panel discussion: Gabriele Beveridge, Julia Crabtree, Lex Shute.
16.00 End of first day
____________________________________________________
Saturday 29 January
10.30 Welcome and summary of first day: Joanna Barnes, Leonie Summers and Holly Trusted
Session 5 Chair: Dr Holly Trusted FSA
10.45 Cast Lead Sculpture Production in Continental Europe and England in the 17th and 18th Centuries - Rupert Harris, Rupert Harris Conservation Ltd.
11.25 Q&A
11.40 'Hardened by the vitrifying aid of fire': but what exactly is Coade stone? - Caroline Stanford, Landmark Trust
12.00 'To make stone look like iron work, or wood like silk, or pottery like stone': Some questions around industrially produced sculpture c. 1860 - Dr Philip Ward-Jackson
12.15 Q&A
12.30 Lunch Break
Session 6 Chair: Ann Compton
13.30 Notes on Aluminium: Alfred Gilbert, Eduardo Paolozzi and Alicja Kwade - Daniel Herrmann, Curator of Modern & Contemporary Projects, The National Gallery, London
13.50 Why drive Nails into a Sculpture? An iconoclastic, empowering or aesthetic act? - John Mack, Professor of World Art Studies, University of East Anglia
14.15 Leaves of Iron - Jeff Thomson, Artist
14.30 Markets shift like sand - James Lomax, Artist
14.40 Q&A, Panel discussion Daniel Herrmann, Prof. John Mack, Jeff Thomson and James Lomax
15.00 Break
Session 7 Chair: Dr Holly Trusted FSA
15.15 Plasticine. A means to an end, never an end in itself - Katharine Eustace FSA
15.35 Parelmoerwerkers and Plasticity: Material Literacy in Early Modern Netherlandish Craft - Cynthia Kok, PhD candidate at Yale University
15.55 Q&A, Final discussion.
16.30 End of webinar
Tickets:
PSSA Members - free
Students and unemployed - free
All other delegates - £10
Photo: Benjamin Waterhouse Hawkins (1807-1894), Megalosaurus, cement, in course of conservation, Crystal Palace Park, South London.
Date and time
Location
Refund policy
Contact the organiser to request a refund.
Eventbrite's fee is nonrefundable.