The Urban Spirituality Vegan Detox, Transformation & Wellness Retreat - Buc...
Description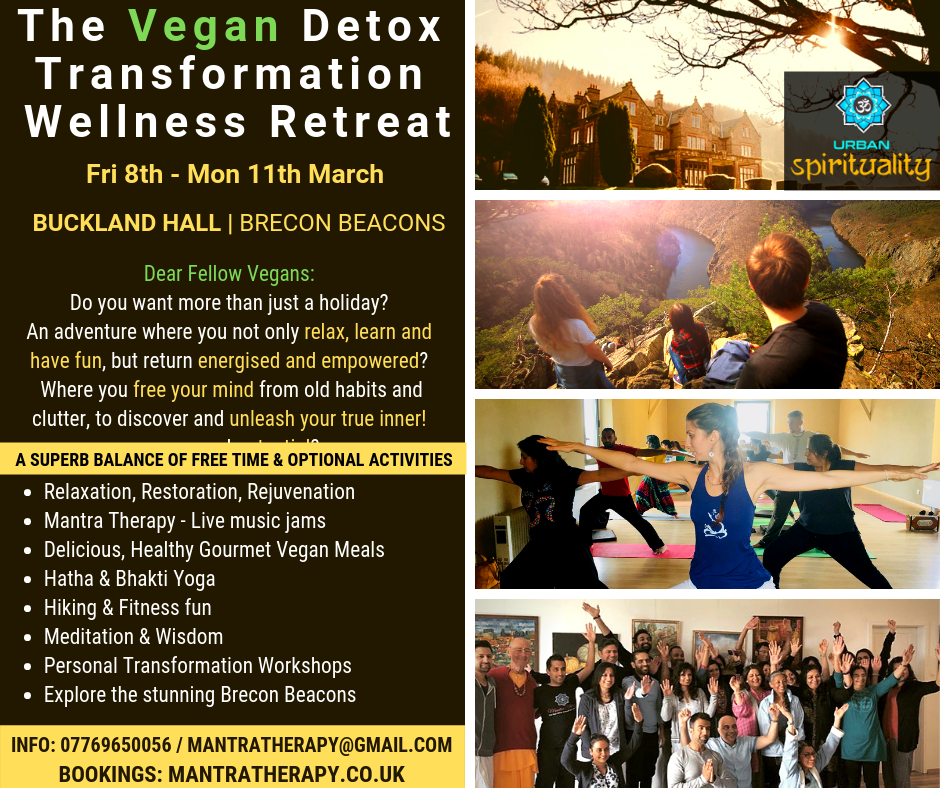 Check this fantastic highlight & taster clip: https://www.youtube.com/watch?v=ov68Vv227_o
And a special message from the organiser: https://www.youtube.com/watch?v=HLqpLgubEJU
Ready for something refreshingly different?
Spectacular scenic walks, relaxation, inspiration, rejuvenation, great cuisine, inner and outer transformation and MUCH more!?
Then join us for our ever popular Urban Spirituality Vegan Detox, Transformation & Wellness Retreat to majestic Buckland Hall, in the picturesque Brecon Beacons, Wales - one of UK's finest retreat venues!
Dates: Fri 8 - Mon 11 March 2019 (inclusive)*
(*with a 2 Day option available - please contact us)
Venue & Location:
Internationally renowned as one of the UK's finest Retreat destinations, Buckland Hall is perfectly set within 60 acres of beautiful grounds, nestled in the mountain ranges of the Brecon Beacons National Park.
Steeped in 400 years of history, the spacious yet surprisingly homely 4* stately mansion has a special history, embracing medieval princes of Wales, and JRR Tolkein's Hobbits, and remains a favourite getaway destination for overworked city professionals and spiritual seekers alike.
Retreat Info:
This 3 day Retreat will turbo charge your physical, emotional and spiritual health, helping you to detoxify and de-clutter your life, hitting your inner "reset button", to enable you to regain balance in your lifestyle, relationships, health, and personal growth, whilst developing great friendships along the way.
The long weekend will feature a balance of both scheduled activities (beginner friendly yoga/hiking/workshops/meditation), as well as plenty of free time for to discover the surroundings, make new friends, or simply curl up by the fireplace, read a book, relax and .....just be!
Retreat Highlights (*All INCLUDED & all optional):
Relaxation, Restoration, Rejuvenation in warm, cosy, spacious surroundings

Detox and re-charge your body, mind and spirit

Learn the art of digital detox & boosting productivity!

Personal Transformation & Life Skills Workshops

Meditation & Yoga sessions (for beginners & practitioners)

Mantra Therapy - uplifting, soulful evening melodic evening jams

Movie Therapy nights - watching fun/light hearted/inspiring movies!

Famously delicious, delicious gourmet vegan meals!

Riverside walks, hiking & rambling in the Brecon Beacons hills and countryside

Fitness & Martial Arts fun, whatever your current level!

Optional self-arranged outings to nearby waterfall/reservoir and historic villages

Great like-minded company to support you, and share laughter & moments

Priceless experiences and input to your success!
Retreat Investment:
This magical getaway is yours for an investment of just £425 - A superb 15% Off Early Bird Special Offer**! (Full Price = £499)

** "Double Trouble" Discount if there are 2 of you! Bring a friend and you both come for £399 Each!
INCLUDES all scheduled activities, workshops, meals and accommodation! (You only pay for your transportation - which is, as every year, shared cars to Wales - 3 hours from London).
(Keep in mind the typical cost of a weekend stay at a stately mansion/estate in the UK is around £100 per night for just the accommodation and breakfast alone! So add in lunch + dinner + all the activities & workshops - and you are easily looking at around £200 per night - so that's around £700 for 3 nights/4 days!
That makes the Early Bird price exceptionally good value for money - especially paired with our excellent longstanding reputation for running quality, life-enhancing Retreats!)
Note: **To secure the Early Bird price, simply make your investment by 25th Feb 2019.
For Booking & Info, Contact us at:
mantratherapy@gmail.com
07769 650056
0207 112 9211
https://www.mantratherapy.co.uk/testimonials/
https://www.facebook.com/mantratherapy.co.uk/