Location
Royal Vauxhall Tavern
372 Kennington Lane
London
SE11 5HY
United Kingdom
Refund policy
Contact the organizer to request a refund.
Eventbrite's fee is nonrefundable.
Sales Have Ended
Ticket sales have ended
Thanks so much for buying a ticket to The Vagina Festival, we cannot wait to see you there! Follow us on insta for updates @vaginafest @vavawomb_ @myhairyvulvaandme Email us on thevaginafestival@gmail.com if you have any questions.
LONDON, HERE WE COME. Shaking stigma through storytelling, spoken word and visual arts. BSL interpreted and wheelchair accessible.
About this event
The Vagina Festival!
*Doors @ 7pm Showtime @ 8pm*
Following our sell-out virtual show, we bring to you the Vagina Festival in real life! BSL interpreted and wheelchair accessible.
Featuring the incredible spoken word artist Desree, female comedy band Flat and the Curves, gender bending Drag Ting Shardeazy Afrodesiak and a bunch of beautiful Open Micers and Artists brought to you by Va Va Womb, My Hairy Vulva and Me.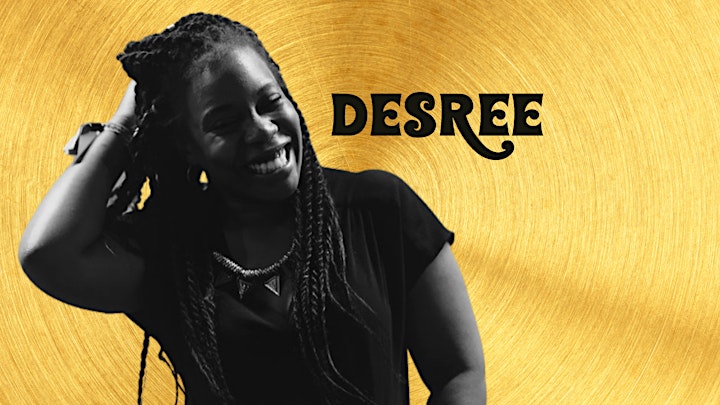 Desree
Desree is an award-winning spoken word artist, writer, playwright and facilitator based in London and Slough.
Currently Artist in Residence for poetry collective EMPOWORD, Desree explores intersectionality, justice and social commentary, occasionally throwing in a f*ckboy poem.
Producer for both Word Up and Word Of Mouth, finalist in 2018's Hammer & Tongue national final and TEDx speaker, she has featured at events around the UK and internationally, including Glastonbury Festival 2019, Royal Albert Hall and Bowery Poetry New York.
In May 2021, Burning Eye Books republished Desree's first self-published pamphlet I Find My Strength In Simple Things (2017).
Follow on social media: @dezziiee_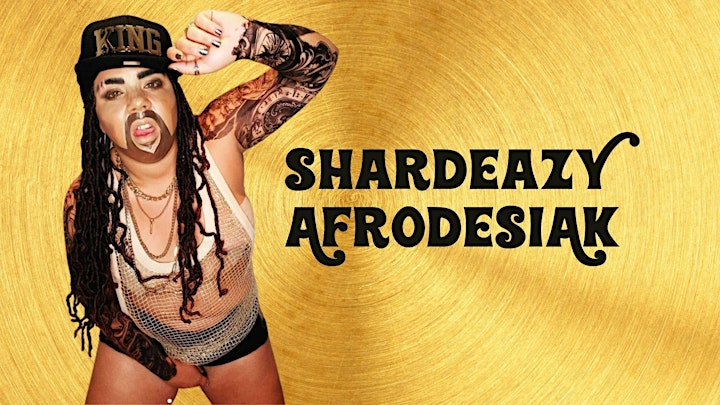 Shardeazy Afrodesiak
Shardeazy Afrodesiak AKA Big D-eazy AKA The Big D - a mixed raced, gender bending Drag Ting ready to explode all their masc/femme fuckery all over you.
Follow on social media: @shardeazy_afrodesiak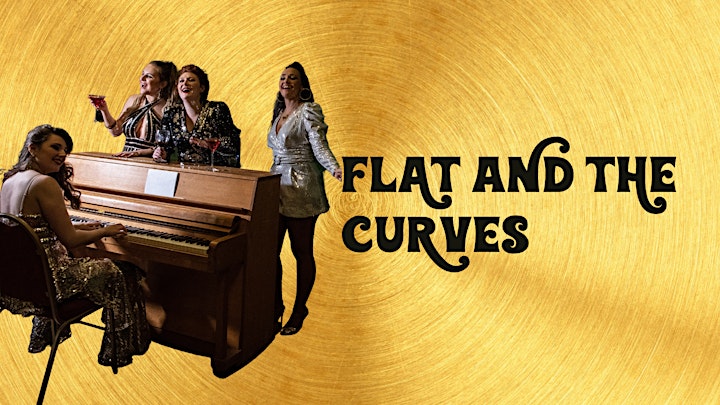 Flat and the Curves
From AWARD-WINNING comedy writers comes the hilarious, Flat & the Curves. The four funny front women share their stories of sex, scandal and sisterhood in a musical extravanagza.
Fresh from their win at the Musical Comedy Awards 2021, the sweary songbirds are causing a stir on the scene with their smutty original songs. No subject is too risqué in this unique experience of hilarity and full-frontal vulgarity.
The divas include Charlotte Brooke; an award winning comedy writer and multi-instrumentalist, Issy Wroe Wright; producer and performer of the hit sell-out comedy Sh!t-Faced Showtime, Katy Baker; director, singer & musical comedy award winning writer responsible for 'The Four Femmes on the Thames' and, Arabella Rodrigo professional session vocalist and West End performer.
Follow on social media: @flatnthecurves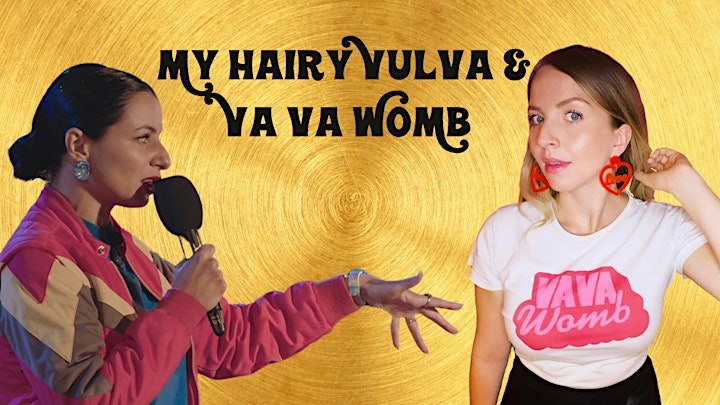 The Organisers:
We (Ellamae AKA Va Va Womb & Emilie AKA My Hairy Vulva And Me) are two vagina enthusiasts who launched the Vagina Festival together after meeting virtually and putting on a sell-out virtual show.
Both lovers of words, poetry and creativity- and of course shaking the vagina stigma, we have curated a whole festival dedicated to gynaecological rhythm and storytelling which we are now bringing to you in real life.
This badass feminist poet has has her poetry printed on the seats of London taxis, featured on Sky Arts Bafta award-winning show 'Life and Rhymes' and heard at many a badass feminist event. Her mission in life is to normalise conversations about bodies and mental health through humour and honesty.
Follow on social media: @myhairyvulvaandme
Va Va Womb was founded by infertility advocate, lover of creativity, anti-shaming enthusiast and promoter of pleasure and sex positivity, Ellamae Fullalove, who was born with MRKH syndrome. After years of secrecy Ellamae opened up about her condition, and has been shaking stigma ever since with her creative online platforms, events and writing workshops.
Follow on social media: @vavawomb_
FAQs
I want to perform on the open mic, what do I need do?
The open mic applications have now closed. If you missed out this time round we would LOVE you to apply for our next Vagina Festival. Keep an eye out on our socials @vaginafest for all info on our upcoming events.
When does it start?
Doors open at 7pm but the show will start 8pm sharp.
Is the venue accessible?
Yes, the entrance is step-free and the toilets are all on the ground floor. The entire performance will also be BSL interpreted. Please email us if you have any accessibility requirements or questions.
Will I get a seat?
There are plenty of seats as well as standing room however, please note that there are no designated seats. If you would like a seat make sure you get to the venue early.
Is there an ID or minimum age requirement to enter the event?
18+
How long is the event?
Doors open at 7pm, the show will run from 8pm - 10.30pm. The venue will close at Midnight so feel free to stay for a drink and a boogie!
Where does the money go?
Your ticket means we can pay our headliners, make it a night to remember, cover all venue fees and expand the future of The Vagina Festival. We will also be donating 10% of our profits to different charities along the way.
Code of conduct
We will not accept bullying, racism, transphobia, homophobia or any form of hate speech at our event. You will be removed from the venue event if you go against this conduct and we will have security on the evening.
Support during the event
This event is a stigma-free zone and we appreciate subjects could be triggering, if you are affected emotionally by anything you hear please reach out to us privately and we can sign post you to various mental health charities for support.
What if I get a ticket and can't make it?
Tickets are non-refundable. We are happy however, for you to re-sell your ticket to someone else who may want to buy it off you!
Covid 19
We will be following all government guidelines and will update you on our protective measures we will be following and any changes nearer the time.
Privacy
We will be taking photographs and videos during the event for promotional material, so please take this into account.
Contact us for any questions or future collaboration,
Email: thevaginafestival@gmail.com
Instagram: @vaginafest
Donations:
We are giving 10% of our ticket profits to charity.
Our first charity is https://abortioncarenetwork.org/ because every body deserves access to healthcare.
Our second chosen charity is AKT https://www.akt.org.uk/ . AKT supports lgbtq+ young people aged 16-25 in the UK who are facing or experiencing homelessness or living in a hostile environment.