Event Information
Refund Policy
Refunds up to 7 days before event
Eventbrite's fee is nonrefundable.
About this Event
We are keeping a close eye on all updates in relation to COVID-19. Our October events are now online, and include the same opportunities to network, take part in live discussion and the option to do a 60 second pitch!
The value of nature to business is often overlooked, but plays a huge part in the future of sustainability, business and the green recovery.
This event will focus on the future of nature and business, nature's call and response system, investment opportunities for nature-based solutions to environmental challenges, and staff engagement in offsetting schemes.
Join us for a business breakfast to celebrate EU Green Week's focus of nature and biodiversity.
The Future Economy Network are welcoming Network members Better Food, Wessex Water, The Converging World and 9Trees to speak at this event.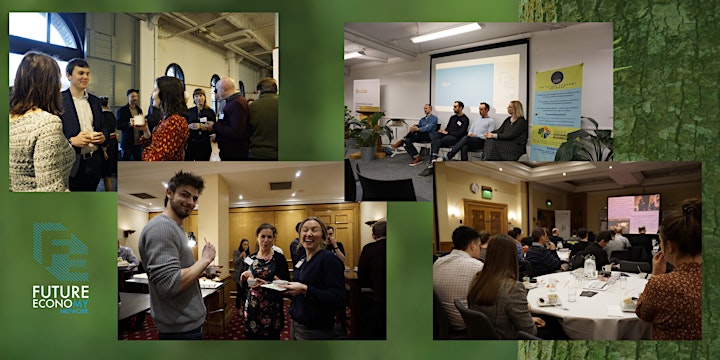 Phil Haughton, Founder, Better Food
Business has become very disconnected from the natural systems around us and its time to work to realign ourselves more closely with nature.
Commerce is so often about narrowing down and focussing intensely on one element in order to maximise extraction in one form or another. Even research does this. Its time to take a wide angle view and think holistically about the whole, not just a small section. In my talk I will open the idea of a Call and Reponse in business, mimicking what nature does so well.
David Baxter, Director of Sales and Operations, EnTrade (Wessex Water)
David's talk will look at how to set-up and govern a catchment market. The market gives land owners a commercial return for implementing nature-based solutions, and allow businesses to buy a range of trusted catchment credits to meet their legal and voluntary environmental obligations.
Michelle Kent, Director, 9Trees
Michelle will be exploring what nature based solutions might look like and the potential opportunities for businesses to invest. Ultimately this is to benefit wildlife, connect people to nature and provide solutions for the climate and ecological crisis.
Molly Byrne, Programme Manager, The Converging World
The Converging World has launched a campaign called 'The Forest the Size of Anywhere' which is where they work with companies and engage with reforestation in the tropics to help address their carbon footprint. The campaign aim is to associate the value of carbon with reforestation in tropics, and using this a entry point to help staff and organisations add a financial element to their carbon footprint and to encourage them to make steps to reduce this.
Agenda
07:45 - 07:50 - Registration
07:50 - 08:05 - Facilitated Networking
08:05 - 08:15 - Introduction from The Future Economy Network
08:15 - 08:25 - Phil Haughton, Better Food
08:25 - 08:35 - Questions for Phil
08:35 - 08:45 – David Baxter, Wessex Water
08:45 - 08:55 - Questions for David
08:55 - 09:05 – Michelle Kent, 9 Trees
09:05 - 09:15 - Questions for Michelle
09:15 - 09:25 - Molly Byrne, The Converging World
09:25 - 09:35 - Questions for Molly
09:35 - 09:45 - Extra Questions for All Speakers
09:45 - 09:50 - 60 Second Pitches
09:50 - 09:55 - Close
09:55 - 10:05 - Optional Facilitated Networking Group 1
10:05 - 10:15 - Optional Facilitated Networking Group 2
Meet The Speakers!
Phil Haughton, Founder, Better Food
Phil founded the award-winning Better Food Company in 1992. Phil started working the land in 1974 farming organically in a community in Scotland before moving to Bristol in 1981 and working at a City Farm. For several years, he worked with kids and adults teaching them about food and farming. Phil has since devoted his working life, embedded in farming, retailing and spreading the organic word, to building a community engaged in creating a better, fairer and more sustainable world for all. Phil has served on the Soil Association Council, was a founding member of The Community Farm and born out of The Better Food Company.
Phil's biggest achievement was to have founded and lead a successful company that has a brand well known in Bristol and through many organic circles for putting people and planet first, while being true to business needs.
Today, Phil is launching a book based on his life-long experience in the Sustainable Food system and filled with fascinating stories, tempting recipes, helpful tips and insightful contributions, to empower entrepreneurs and consumers alike to take the lead on their own sustainable food journey.
David Baxter, Director of Sales and Operations, EnTrade (Wessex Water)
David has over 25 years' experience working in leadership roles that have shaped how the UK manages policy, regulation and investment in the water environment.
Whilst at the Environment Agency, he led the implementation of the Water Framework Directive and the Catchment-based Approach. In consultancy, his analyses focused on the potential for environmental markets and efficiency in catchment management. A pivotal piece of work in this area was his assessment of the £13.4 billion spent annually in England on the environmental management of land and water.
David now leads the operational management and business development for EnTrade, a trading arm of Wessex Water. EnTrade creates marketplaces for trade in environmental credits relating to water quality, carbon, biodiversity and wider natural capital outcomes. It has operated over 30 marketplaces for organisations wishing to buy nature-based solutions from farmers/landowners. Over 1,000 farmers have registered interest and over £1.5 million pounds of payments have been contracted, as at September 2020. In return, buyers of credits from land use change have seen the cost of their catchment measures reduce by up to 50% and the cost of administering contact and contracts with framers drop by around 40%.
Michelle Kent, Director, 9Trees
Michelle has been working within the conservation sector for just over 10 years; and wanted to do more to address the climate and ecological crisis we are facing.
9Trees came about as a way to give people a positive way to get trees planted so that individuals and businesses could begin balancing their carbon footprint, by creating native woodlands for biodiversity and people. The trees are then geolocated for our subscribers.
9Trees work with landowners to agree on a planting site, and then sort all the trees, planting, fencing and the long-term management. Woodland management is incredibly important to the longevity of the trees, carbon storage and biodiversity.
It's about connecting people to trees, establishing new sustainable woodlands and promoting biodiversity – all of which creates jobs within the countryside sector.
Molly Byrne, Programme Manager, The Converging World
Molly has been working with The Converging World for 3 years developing the charities carbon credit programmes, including UN accreditation. Additionally, she engages with corporate clients to develop partnerships to assist them in reaching their carbon goal through a combination of offsetting and reforestation.
If you would like to join the Network please get in touch via: info@TheFutureEconomyGroup.co.uk
Follow us on Facebook, Twitter & Instagram
Sign up to our newsletter HERE
Event videos will be available on demand here, however these will not include live opportunities or networking.
We will share your Name, Job Title & Company with the other delegates & speakers to this event only. If you don't want this information to be shared please let us know when you have purchased your ticket.
We take photos at our events for marketing purposes, if you don't want your picture taken please let us know in advance.
We record our events for marketing purposes, if you do not want to be in the recording please let us know in advance.
We have included a mandatory £1 carbon offsetting fee to all event tickets in our commitment to being carbon neutral in our operations. You can find out about our chosen charity here.
If you require a complimentary carers ticket, please email events@thefutureeconomygroup.co.uk at least one week in advance and we will be happy to support you.
#wegrowthhub #business #seminar #sustainable #sme #bristol #businesswithpurpose #climateemergency #betterbusiness #climatechange #community #nature #ecologicalemergency #climatecrisis
Date and Time
Location
Refund Policy
Refunds up to 7 days before event
Eventbrite's fee is nonrefundable.