The Velveteen Rabbit - Interactive Storytelling
Join Cat and Hutch as they bring this classic tale to life.
About this event
About this Event
Hop online this Easter for an interactive storytelling show and help Cat and Hutch bring this classic story to life, all about a toy rabbit's wish to become real.
Using storytelling, games, imagination and a bit of nursery magic we'll jump into the world of the story, meeting some of the beloved characters and playing some too! Bring your favourite toy along to include them in the magic.
This event is suitable for ages 4 to 7 years.
For this adventure, please bring along your favourite cuddly toy and a torch.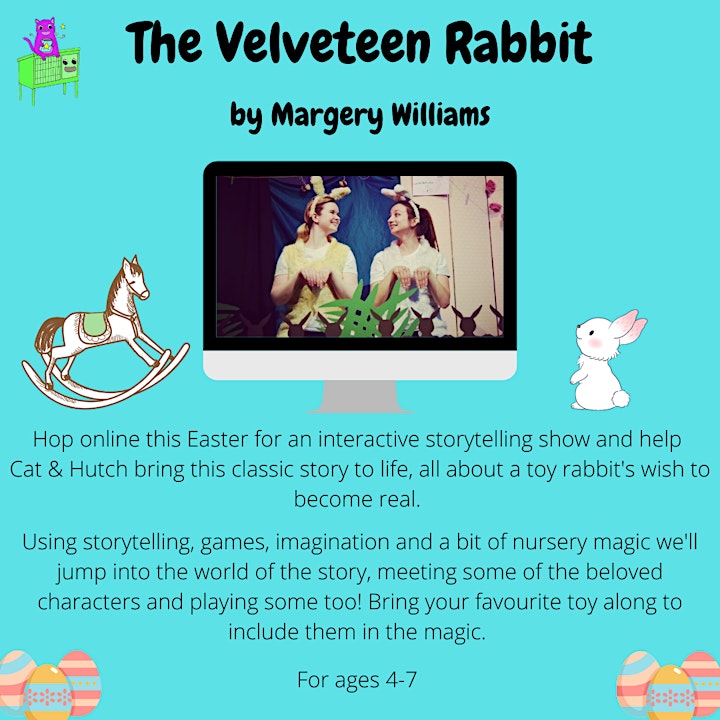 About Cat & Hutch:
Cat & Hutch are a children's storytelling company dedicated to bringing children's stories to life. They aim to get children excited about books and reading. This year they have created a range of interactive online adventures for World Book Day to help children celebrate the event in a fun, engaging and interactive way. This year more than ever, books have allowed us to escape to different worlds, and for that, we think they deserve to be celebrated and that children deserve something to celebrate.
You can find more Cat & Hutch online at https://www.catandhutch.com/
Cat & Hutch on YouTube - https://www.youtube.com/channel/UCO9Im2O7-EWoZTi9AotHhtg
Accessing this event:
You will be emailed the invitation link in advance of the event.
Please note this is a virtual event held on Zoom. Although you do not have to have Zoom downloaded to your device, you will get a better experience if you have the app.
We look forward to welcoming you at the event!