Description
Virtuoso® provides an integrated set of guiding lights for organization. These give precise steer to leaders and teams, consultants and agencies. Reveal and orchestrate what the organization needs to thrive and convincingly adapt in a turbulent world. Gain precision in vision, strategy, governance and customer experience. Add clarity and passion to brand, culture, purpose and profit.
Virtuoso is more than a new mental model, more than a system, more than a set of tools. It is also a new way of thinking about leadership and companies. Discover a beautiful way of seeing what really matters in navigating complexity.
The logic of identity informs many practice areas: governance, brand, culture, business architecture, financial/business models, strategy, scorecards, self-organization, lean, start-ups and innovation, entrepreneurship, and more.
Virtuoso has had over 20 years R&D, with academic, consulting, agency and executive input. The beauty of it is the combination of deep science, worn effortlessly, and straightforward process.
The Virtuoso® Seminar is led by principal co-founder, Angus Jenkinson and gives a hands-on experience and explanation of the practical tools and breakthrough insights. The research includes academic, practical and case study content. The experiences are inspiring.
Follow the image link to see the IBM worldwide VP for the IBM Brand System and Workforce Enablement speaks about the brand system and Virtuoso.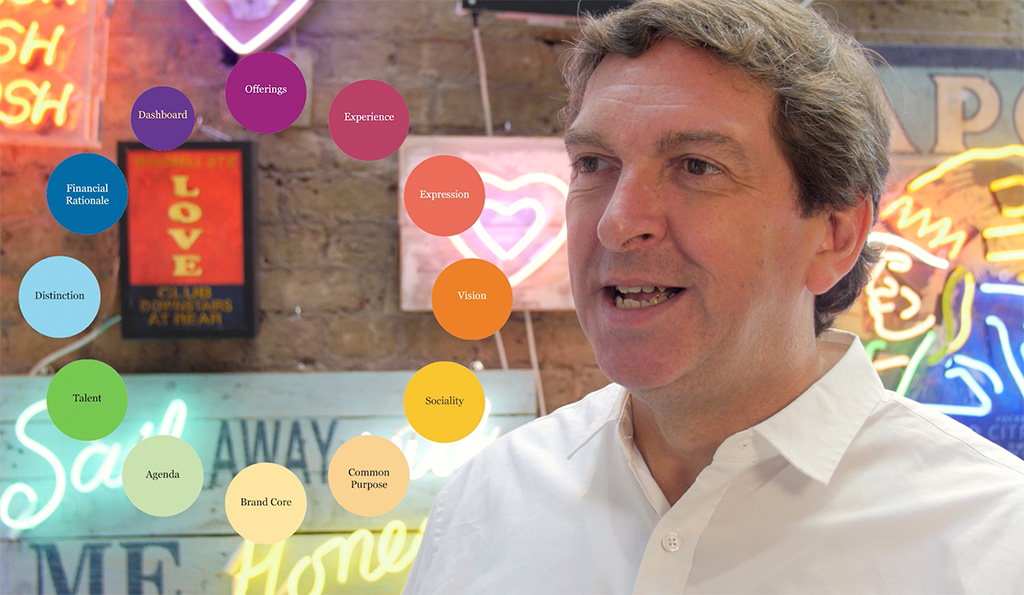 What attendees gain

Attendees gain exceptional insights that simplify and clarify the complexities of modern management. Business – and organisation leadership – has got more complex, not least because the tools got more complex without fundamentally solving the problems. In fact they have created many. And digital, global, legislative and social change escalate the challenges.
Learn and gain access to the practical tools, which you can use with your own clients or in your own companies.
Learn how to define culture, brand, business model and business operation principles precisely so that they gel and give companywide or team inspiration.
Learn the difference between potential and actual identity and how to design strategic interventions that rapidly close the gap.
Discover the living company and how to help companies adapt and morph in the changing world.
The ability to release the potential of people through guiding instruments that enable self-organization.
You may never think the same again about companies.
What the seminar covers
Day 1: Rethinking Identity
What functional identity is and how it works. People, customers and the corporate ecosystem. Case study examples and exercise. Applications to your own company. How people guide their actions and behaviours and implications for business management in CX, change design and leadership. How the organisation controls for its outcomes. Optimising governance. The Virtuoso design framework. The circular self-organisng logic of identity. Practical steps.
Day 2: Rethinking Business Dynamics
Rethinking the business fundamentals: the 12 interrelated control fields as the spirit of the business. . The distinction between actual functioning identity and potential identity. Deep insight into six interacting dynamics: the processes transforming capability into innovation and value co-creation; strategic mission into customer relationships; purpose into practical signals and tools of guidance and governance; the logic of profit and the values of culture; transformation through time; and the sustainable cocreation of offerings with the heart of true brand. Application to case study.
Day 3: Rethinking Action
Engaging with the significance: rethinking management, leadership and self-organising in their process and goals. The design of strategic initiatives to realise full potential identity. Continuing and completing the practical case study. Development of applications across the functional disciplines of the business. Personal implications: reflection and learning and next steps.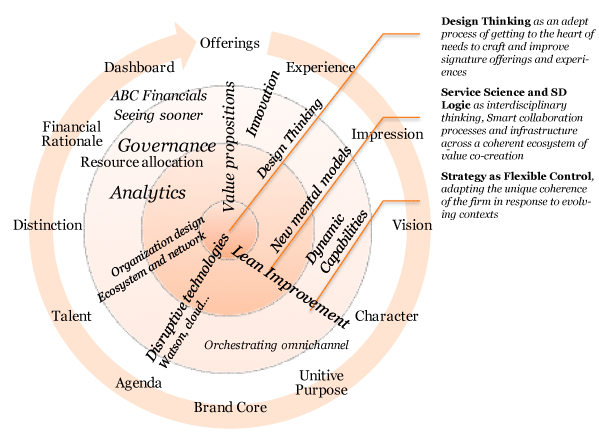 Virtuoso serves and adds value to many business applications from innovation to marketing to culture to financial management.
Deeper principles of identity
The best way to think about a company is that it is alive. It comes alive through the myriad of ideas, decisions, choices, communication and actions that weave through its generation of value. These choices are made under the influence and context of brand and culture and business dynamics. In turn, ideas, actions and choices return into future patterns of communication, brand, culture and business dynamics. Customers and the extended supplier value stream play a part in this. This is identity in the ecosystem.
Every company has unique organic functional characteristics. When these work well together at their best the company thrives: sustainable peak performance. This is commonly called great culture, great brand, great business model, or great services. It is like playing in the zone. When they don't, it may die.
Leaders are always trying to understand the magic ingredients of this identity. They come up with values statements, mission statements, visions and so on that only sometimes hit the mark and only sometimes handle all the variety of ingredients. A vision that does not think about money or a business model that does not embrace culture will never thrive. Virtuoso is the integrated instrument for revealing these magic ingredients in a coherent ensemble. The connected ideas that spell success.
All achievement is based on feedback between where the actor sees things to be and where they (he, she, it, team…) want them to be. That is advanced biology, control theory and cybernetics in a nutshell. So, everybody in the company is a unique person with their own goals. Companies thrive when people thrive, finding that their goals and the companies are not at odds, indeed they want to bring about the success of the common mission. Yet most companies are riddled by conflict, mission drift and silos. And will always be so because the current thinking, methods and tools are designed to mess things up. Radical simplicity is introduced when the mental models are changed.
These insights are underpinned by science (including autopoiesis, perceptual control theory, complex adaptive organisms, hermeneutics, semiotics, anthropology, sociology and other interdisciplinary research) and practice (proven in scores of cases around the world from companies as big as IBM to start-ups; commercial, NGO and government).
FAQs
Where can I contact the organiser with any questions?
Your answer goes here
Is my registration/ticket transferrable?
Yes.
Is Virtuoso suitable for small companies?
Yes, many small companies have made use of Virtuoso very successfully.
Is Virtuoso appropriate for large enterprises?
Virtuoso is relevant for all sizes of companies and for business units and mission-critical teams. See the video of an IBM executive's point of view.
Can Virtuoso help with start-ups and venture capital?
Yes, this is an excellent application. Virtuoso has successfully helped entrepreneurs clarify exactly what their business idea is and how it needs to work in practice, reducing burn cost in kicking off the business and the effectiveness of it once it begins running.
Do I get accreditation in Virtuoso?
Accreditation is provided at the base level for attendees of the programme who demonstrate reasonable understanding. Further levels of accreditation are available up to master trainer level.
Is Virtuoso available for consultants and consultancies to use?
Yes it is. And you can get accreditation in its use. Many consultants have learned to use Virtuoso (and its earlier version, Stellar) with clients across the world.
Has Virtuoso proved useful for creative agencies?
Yes it has. Understanding identity is important for digital, advertising and design agencies, including such aspects as positioning, brand, purpose, customer needs and what is essential to the brand's offerings.
We are trying to build a website for the business. Will Virtuoso help?
Yes it has been successfully used for these kinds of applications. It helps and/or their consultancies and agencies define exactly what the business is, its offerings and value propositions, and what should be the customer experience in visiting the brand.
How does Virtuoso help with lean?
Lean is based on the idea of eliminating all wasteful activity in the pursuit of a richer value experience. Virtuoso identifies exactly what the brand is, the essential design principles of the offerings, what customers want, and therefore what constitutes value, and therefore clarifies both more precisely and with richer quality what the mission of the lean process is. It also synchronises with this issues of how people work together and therefore which aspects of the process are critical for culture, for governance, for the deployment of a nurturing of capability, and so on. Lean practitioners get a much better steer as they go about economising the process.
How does Virtuoso help with culture change?
Many culture change projects are really about simply trying to get the company's best culture to life. Virtuoso provides a rich understanding of what the culture is when it is at its best. That means you do not sacrifice what is important. It also gives you a clear goal of what you are going for.. And it enables you to understand at the right high level what is really important and therefore what is also open for adjustment or local variation.
How does Virtuoso help with governance and control?
it identifies what is really important if the company is to thrive and what the critical signals are the tell you whether the business is on course or drifting or in danger. It gives precise clarity about what the functional identity is and therefore enables working out good policies. And it is coherent across all aspects of the business, so it prevents conflicts and undercutting.
Is Virtuoso a brand tool?
Absolutely. but that is not all it is. Still, for marketers it is the best brand system available.
Is Virtuoso a culture tool?
Absolutely. But that is not all it is. Still, it is the most comprehensive cultural system tool available.
Virtuoso looks complicated – too many subsystems.
Virtuoso reduces complications in practice by resolving the conflicts beforehand. A business without Virtuoso is much more complicated than one with it. And where else can you put every aspect of the functioning identity of even a large enterprise on a single page?
Is Virtuoso suitable for nonprofit/NGO companies?
It has been successfully used with many such companies, to help with fundraising, the critical mission, strategy and performance improvement.
Is Virtuoso a performance management tool?
Absolutely. Performance is about realising your potential, which is a function of identity and purpose. Virtuoso enables the direction of performance, stimulation of passion for performance, and enables signals for what is needed to do the right thing.