Description


The Visualisation Journey: Two-day workshop
Tuesday 14th November and Wednesday 15th November 2017

A free 'hands on' workshop to demonstrate to SMEs how their product can be converted into digital form, visualised in Virtual Reality and Augmented Reality (VR/AR) and authentically lit to show how it would appear in a real environment.
This two-day workshop will help SME manufacturers* better understand the 'visualisation-journey': how visualisation of their products in VR/AR can help boost productivity, resulting in improved business growth.
You will also gain direct knowledge from WMG's highly experienced team who have helped a number of businesses visualise their products authentically and in doing so saved thousands of pounds through avoiding the need for physical prototypes.
*This event is for UK SMEs in the manufacturing supply chain. If you are a business operating in another sector or a larger organisation please email us to secure a place.

Why should you attend?
To create an accurate digital representation of your product
VR/AR are set to change business practice
To incorporate your models into a Head Mounted Display
To visualise your product as it will appear to customers
Programme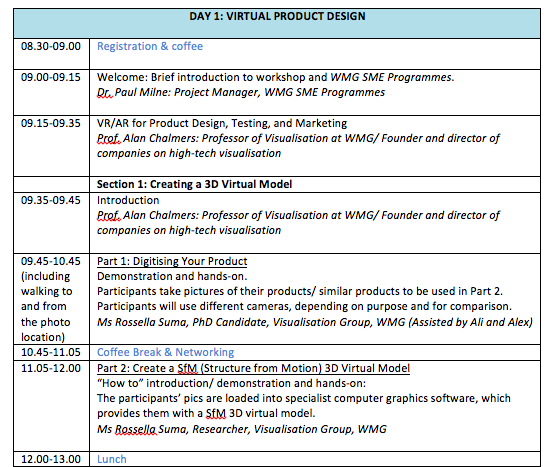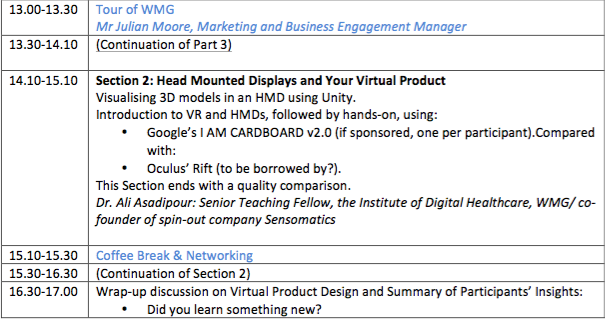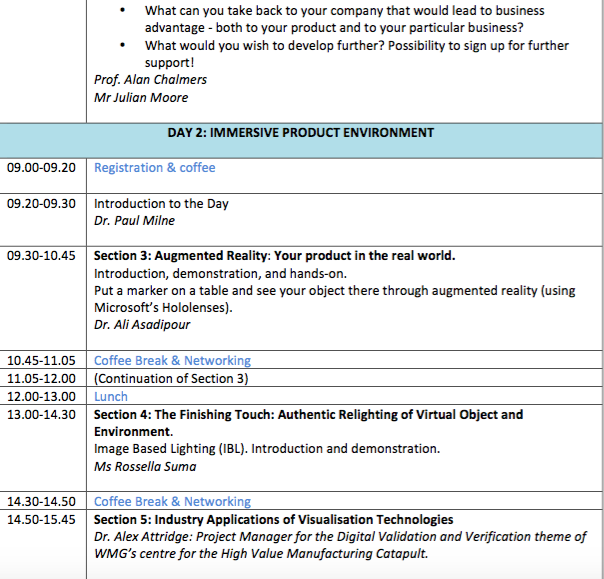 Enquiries
Please note that participation for SMEs (max two delegates), parking and catering is offered free or charge. Should assistance be required in finding accommodation, help will be provided by WMG.
For further information, please contact the WMG SME Group:

Telephone: 02476 574 299
Email: wmgsme@warwick.ac.uk