Description
Heal Your Own Body
Take charge of your vitality, and optimise your body and mind. We will reveal to you the latest, cutting edge advances in science and healing to put you on the road to become the healer of your own body.
This is a workshop to get talking about what's essential for optimal health and sustaining it.
What We'll Cover:
Understand the Root Cause of Most Health Challenges

Gut Health & the Importance of Organic

Rethinking Stress
Who is this workshop for? People curious about how to...
Self-heal versus long-term use of medications

Improve mental and physical performance by changing what you eat

Have more energy to spend quality time with children, partners & friends
This workshop includes:
2 hrs packed full of actionable Content, Tools & Resources

At least one "aha!" Breakthrough or Insight

Q & A with Neil & Vivien
-----------------------------
Neil Cannon is the bestselling author of The Vitality Secret, creator of an award-winning online health program, health coach, speaker and podcast host.
Neil's Success Stories include the reversal of:
Pre-diabetes, type-2 diabetes, high blood pressure, high cholesterol (vLDL), digestive problems (IBS and constipation), arthritis and other joint pains, skin conditions (eczema & psoriasis), migraines, excessive body fat and Parkinson's symptoms (a 'side effect'of reversing type-2 diabetes)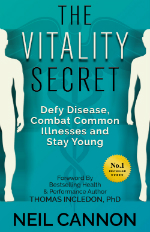 "My mindset is different – the way I look at food is different. The quality of my life with my children has greatly improved. For me, it was life-changing, and the best thing I've ever done….I burned 42 pounds of fat in just over 6 weeks…My arthritis has totally gone… I highly recommend his programme…. "
– Mark Rayworth, Wales
www.neilcannonhealth.com
-----------------------------
Vivien Hunt is a leadership coach for high performing individuals and organisations.
www.leadsourcecoaching.com