The Wanderer's Journey - Makers' Month Talk

Friday, 6 April 2018 from 18:00 to 19:30 (BST)
Event Details
The tradition of a craftsman's 'journey' is an ancient one but it's still alive and relevant today. At any point thousands of young people are wandering far and wide across Europe and beyond, earning and learning as they go.
With tools in hand, generations have travelled afar and now the Norwich based stonemason's Guild of St Stephen & St George offers you authentic memories from those who have actually undertaken 'the journey', together with stories inspired by it.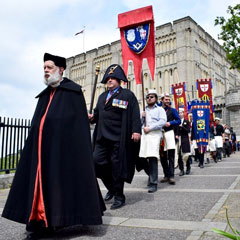 In this special evening tallk, for Makers' Month, hear from the following members of the Norwich based Guild and their friends.
Master Stephen L'Normand, International Guild Master and Master of the Guild of St Stephen & St George
Friedrich Bader, German Journeyman and Vice-President of the CCEG (Confederation of European Associations of Journeymen)
Dave Tonge, storyteller Guild Gleeman and itinerant weaver of words, the Yarnsmith of Norwich
Join the speakers afterwards in the lobby of the Auditorium for further conversation.
Friday 6th April
6.00pm-7.30pm
Venue: The Forum's Auditorium
Cost: £12.50
To book your ticket, please click on the green button at the top right of this page.

Please click here to return to the list of ticketed events.


This is a Makers' Month event. 


Makers' Month - Useful information
Q: How can I contact The Forum?
A: You can contact us by email using info@theforumnorwich.co.uk
Q: Do I need to print out my ticket for the event?
A: Yes, or you can download the Eventbrite mobile app and use that instead.
Q: Do you send out paper tickets?
A: No, all our tickets are sent out electronically via the email confirmation you received when you registered.
Q: I haven't received a confirmation email, what should I do?
A: Please check your spam or junk folder as it may be there. Alternatively, you can contact us on info@theforumnorwich.co.uk and we will re-send it to you.
Q: There are no more tickets for the event I wanted to go to. What can I do?
A: All events have a waiting list. Please sign up to join the list and you will be notified if there's a cancellation. For some events (indicated in the text), there may be tickets available on the door also.
Q: I can no longer attend. Can I get a refund?
A: Please contact us at info@theforumnorwich.co.uk to request a refund.
When & Where

The Forum's Auditorium
The Forum
Millennium Plain
NR2 1TF Norwich
United Kingdom


Friday, 6 April 2018 from 18:00 to 19:30 (BST)
Add to my calendar