Event Information
Refund policy
Contact the organiser to request a refund.
Eventbrite's fee is nonrefundable.
A series of unique 'wandering gigs' in and around the city of Durham with original songs and their stories rooted in different landscapes
About this event
Not all who wander are lost, some are on a Covid-friendly outdoor gig...
This autumn folk singer-songwriter Sam Slatcher will be performing a series of gigs of a different kind. He'll be offering uniquely curated outdoor 'wandering gigs' using the landscapes around to tell a story fused with his original songwriting on the places and the people within them.
What to expect:
Each wandering gig has a different theme and the songs/stories told will be shaped around the features of each walk. Each walk will typically begin with a few songs, followed by a 15 minute or so walk to a new location where another few songs will be played. The walks vary between 1 and 3 miles and tickets will be limited to 15 guests.
Please remember to bring warm clothes and consider bringing a fold-up camping chair if you'd like to rest your legs on the way!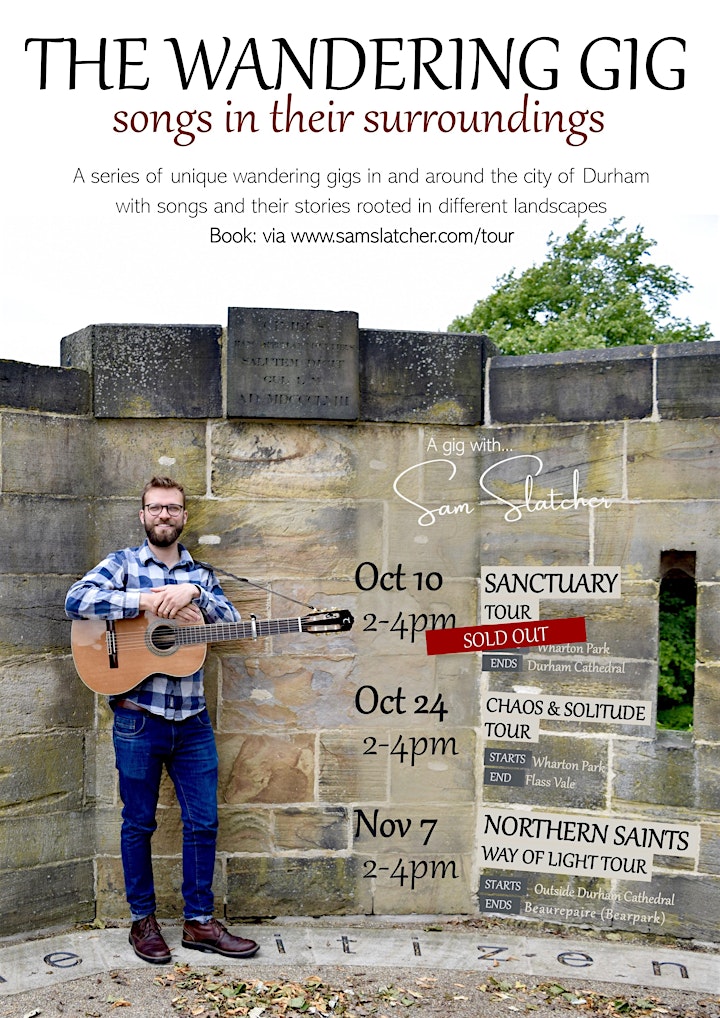 The Wandering Gig - the details
Sunday 10 October 2021 - Durham City 'Sanctuary' Tour
This tour has sold out - sorry!
Sunday 24 October 2021 - 'Chaos & Solitude' Tour
2 - 4pm - 1 mile
START: Wharton Park
END: Flass Vale Nature Reserve
DETAIL: This tour wanders around Flass Vale Nature Reserve, inviting you into the abundance of nature to discover the depths of solitude. As one of the songs on Sam's latest album goes, "do you know the place that takes you as you are, speaks kindly to your troubles and holds your heavy heart? The silence and the solitude awaits when you arrive, the deepest part of you will cry if only for a moment we could feel alive...."
The tour is based on the themes from the album Chaos & Solitude. You can listen to the songs on this album on Spotify, iTunes and bandcamp.
Rain day plan: Sunday 31 October 2 - 4pm is reserved in case of rain!
Sunday 7 November 2021 - Northern Saints 'Way of Light' Tour
2 - 4pm - 3 miles
START: Outside Durham Cathedral
END: Beaurepaire (Bearpark)
DETAIL: The Northern Saints 'Way of Light' begins outside Durham Cathedral and journeys along the Way of Light Northern Saints Trail. The tour chases the western light across open countryside to the ruins of a 13th century medieval manor house used as a medieval country retreat for the Priors of Durham.
Rain day plan: Sunday 14 November 2 - 4pm is reserved in case of rain!
What about the weather?
For each gig the following Sunday (same time, same place) will be kept in reserve in case of bad weather. So, for example, if you're coming to the gig on the 24 October, you may wish to keep 31st October free. The night before the gig you will receive an email/text you to confirm it is on or whether the gig needs to be rescheduled to the following Sunday!
Can I come to all three of them?
You are most welcome to! However, two thirds of the songs will be the same on all four dates. The stories/focus of them, however, will slightly change.
Costs
Since these are uniquely curated gigs for a limited number of people, they cost a little more than the usual gig. Standard tickets are £12, with concession tickets ranging from £8 to 'Pay as you Decide' for those unwaged or seeking sanctuary. There is a special ticket offering for the Chaos & Solitude Tour which includes a copy of the CD within the price of £15. (CDs will be available for £8 on the day, or via a donation if unwaged/seeking sanctuary).
Cancellation policy
- We can offer you a full refund if you choose to cancel within 3 days of the gig.
- If the gig is rescheduled for the following Sunday's slot and you can no longer make it, we will refund the full cost of the ticket.
- If you can't attend the rescheduled gig, you are welcome to use the ticket for one of the other gigs.
Refund policy
Contact the organiser to request a refund.
Eventbrite's fee is nonrefundable.