THE WAR FOR TALENT

Thursday, 24 November 2016 from 12:00 to 14:00 (GMT)
Event Details
INVITATION TO ALL MARKET PRACTITIONERS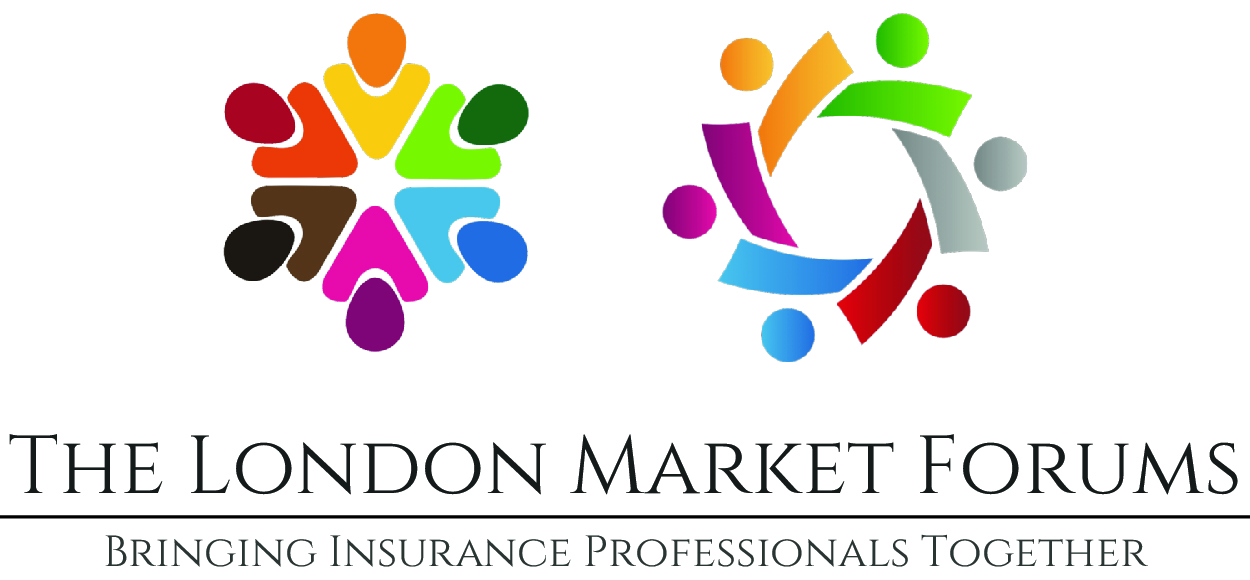 Dear Market Colleague
We would like to invite you to an insurance sector special luncheon on Thursday 24th November 2016 for, HR, Talent, IT, Change and Operations professionals, looking at one of the real challenges facing us; where are we going to source the right talent to ensure we remain competitive, in a highly dynamic business environment, heavily reliant on new technologies and business practices.
Many experts say that we will need to shift our focus for certain roles from the traditional 'inside the Market" recruitment model, to an external search for personnel from other sectors. But is this true and if so, how do we attract such talent into a very traditional Marketplace and once they are within our firms, how do we retain them?
Join us on 24th November from 12 noon to hear from experts on various sides of our Market. Delegates can discuss and debate this subject over a sumptuous buffet luncheon and meet new colleagues at the same time. We'll also be inviting a selection of people from the Market's technology and operations functions, so it should prove to be a very interesting session.
MEMBERSHIP OF LMForums IS FREE FOR ALL INSURANCE MARKET COMPANY EMPLOYEES*
You don't need to be a member to attend
The event starts at 12:00 pm. 
AS PER NORMAL WITH LMFORUMS SESSIONS, THERE IS NO CHARGE FOR ATTENDING THIS EVENT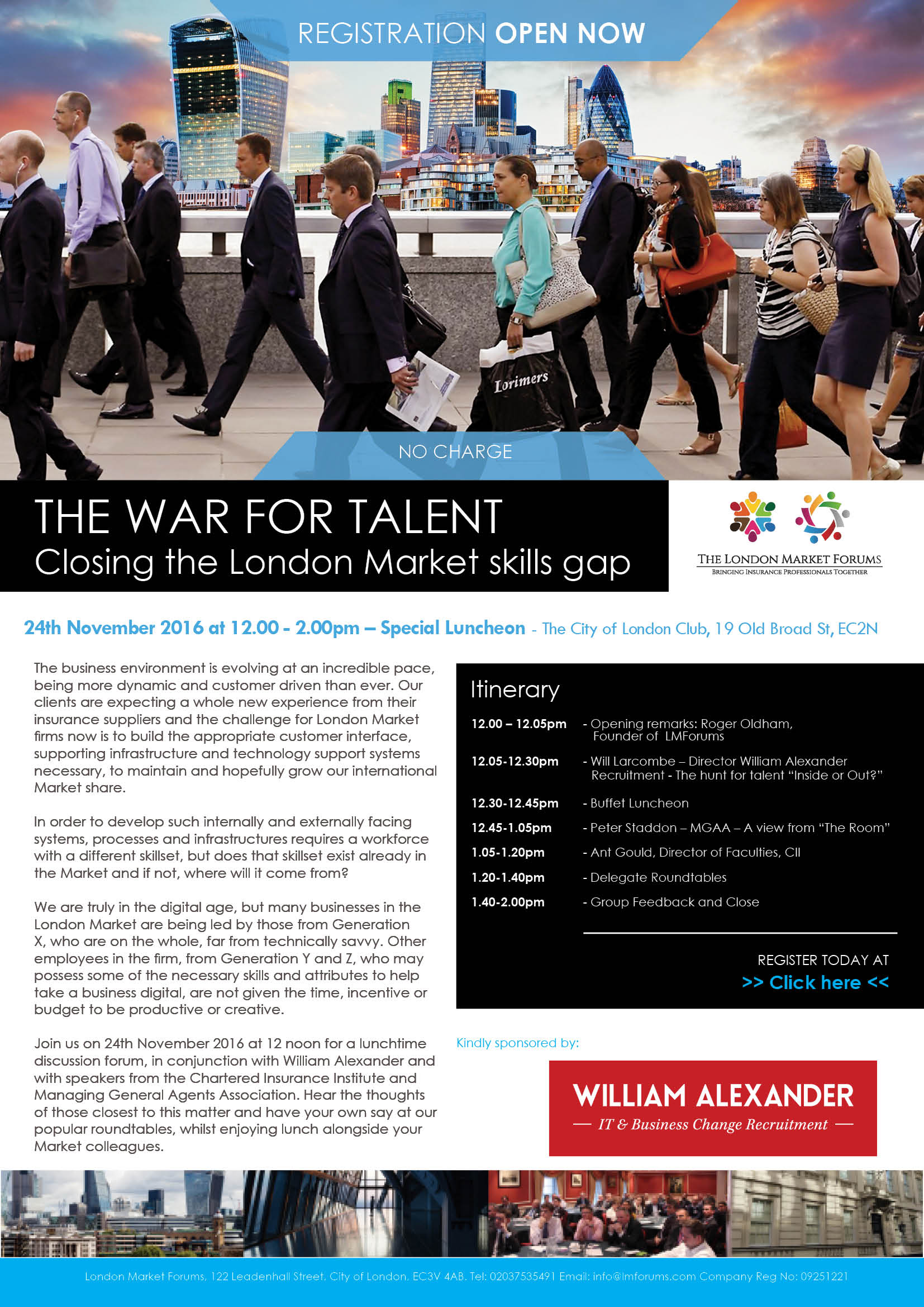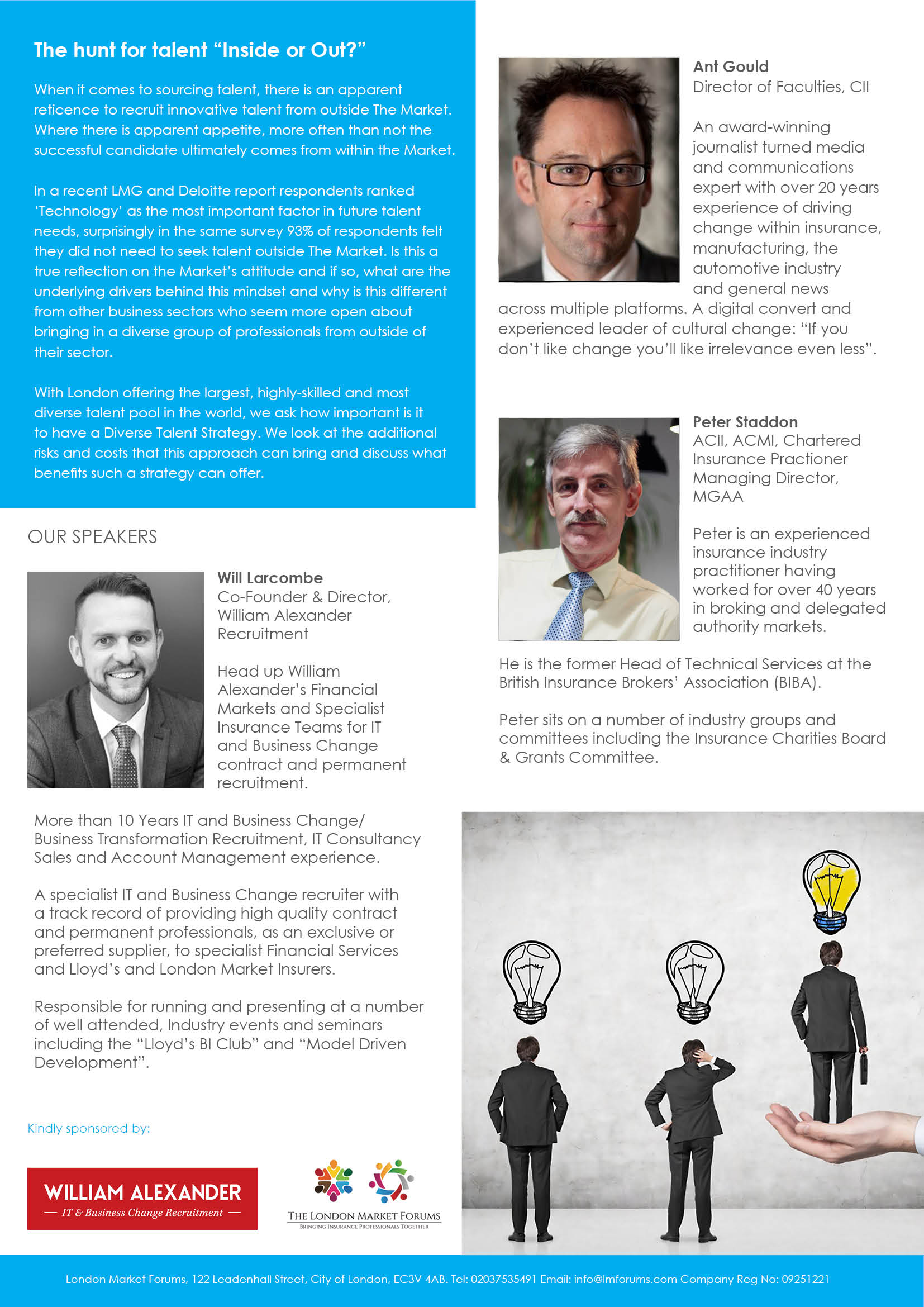 The event will commence at 12:00 pm on 24th  Nov 2016 at The City of London Club, 19 Old Broad Street, London EC2N 1DS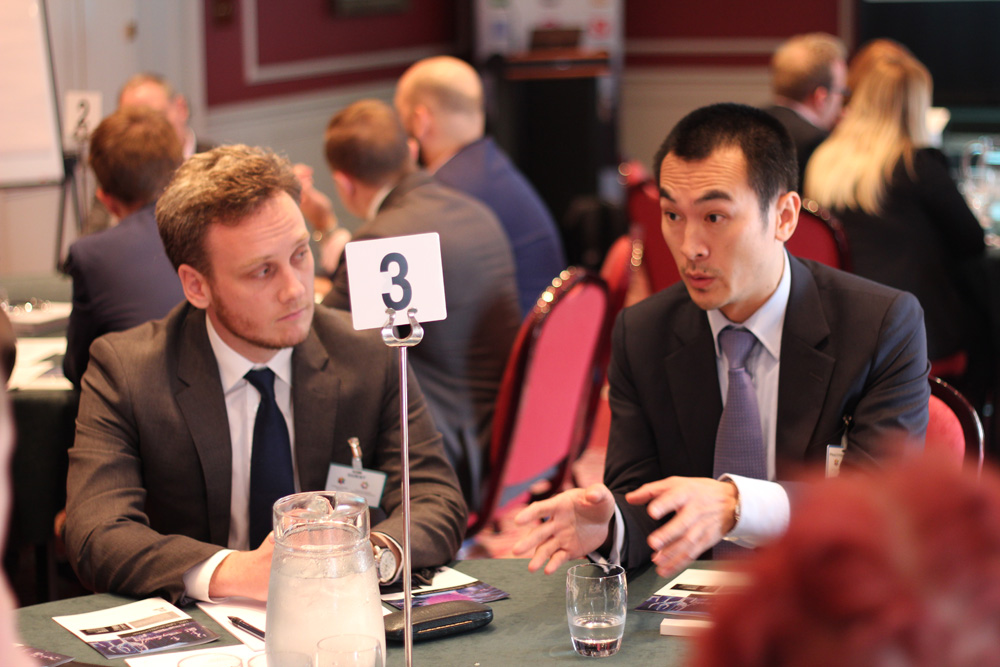 You don't need to be a member of the club to attend the event, but as membership is free it makes perfect sense to join - you'll be part of a growing band of professionals across the Market enjoying the benefits of LMForums

REGISTER FOR MEMBERSHIP TODAY - CLICK HERE
Please also register separately for this specific event, by hitting on the Register button on this page
 We hope to see you on 24th Nov at 12:00pm.
_________________________
You'll be eligible for membership of LMForums, free of charge, if you are are employed by/member of an underwriter, broker, MGA, Lloyd's, LMA, IUA, LIIBA, BIBA, CII, AIRMIC or work for a Third Party Administrator who provides an outsourcing service to one of these organisations. If you are a supplier to the Market or professional services company you will need to contact us. The clubs will offer a whole hosts of events, both technical and social throughout the year, so it's well worth signing up. You will then receive a membership card.
Please be aware that due to the security arrangements in the building, you must pre-register for this event.
Any questions - please call LMForums on 0203 753 5491
Email: info@lmforums.com

Roger Oldham - Founder & Managing Director
Oscar Padilla - Head of Business Services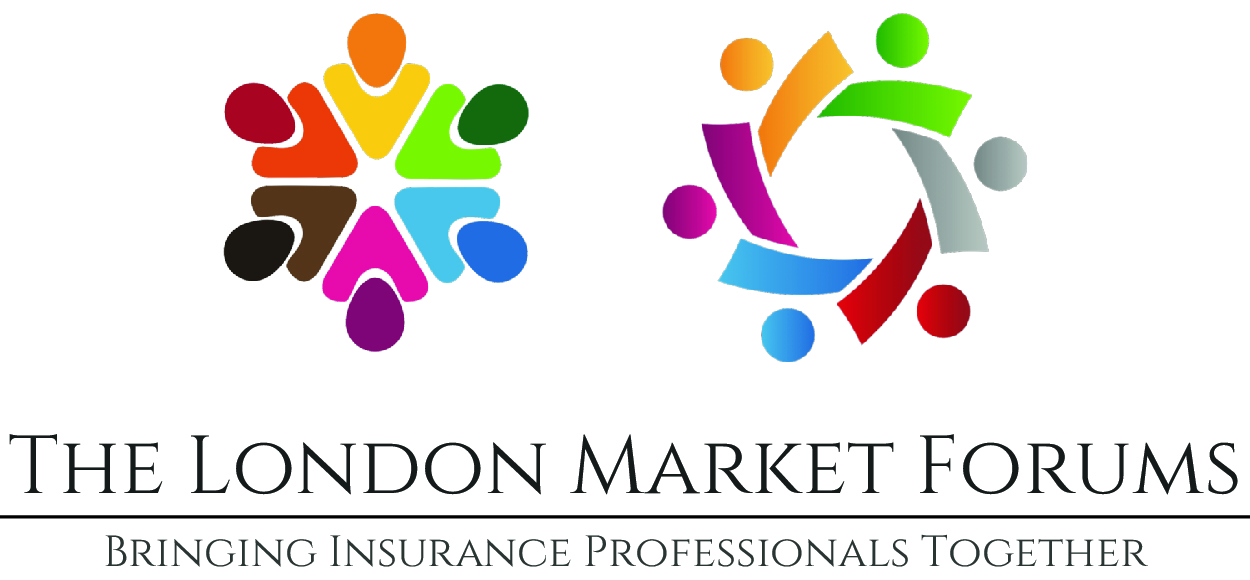 During the course of this event, some photography may take place for marketing and promotional purposes, or to support post event debriefing materials. If for some reason you would rather not appear in a photograph, please would you inform a member of the LMForums staff before the commencement of the event so that we may use our best efforts to respect your wishes.
When & Where

City of London Club
19 Old Broad Street
EC2N 1DS London
United Kingdom


Thursday, 24 November 2016 from 12:00 to 14:00 (GMT)
Add to my calendar
Organiser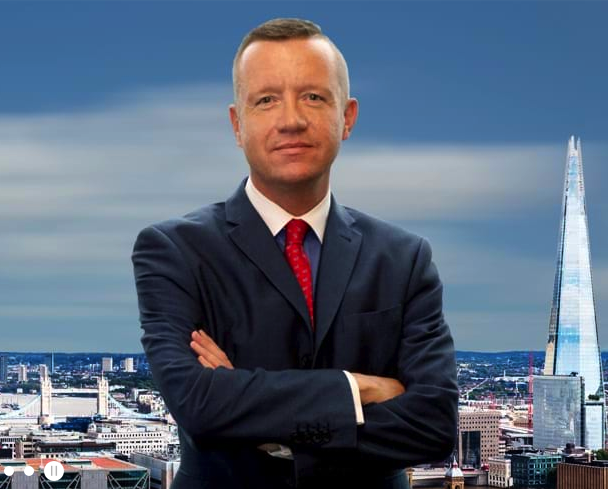 Roger is the Founder of London Market Forums, an exciting and interactive business club for professionals and executives in the London Insurance Market. He has spent the last 30 years working in the London Insurance Market, initially in reinsurance, then in commercial retail insurance where he   looked after a portfolio of blue chip multi-national clients, before moving on to international retail and wholesale business. He has held a number of senior posts in Aon, HSBC Insurance Brokers and Marsh, including roles such as Head of Claims and Head of Market Practice, as well as sitting on, and advisor to, management boards.