SUPERCAR BOOKING - The Warren Estate Supercar Sunday featuring Lamborghini & Ferrari
About this event
** TICKETS NOW ON SALE HERE **
£20 SUPERCAR SHOW ENTRY includes Show Car Entry to the Event and includes Driver & All Passengers - ADVANCE TICKETS ONLY
PLEASE NOTE - AMG/BMW M/AUDI RS or S Saloon/Coupe will not be accepted as Supercars - Showcars are considered to be Supercars Only, brands such as McLaren, Porsche, Ferrari, Lamborghini, Koenegsigg, Pagani, Zenvo, Aston Martin - this is down to the event directors discretion.
Supercars Arrival from 9am - Lamborghini & Ferrari Parking on the Driving Range all other Supercars will be directed accordingly to designated show areas.
We have confirmed the attendance of Arturio Merzario, Fabio Lamborghini & Valentino Balboni to enjoy this celebration of two Great Italian Marques.
We will be encouraging Social Distancing and will communicate up to date information in the build up to the event to ensure that we adhere to legislation and guidelines.
By choosing to take bookings through Eventbrite, should the event be cancelled for any Covid-19 related reason, the ticket price will be refunded to you.
As the much anticipated 'Lamborghini' is finally expected to adorn the silver screen this year, the Hollywood Biopic will tell the story of our legend, Ferruccio Lamborghini played by Antonio Banderas. It will recount his life story as well as depict the beginning of the rivalry with Enzo Ferrari, played by Alec Baldwin.
The rivalry will be equally as celebrated at The Warren Estate 'Supercar Sunday' on 25th July 2021 which sees Petrolheadonism.Club and Eventive Events join forces with the Warren Classics team to bring a true celebration of two Italian Marques as the event feature – Lamborghini & Ferrari. "The idea was conceived earlier this year and I immediately contacted Fabio Lamborghini and Valentino Balboni who have both agreed to attend the event to represent Lamborghini, while I have also secured Arturo Merzario to represent Ferrari. Of course, their attendance is subject to travel restrictions, but we remain optimistic and they are looking forward to the event!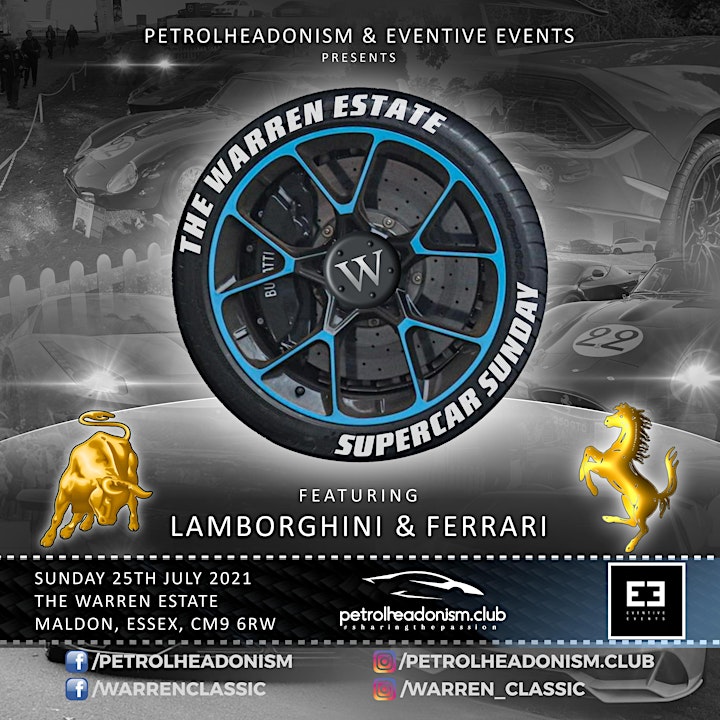 Organiser of The Warren Estate Supercar Sunday featuring Lambor
The Warren Estate, located in the picturesque village of Woodham Walter and is the venue of The Warren Golf & Country Club. The Warren is one of the most beautiful courses in the south of England and features an 18th Century timber clubhouse which presents an impressive backdrop to the many events held on the estate.
Although the estate is only 35 miles from London and within easy reach of the M25, it is an oasis of peace and tranquillity, with no disturbances from traffic noise and the modern world of the 21st Century. This make The Warren an ideal venue for golf, golfing breaks, leisure breaks, weddings, parties and outdoor events such as car shows.
With two golf courses, a holiday lodge park, function suite and licence for outdoor events of up to 15,000 people, The Warren Estate is the perfect location.