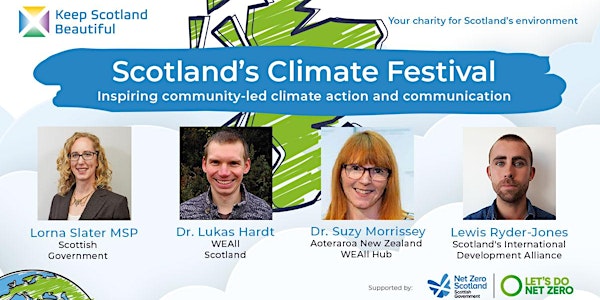 The Wellbeing Economy: creating thriving communities in a changing climate
Join us for conversation with brilliant people who are leading the transition to a wellbeing economy that builds sustainable communities.
About this event
As we "build back better" from the Covid-19 pandemic, we have an opportunity to build an economy that is inclusive and supports all our communities towards a more sustainable, prosperous, and resilient future.
Scotland is leading the way as a founding member of the Wellbeing Economy Governments (WEGo) group, an initiative where member countries - including Scotland, Iceland, New Zealand, Wales and Finland - are working together to deliver a wellbeing economy for citizens and the environment.
Hear from leading experts in Scotland and around the world on the pursuit of enhanced wellbeing for current and future generations.
This event is free and open to all.
Speakers
Dr. Lukas Hardt, Policy and Engagement Lead, WEAll Scotland
Dr. Suzy Morrissey, Research Associate, Public Policy Institute, University of Auckland; co-founder, WEAll Aotearoa New Zealand Hub
Lewis Ryder-Jones, Deputy Chief Executive Officer, Scotland's International Development Alliance; Chair at SDG Network Scotland
Lorna Slater MSP, Minister for Green Skills, Circular Economy and Biodiversity, Scottish Government
Dr. Lukas Hardt is the Policy and Engagement Lead for the Wellbeing Economy Alliance in Scotland and is based in Glasgow. Lukas has several years of experience researching and promoting wellbeing and post-growth economics. He recently finished his PhD at the University in Leeds, in which he investigated how structural change can contribute to the creation of a sustainable, post-growth economy. Lukas holds an MSc degree in Ecological Economics from the University of Leeds and a BSc (Hons) in Sustainable Development from the University of St Andrews. He is also a founding member of the Post-growth Economics Network, a Europe-wide network of researchers working in the field of post-growth and ecological macroeconomics.
Dr. Suzy Morrissey FCA is a senior public servant from New Zealand. Her career at the Treasury included a period as Principal Advisor to the Chief Economist, where she helped develop and implement the Living Standards Framework, which was then used as the basis for New Zealand's 'Wellbeing Budget' in 2019. She was a member of WEGov and subsequently became one of the founders of the WEAll Aotearoa Hub.
Suzy has been an international speaker on wellbeing frameworks and measurement for the OECD in Paris and Korea, has provided expert advice to an All-Party Parliamentary Groups in the UK, and was a member of the advisory group for the WHO's 10th Global Conference on Health Promotion that had a theme of wellbeing.
Lewis Ryder-Jones is passionate about reducing global inequalities and is interested in the economics, policy and politics that drive and inhibit global, sustainable development.
In his current role, he leads Scotland's International Development Alliance's policy and influencing work and is particularly focused on linking domestic and global action so progress towards the SDGs here in Scotland isn't at the expense of progress elsewhere.
He previously worked in policy and campaigning for a prominent HIV charity in Scotland, and has an MSc in Comparative Public Policy from the University of Edinburgh. Earlier in his career, he worked in West Africa, South America and the Middle East in grassroots community development and teaching roles for a range of organisations, including the British Council.
Lorna Slater MSP was appointed as Minister for Green Skills, Circular Economy and Biodiversity in August 2021.
Lorna Slater was born, raised and educated in Canada. She moved to Scotland in 2000 after earning a master's degree in Engineering from the University of British Columbia.
Prior to being elected in 2021, Lorna worked as an engineer, and then a project manager in the renewables sector. During this time, she worked on the Orbital O2 project, the world's biggest floating tidal turbine.
Lorna has been a Member of the Scottish Parliament for Lothian since May 2021. She was elected as a co-leader of the Scottish Green Party in August 2019.
---
How to Join
The event will be held via Zoom. Please register and you will receive an email on the day of the event with the link to join. Live subtitles will be available.
The event also will be livestreamed on Eventbrite and YouTube (no registration required), and available to watch afterwards on our YouTube Channel.
About Scotland's Climate Festival
This event is part of Scotland's Climate Festival, supporting communities across the country to plan and deliver their own local climate festivals, alongside our national event series. Scotland's Climate Festival is supported by funding from the Scottish Government.
Find out more at: www.keepscotlandbeautiful.org/climatefestivalscot and follow us @KSBScotland #ClimateFestivalScot