Description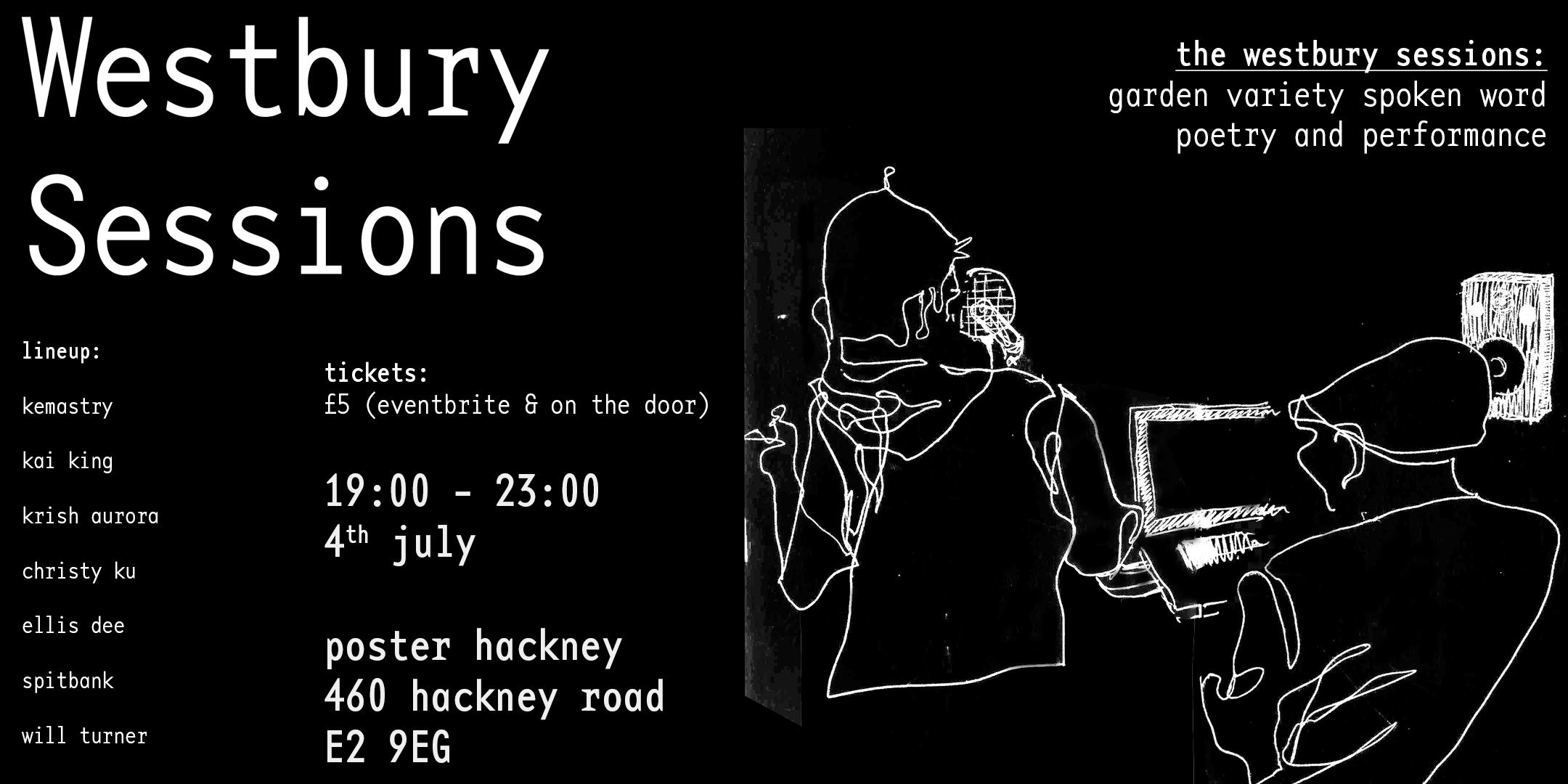 ---
This season's Westbury Session features collaboration from prolific creative, Min Sett Hein - with live projections, exhibited prints, and an exclusive interview feature in our partnered publication, The Fight Continues. Min will be documenting the evening in his own style - you'll find the end result on The Westbury Sessions' page.
---
Kemastry is one third of High Focus newcomers CMPND. The articulate and surreal rapper and freestyler will be blessing us with a rare spoken word set - not to be missed.
---
Kai King is a local hackney rapper and poet; he'll be showcasing his hot-off-the-press EP, 24hours, and more. One you'll be glad to see before he blows up, Kai brings energy and lyricism together with expressive and versatile vocals.

---
Krish Aurora is a stand-up comedian and screenplay writer currently filming his political sci-fi comedy pilot.

---
Christy Ku is one of 15 finalists for an Apples and Snakes X BBC Radio 1Xtra spoken word talent development cohort. She's worked as a Barbican Young Poet and creator and performer for the show 'A Change is Gonna Come' in collaboration with Boy Blue Entertainment. Christy is also a writer, Youtuber, photographer and creator of the podcast 'A Long Way Out'. She is currently working on her debut poetry collection.

---
Ellis Dee is a ranty and rhymy spoken word artist currently studying for his masters at SOAS and a current finalist in BBC's Words First, a BBC talent development scheme to find the best new voices of Britain.

---
SPITBANK are a collective project hailing from Gosport, experimenting with cassette tape loops, accompanied by brass and woodwind instruments, joined by wordsmith Ferris Taylor.

---
Will Turner Jokes will be hosting the evening - he's a writer, comedian and showoff from Kent - who wanted to be a DJ until he found out that all DJs are pricks, and a poet until he found out he didn't like poetry that much. However, his ego demands stroking and stand up comedy really scratches that itch right now. He's a Cambridge Footlight, performed at the Fringe, Latitude and on BBC Radio 1Xtra - and is acutely aware that this info matters much more to him than anyone else. He tried telling someone at a dinner party that he was a stand up, was instantly asked to tell a joke and failed and as such now prefers to say he's a freelance performance anthropologist, which is so pretentious that nobody bothers with a follow up question. Expect "comedic" responses to jokes that don't really work, as if that were the plan all along.
---