a creative, seasonal + sustainable supper club celebrating all things local, Brighton. Local wines, Kraft beer, veg-centric feasting
About this event
Combining a love for seasonal fruits + vegetables, British grains, local producers and community, join founder Sophie Gordon for an evening of just that. More than just your average supper club.
- entry from 6:30pm onwards, first course approx. 7:30pm, doors shut approx. 10:30pm
You will be welcomed with a glass of local wine (non-alcoholic option also available), chosen to compliment the food and a tribute to the colder months we are about to endure. There will be live music (act tbc) sennerading you when you arrive.
An apatiser will be given out shortly after arrival before taking your seats to enjoy the next courses, celebrating all things seasonal, a veg-centric feast. The dishes themselves will focus on 5 seasonal vegetables, 1 fruit + 1 grain. Each dish will use the whole vegetable (or fruit) making sure to incorporate every little bit. All food left over will be donated to a chosen food bank in Brighton/Hove. Our food supplier is local to Brighton, a farm in Lewes, so it hasn't travelled far to reach your plates.
Other wines, beer, spirits and non alocholic beverages will be avaliable to purchase at the bar at any point, your first glass is of course on us and part of the ticket. Cafe Rust have a great selection of drinks and cocktails to choose from.
The event will be hosted at the reputable Cafe Rust in Kemptown, Brighton. One of their newer sites right in the heart of Kemptown. A beautifully rustic and quirky space with Scandi interiors and a welcoming vibe.
Your ticket includes:
Wine on arrival, a six course menu including dessert and live music
See below for menus
- tickets are limited. Menus will be released in due course. If you have any allergies or questions, please don't hesitate to get in touch at thewholevegetable@gmail.com | insta: @thewholevegetable
*note: the menu is entirely vegan
if you want to get in touch about working with us for the next event, we're all ears!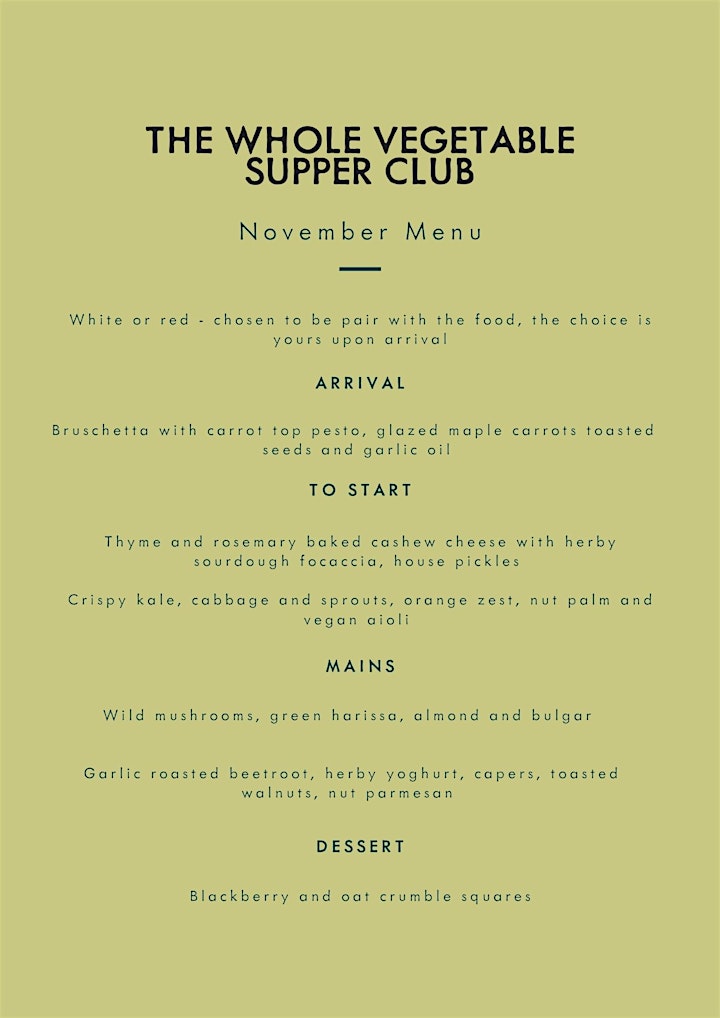 Organiser of The Whole Vegetable Supper Club