Description
CHARITY RACE NIGHT
SOCIAL. DRINKS. LIGHT BITES INC. BIG SCREEN. BETTING. PRIZES.
ALL FOR A GREAT CAUSE!!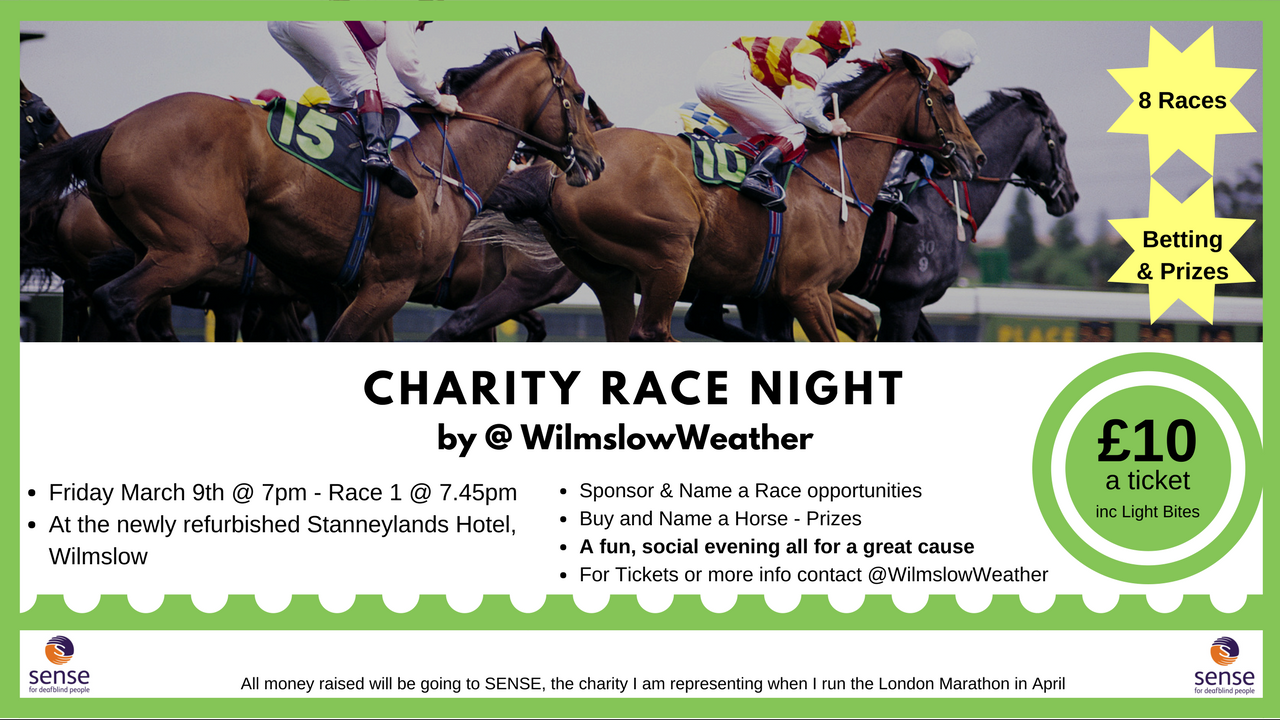 In April this year I will be running the London Marathon for SENSE, the national Deafblind charity. To help me raise funds for SENSE I am hosting this charity race night.
The evening will be in the State Room at the Newly refurbished Stanneylands Hotel in Wilmslow. In here we will have access to a dedicated bar for the evening, and weather perimitting, an outdoor terrace
Get your friends together for a relaxed, casual night out.
It will be a fun and social night and depending on your luck with the horses you may even go home in profit :-)
Included in the ticket price (Just £10!!) is a selection of The Stanneylands superb Canapes
All are welcome - Children under 13 (accompanied by an adult) are free.
There are opportunities to own, and name, a race horse. Prizes for winning owners. Get in touch @WilmslowWeather for more info
This promises to be a fun night, full of laughs and all raising money for a great cause.
I really hope you can support me with this evening. Even if you aren't sure you can make the event but would like to support this fundraiser, please purchase a ticket if you can and help me support this amazing charity.
Please book tickets as early as possible as this will help me confirm numbers
Many thanks in advance and I look forward to meeting you on the night
Shaun @WilmslowWeather