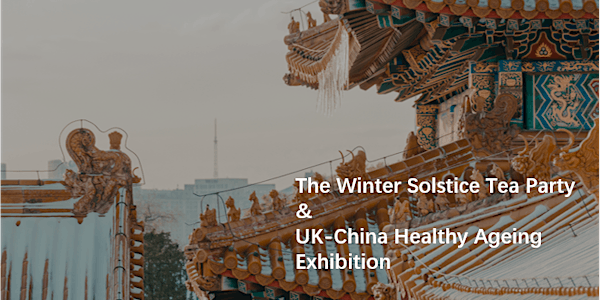 The Winter Solstice Tea Party and UK-China Healthy Ageing Exhibition
About this event
The winter is coming! And so is the celebration season!
The Winter Solstice, the day with the shortest period of daylight and longest night of the year, and also one of the Chinese 24 solar terms, is coming soon. There is an old Chinese saying that 'the Winter Solstice is as important as the Spring Festival'. In the midst of a difficult pandemic time, it will be hard for us to visit families worldwide and have our traditional family reunion meals. But we can still celebrate this joyful time together and look forward to the arrival of spring!
We would like to take this chance to invite local Chinese students and residents and the wider public in Newcastle to attend our Winter Solstice Tea Party to celebrate this important day and view our UK-China Healthy Ageing Exhibition to explore the rapid ageing society and opportunities in China.
On the subject of the Winter Solstice, there has always been a debate on whether we should eat dumplings or sweet rice balls in China. But it will not be a problem for the foodies, as we can have them all! In the Winter Solstice Tea Party, we will provide delicious dumplings and sweet rice balls for you to take away, and nice Chinese snacks to enjoy. We will also prepare fun games, such as 'Guess what Chinese characters I am writing' and 'You describe I guess' for you and your friends to play and compete with others to win prizes!
The event is hosted by UK's National Innovation Centre for Ageing (NICA). NICA is a world leading organisation to help co-develop and bring to market products and services which create a world in which we all live better, for longer. NICA is currently working collaboratively with our partner, the Beijing Hospital Consortium, and also with Tsinghua University and TusPark UK on its UK-China healthy ageing project, which is focussed on products that may enable us to retain our independence into later-life.
NICA currently has an exhibition opening to the public which shows the rapidly ageing society in China and the challenges and opportunities alongside. It is warmly welcomed for residents who are interested in learning more about this exhibition and project to join us in this winter, and together we can make our lives, and our families and friends lives better for longer.
Special thanks to the International Office of the Newcastle University.
These activities are funded through the UK Research and Innovation (UKRI) Fund for International Collaboration (FIC), delivered by Innovate UK, part of UKRI.
***
COVID-19 guidelines
The Catalyst provides a safe environment for staff and guests, and continues to assess the risk of COVID-19 alongside the latest guidance from government.
We are operating a reduced capacity for this event and taking all appropriate precautions. Please sit socially distanced in the theatre and foyer space where possible. The wearing of facemasks in the building is required (except for medical exemptions) in line with Newcastle University and Oxford Innovation policy. Our staff take regular lateral flow tests, and we kindly ask guests to do the same before attending an event. Please do not attend this event if you feel unwell, or are exhibiting any symptoms of cold, flu, or COVID-19, or if you have recently been in contact with someone who has tested positive for COVID-19.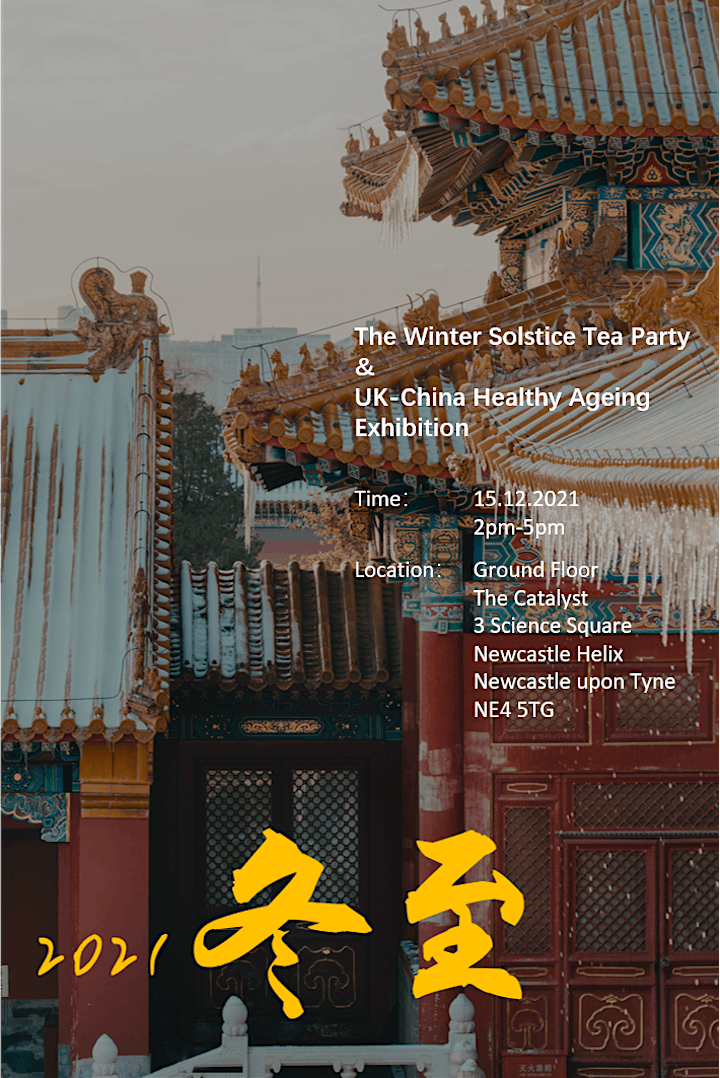 Organiser of The Winter Solstice Tea Party and UK-China Healthy Ageing Exhibition