The WITJ Natural Hair & Beauty Show 2014 (London)

Monday, May 5, 2014 from 10:00 AM to 6:00 PM (PDT)
Event Details
Saturday 24th August 2013 marked the launch of The WITJ Natural Hair & Beauty Show, London. Tickets sold out, more were added, and they too sold out. Still people came, queued and hoped they would gain access through ticket sales at the door (Tickets are NOT available to purchase on the door). The WITJ Natural Hair & Beauty Show is definitely in demand and we are back less than 9 months later in Spring 2014 for our second installment of what we have coined the natural hair , beauty & lifstyle experience of the year.
Why The WITJ Natural & Hair & Beauty Show?  Because we are more than just another hair or beauty event! We offer our guests an engaging interactive showcase that  celebrates the modern day woman of colour. Educating, inspiring and offering an opportunity for attendees to discover new products and/or services that are geared to women of colour. We understand that the journey to health hair or returning to natural has more than one face, for that reason we strive show versatility. Organised by women that understand only to well how under serviced women of colour are in the UK/European hair & beauty industry.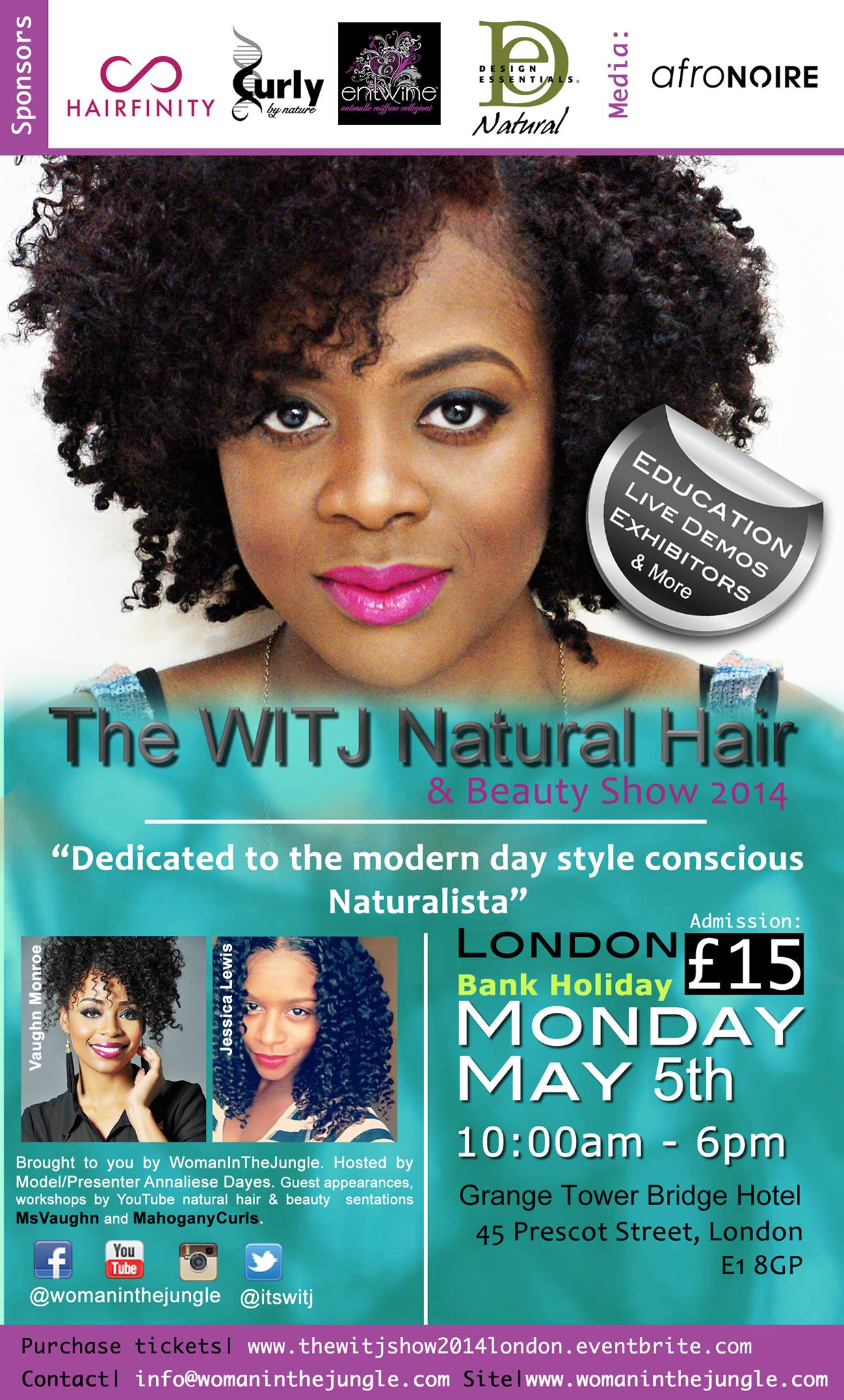 Show Highlights
Click here for full list of event program (workshops, seminars etc) and confirmed exhibitors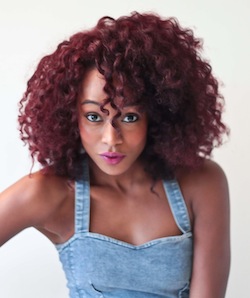 Hosted by culy girl Annaliese Dayes: We want to expose our attendees to as many inspirational women of colour here in the UK as we can. Can't get any more Brit than a Camden born Londoner. We are more than excited to have ANTM Cycle 18 contestant Annaliese Dayes on board to host the event. She has an AMAZING personallity and we know you will love her just as much as Team WITJ do... 
Exclusive Meet & Greet (VIP Ticket Holders): 12:45 - 13:45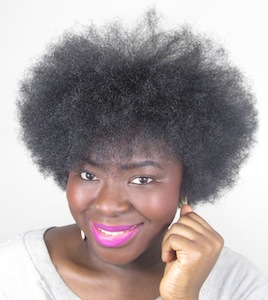 Wunmi Akinlagun natural hair & beauty enthusiast created her vlogging platform WomanInTheJungle on YouTube back in late 2010  to document the healthy hair journey and beauty finds of a woman living in London.  The name Woman In The Jungle was a metaphor that was quite fitting for Wunmi's situation at the time. A woman in her mid 20′s navigating her way through work, love & life in the inner city of London, a concrete Jungle. Unfortunately, or fortunately depending on what side of the fence you sit Woman In The Concrete Jungle was too long to use as a YouTube user. Fast forward to today with over 50,000 followers across all platforms, WITJ has definitely become a destination within the UK for natural hair and brown beauty community with BlackHair naming it one of UK's 5 top go to places for natural hair.  
Vaughn Monroe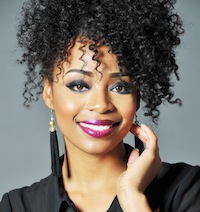 Tweet us all your question you would like answered using the hashtags

#askWITJ

and

#thewitjshow

. Active tweeters throughout the event will win some goodies from our show sponsors.
HAIR VALLEY DEBATES with Valley Fontaine - WHAT DOES HAVING PROFESSIONAL HAIR MEAN TO YOU? 14:00 - 14:30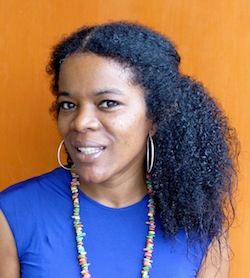 Valley Fontaine is a hair journalist, and editor of the hair blog on 

www.valleyfontaine.com

, and a growing following on social media. She specialises in providing key information and tips for those who like to also wear weaves, wigs and extentions, in a bid to stop them from damaging their natural hair. "Weaves & extensions are the No.1 cause of hair loss and breakage".  In the UK, Valley also regularly hosts live hair advice workshops, writes articles for various publications and has regular slots on radio shows, across the Caribbean. At present she is also currently writing her first in a series of books about hair care. In her day job Valley is a BBC Broadcast Journalist.  You can hear her daily either reading the news or reporting or producing on BBC London 94.9, where she had worked for the last 14 years. Valley speaks conversational Spanish and likes to keep fit running up to 15 miles per week!
On the couch will be .....

Q&A with the industry expert @ 15:30-14:00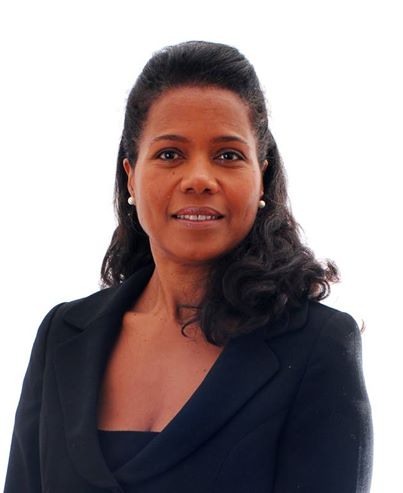 The UK's most sought after Afro hair Trichologist Teresa Angelina Richardson (MIT) will be in the house! 
Teresa has over 25 years of experience in hair care so have your scalp and hair related questions ready to be answered in a 30min Q&A session
NO MORE EXCUSES - Hair confidence seminar with I Love Afro @ 16:15 - 17:15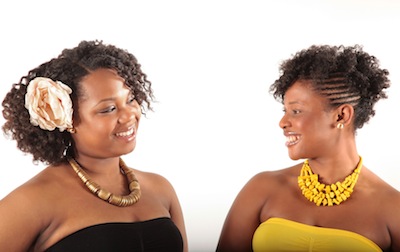 Ready to take the next step and become natural? Ready to embrace your crown and wear it with pride?
Tasha and Sasha from I Love Afro will take you through how to become a happier more confident you. Get incite on;
Your Mindset and attitude – having the Confidence and Belief that you can... it will work... and your outcome WILL be successful
Putting it into practice – "You can have Results or Excuses – NOT BOTH"
If you...
Really want to go natural but are scared to take the first step
Are already natural, but finding it difficult to transition from weaves, wigs or braids?
Have attempted to wear your hair natural but without the results you desired therefore giving up
Are fed up of trying to fit into a conventional society and really want to explore the natural you
... Then this seminar is for you!
Live hair and makeup transformations taking place – helping ladies to feel comfortable with stepping out as a Newly Natural Sista
We are proud to announce award winning Salon Professional brand Design Essentials Natural as the official 2014 WITJ Natural Hair & Beauty Show salon sponsor.

Come with clean freshly washed, conditioned and moisturised hair for styling on the day, cuts, trims, big chops or just advice on caring for your natural tresses. you can pre-book with us by sending emails to info@womaninthejungle.com with the service you require or simply pop in on the day.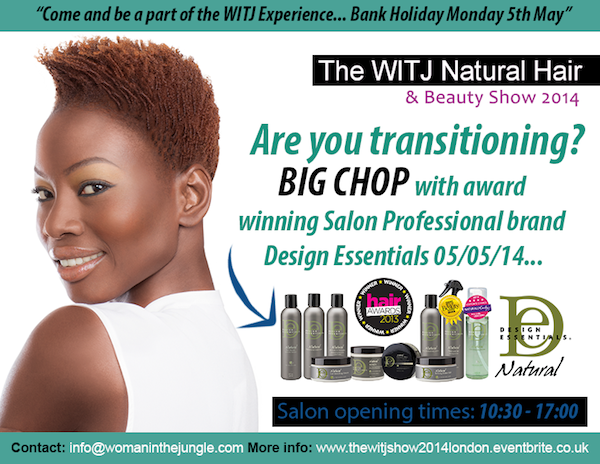 'The Face of Natural' 2014 brand ambassador competition winner announced: 
We want to represent YOU the modern day woman of colour in all that we do. That means involving the WITJ supporters in as many of our projects as we can. Through 'The Face of Natural' brand ambassador opportunity we aim to showcase the different "faces of natural" year on year. The Face of Natural brand ambassador will be an integral part of #TheWITJShow marketing campaign each year in celebration and recognition of YOU. WITJ aims to Educate & Inspire, so we want to know 1. How you have or intend to inspire those around you by going natural 2. Why you chose to return to natural. "The Face of Natural" 2014 sponsored by Hairfinity UK www.hairfinity.co.uk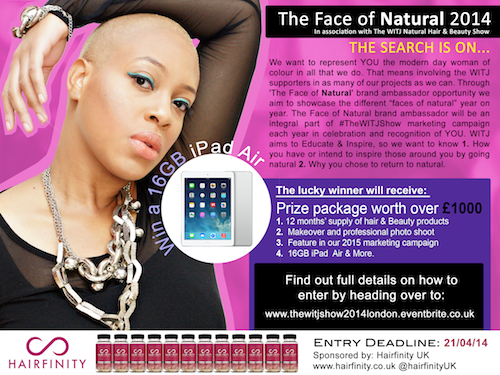 How to enter: Send an email to ayoki@womaninthejungle.com with the subject "I am The Face" , letting us know 1. How you have or intend to inspire those around you by going natural 2. Why you chose to return to natural 3. Please attached 1 high resolution portrait image with your hair down in its natural state and 1 High resolution full length image. Entry deadline is the 21th April 2014. Shortlistedentrants will be announced 25th April. Winner announced and presented with their prizes at the 2014 WITJ Natural Hair & Beuaty show
Entry requirements: a. Must be aged between 18 and over b. Must reside in the UK. Available and already attending the eventin London 05/05/14 if shortlisted d. Be a loose natural, loced or transitioning to natural 
Mainstage -  Keynote speaker trichologist: 16:00 - 16:30  
Event to be featured on www.essence.com, so dress to impress and get creative with those hair styles.
When & Where

Grange Tower Bridge Hotel
45 Prescot St
Tower Hamlets
E1 8GP London
United Kingdom


Monday, May 5, 2014 from 10:00 AM to 6:00 PM (PDT)
Add to my calendar
Organizer
Woman in The Jungle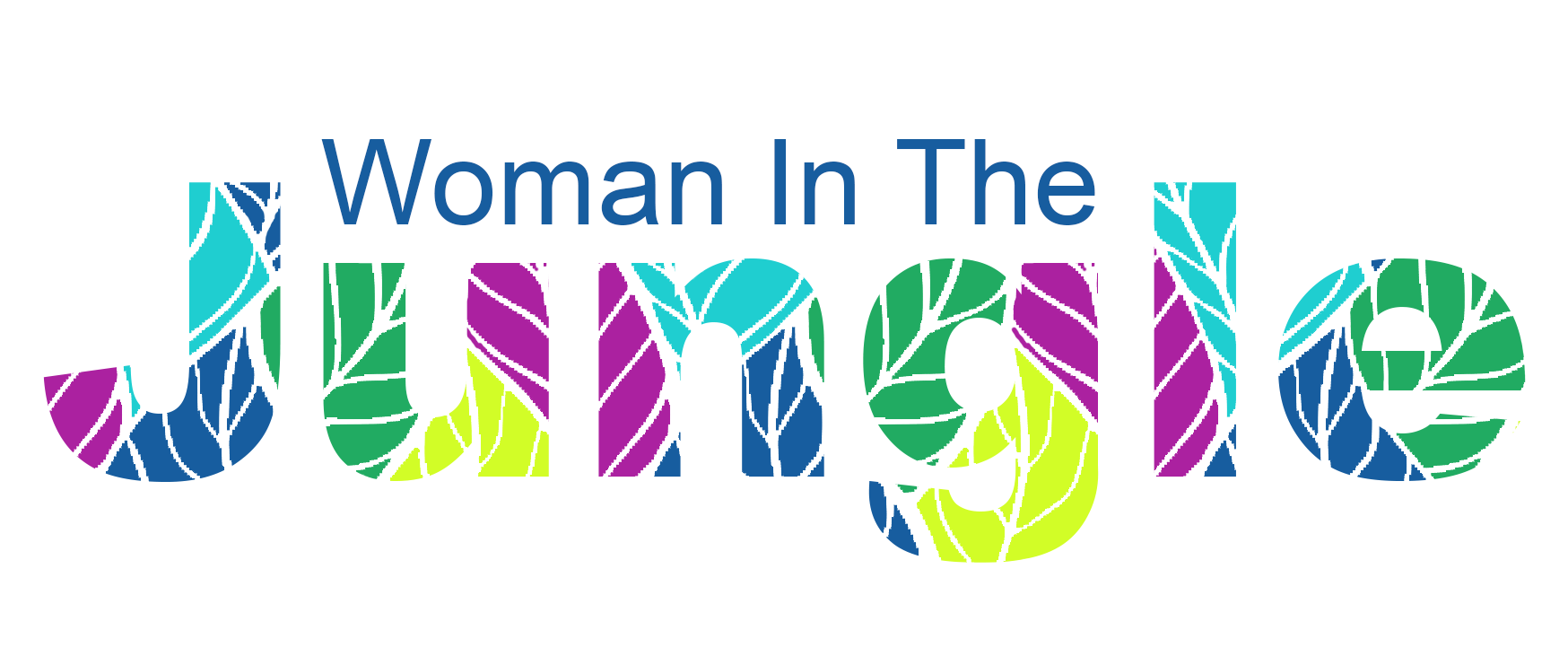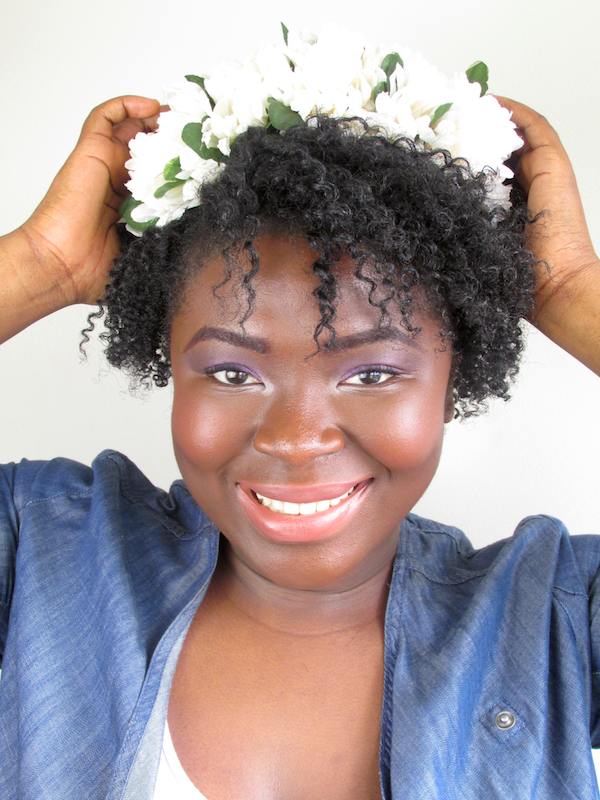 Wunmi Akinlagun, Jane of this Jungle... OK founder will do
Woman In The Jungle is a UK based natural hair & beauty community here to inspire, educate and celebrate the modern day woman of colour check us out for more show information via - www.womaninthejungle.com 
Check me out on Twitter @wunmiakinlagun & Instragm @womaninthejungle 
The WITJ Natural Hair & Beauty Show 2014 (London)