About this Event
Set in the woods of the Ironbridge Gorge.
Here you find yourself with an amazing group of women for a glorious day of yoga, meditation, nature, laughter and deep relaxation. We will be connecting to our deep wells, our energy centres, to listen to what we need and empower our spirits for guiltless self-care in a safe and supported environment. You will leave our day together feeling relaxed and uplifted.
Why should you join us?
Wouldn't it be great to put yourself first for once? To step away from your to-do list, your obligations, to put down everything that tires you out, irritates or bores you? To take a day off?
Well then – TAKE A DAY OFF! Run away to the woods with me this September!
Relax with deeply nurturing breathing exercises, yoga practice, guided meditations, gong baths and a woodland walk.
This is your time to indulge in your own self care, sanity and wellbeing. Absolutely guilt free.
How would it feel…
to really switch off from what you 'should' be doing, and do what you want to do for the day?
to spend time with a group of like minded women in an inclusive environment?
to really dive into your inner energy well and explore ways to restore and energise yourself?
to relax in a deep, whole-hearted way. Honouring your life as it is, knowing you can take time for yourself when you need it with the relaxation practices and 'tools' we explore together?
Our yoga practices will explore how mudras, meditations, mantras and pranayama's work alongside our asana postures to bring a greater self-awareness and ease to our everyday life. They will help you access a much deeper self-awareness and self-appreciation. They will help you relax on a deep level, and leave our day together feeling nourished.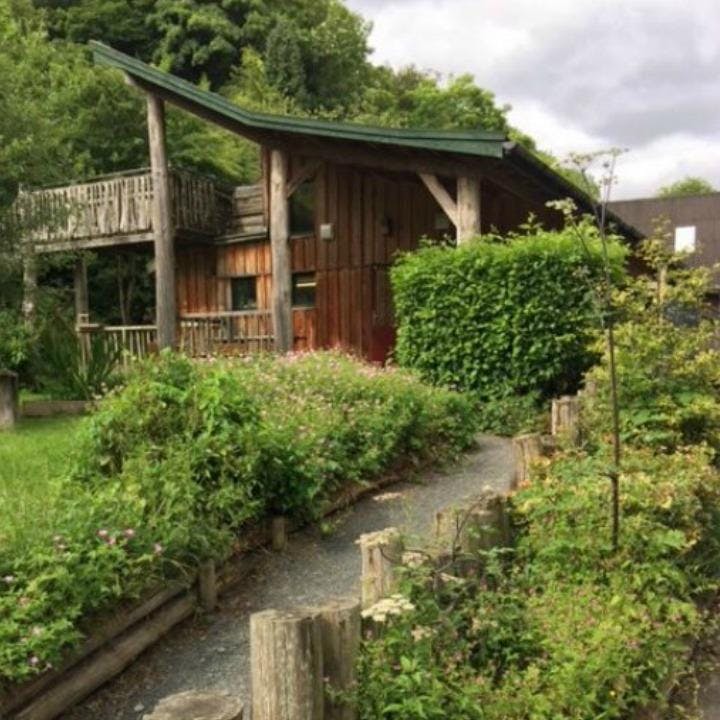 Our Woodland Hide-Away
Our woodland hide-away for the day is nestled in the heart of the Ironbridge Gorge, a World Heritage Site. Only a couple of miles south of Shrewsbury and west of Telford.
The home of the industrial revolution, far from billowing chimneys and polution you now find a protected landscape with small eco-projects and a "Green Tourism Scheme".
The Green Woods Centre is based in Coalbrookdale just a short way from historic Ironbridge itself. Promoting sustainable living through a wood based economy.
We will be calling The Woodland Hall our home for the day. A special woodframed building on the site.
Our 'outside time' will take in the beauty of the surrounding woodland and nature.
The Woodland Hall.
We will be calling The Woodland Hall our home for the day. With it's sweet chestnut pillars, peaceful environment and energy efficient design it's a perfect hidaway for our Day Off. It has natural character, is warm, inviting and safe.
This site is all about switching off and sitting in the resorative, deeply relaxing beauty of nature.
Nestled in the woods you can simply walk in any direction to connect with the nature surrounding us. The sounds, the smells, the clear air. Feel yourself unwind. Allow the magic of a woodland day retreat to work on you!
If you would like to stay over for an emersive nature relaxation experience the site also offers an eco-pod, sleeping huts and camping pitches. For more info take a look here.
The Food!
The on-site Green Wood Cafe selects local independent artisan suppliers where possible and all food is made fresh to order.
Dietry requriements? No problem! Gluten free, dairy free, vegan and vegitarian are all catered for. If you need anything else, just let me know when you book and I will do my best to make sure you are taken care of.
If you don't fancy bringing lunch with you why try a healthy lunch of veggie soup and sourdough (or gluten free) bread from the cafe. Sitting down and sharing a meal together. Sacred time!
Saturday
10-10.15 Welcome Circle.
10.15-12.30 A yoga based workshop focusing on deeply relaxing.
There will be breathing exercises, gentle asana and a gong bath.
12.30-1 Lunch
1-2 Woodland Walk. Stepping straight out of our hall for a ramble around the woods right on the door step.
2-4.15 Yoga practice to ease out any lingering tension, with guided meditation and reflection.
Looking at where we are experiencing stress, how this is manifesting and how we can change, or at least minimise, stress patterns.
Finally we will also share a guided anchoring meditation around our group altar.
4.15-4.30 Closing Circle and Tidy Up!
This day has been designed to revive your senses and lift your energy in a nurturing and restorative way.
This is deeply restorative work, enjoy it! Indulge in it! Receive it!
Please note that this itinerary is a guide and may be subject to change. The content and ordering will be the same even if the timings shift a little.
The walking is an important part of this day. It will be gentle and nature orientated. Please come ready for a ramble. Your current fitness and ability is unimportant. This is an inclusive group activity where you will be shown patience and respect.
You will need to bring…
Comfortable loose clothing suitable for yoga practice and meditation.
Warm layers, suitable outdoors coat and walking boots or wellies.
I will have a selection of spare mats, blocks and belts you can borrow. Please bring any other props or equipment you need, in particular a blanket and cushion.
A sense of fun, good manners and the willingness to help keep our area clean and tidy up after yourself!
What's not included…
Transport, travel, drinks and snacks and lunch.
Travelling to the Green Wood Centre
By Car – The Woodland Hall is at the Green Wood Centre, which is 10 minutes from Junctions 4 and 6 of the M54, with its connections to the M6 and M5.
I can provide further directions from the M54 via email if required.
For those using satnav, please follow to TF8 7EG (Dale End car park).
There is plenty of free parking at the centre. But if it is full there is also a council car park on Buildwas Road called Dale End car park which is a 5 min walk to the site.
By Public Transport – If you are coming by public transport the nearest station is Telford Central. There is a frequent bus service from Telford to the Ironbridge Visitors Centre, just a five minute walk from the Centre.