About this Event
*Due to demand I've added more tickets, the event is today at 6:30pm (close to Chancery Lane Station - Zone 1, Central Line). If you arrive at 7pm (last chance arrival), please wait at reception and I will personally come get you :)
Most extraordinary women, sabotage themselves in all areas of our lives, from our careers to business and end up giving up. Although there is a way to break the pattern and negative patterns and we are here to support you every step of the way for you to be that woman you envisage and deserve to be.
Since being established in 2017 I've sold out 79% of my meetups, as a result, I'm running more women empowerment events. You're invited to come and join us, as we give you a place to be listened, valued and supported to lead and succeed in your life. Plus we know how tough it is to find like-minded women, a place to talk as some of us work remotely and enjoy life with a community, which supports each other without hidden agendas. We learn and appreciate each others journeys, whilst supporting you to be the woman you need to be to take control of your life in 2019.
The evening focuses on empowering you to stop procrastinating, supporting and encouraging you to take control of your life and lead. Together we will help you get started with free practical advice on where to get started, how to tackle your initial challenges, a clear action plan for your next steps and leave feeling motivated and confident and have the best chance of succeeding long-term in your life. Also, you get time to wind down after a long day and meet other inspirational people in the same shoes as you.
I've deliberately chosen the WeWork locations as it's a relaxing environment, where you can unwind and literally feel at home. No-one's being left out, we'll make sure of that! I will be there to meet every one of you personally and make you feel comfortable.
Meet Your Host For The Evening: Sara K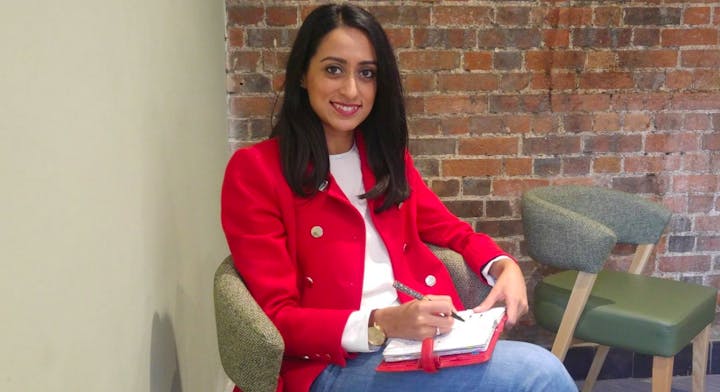 I'm an Award-Winning Qualified Marketing Practitioner and Business Mentor featured in Huffington Post, BBC, Hello Magazine and Pure London. I've lead global marketing projects with big brands such as Volkswagen Group and today supports Architects, CEOs, Corporate Directors, Managers, Luxury Fashion Designers, Surgeons to Vice Presidents from some of the biggest organisations in the world, from Google, Amazon, Gucci, Deutsche Bank, Vivienne Westwood, Bank of America Merrill Lynch to BBC. Although it hasn't been easy, as over the years I've suffered from anxiety, low self-confidence, and depression, and understand firsthand the crippling mindset women suffer at work and battles women can face in daily life.
After feeling demoralised in several of my jobs, I decided 'enough was enough'. Today, I support organisations to become the Apple of their niche using social media and women to lead and break the glass ceiling. As a result of my ventures, I've has reached over 325 women from across the globe in 365 days and now she's here to help you do the same.
Meetup Story
I established the network/meetups in 2017, where business women came to get business, startup and leadership support they needed, whilst having a place to relax and unwind with fellow business women and female entrepreneurs. Although in 2019, I realised I wanted to connect with women who felt they had their own barriers, beyond business but career and improve their well-being. As a result, I expanded the community and what you see today, Strive, Thrive & Succeed: The Women's Network London. We get women from all around the world and in the heart of the UK, London.
*T&C's: We want all our guests to have a great experience, as a result we kindly ask attendees refrain from using our event/community as a sales opportunity. If you are an organisation or individual looking for promotion opportunities, please contact me directly and I will see how I can help.
Testimonials
"It all started by attending one of Sarah's meetup. Sarah is the only person I can trust who understands my value and my vision. She supported me to startup from nothing, she invested time and I can never thank her enough. I could not have done it without her!" - Beverley Walters.
"When I first went to a meetup with Sarah I was nervous what it would be like but afterward, I was so glad I attended. I left not only with clear guidelines on what I needed to do and improve on but also with the knowledge that there was someone there to talk to when the bumps in the road on my journey show up, which is why it is always a pleasure to go to Sarah's events. It's more like catching up with a friend than a typical networking event." - Andrea Alleyne
"Attending one of Sarah's lounge event was the best money I have ever spent" - Danielle Bodjo
Reserve Your Place Today
Don't procrastinate, it's rare you get an opportunity for a meetup like this so book your place today.
I genuinely look forward to seeing you.