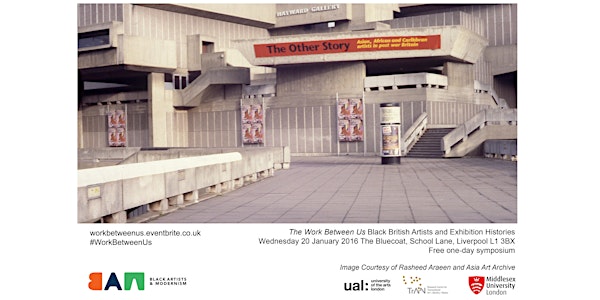 'The Work Between Us': Black British Artists and Exhibition Histories
Location
The Bluecoat
School Lane
Liverpool
L1 3BX
United Kingdom
Description
LUNCH!
If you've registered to attend 'The Work Between Us' symposium, please note that although there will be morning and afternoon refreshments, lunch will not be provided. Although the Bluecoat has a bistro and a café, and is surrounded by numerous shops and cafes, to save time we strongly advise you to pre-book (by 17 January) a lunch bag for collection in the Bluecoat during the lunch break:
http://www.thebluecoat.org.uk/events/view/events/3335
NEED TO CANCEL YOUR RESERVATION?
If you've registered to attend 'The Work Between Us' symposium, but think you won't be able to make it now, please make your seat available to someone who can by following these steps:
Log in to Eventbrite

Go to the Tickets page

Locate your order

Click your order to view order details

Select "Cancel Order" to cancel your registration

Eventbrite will then send you and us an email confirming the cancellation.
How do artists of African and Asian descent in Britain
feature in the story of twentieth-century art?
This one-day symposium will unearth the stories behind exhibitions that have put the practices of African and Asian descent artists on Britain's cultural map. Lucy Steeds (Afterall Journal), artists Sonia Boyce and Keith Piper, and international curator Paul Goodwin are amongst the speakers discussing ground-breaking exhibitions such as The Other Story, The Image Employed, and Trophies of Empire, bringing to light how they came about, what their impact was and how the artworks in them have peppered and punctuated major developments in twentieth-century art.
Scroll to the end to see the newly announced programme outline.
---
Since the 1980s there have been a several exhibitions that have taken important steps in illuminating the relationship between black British artistic practices and the well-known narratives in art's varied histories. The Other Story is one of the best-known of these key exhibitions, breaking ground as the first retrospective exhibition of modernist works by British artists of African, Asian and Caribbean descent, and moreover as the first to attempt to initiate a broader and more cosmopolitan perception of British modernist art. Although The Other Story is often referenced in the historicisation of black British art, particularly in relation to its reception by black artists, scholars and in the press, its position in global discourses of art is often overshadowed by a perception of the exhibition as a parochial event in art history.[1] Such an understanding of The Other Story may have resulted from what Jean Fisher identified in her 1997 essay 'The Work Between us' as our inability to assess 'the truth of an event' as a consequence of 'prefabricated interpretations of reality and opinions circulated by media channels'.[2]If the truth of an event – or the significance and impact of an exhibition – is to be brought to light, we must first do the vital work of revisiting exhibitions as objects of study, and in a much deeper and more nuanced way.
Taking Fisher's plea to attend to 'the work between us' as a starting point, this one-day symposium will establish a discourse around black British artistic and curatorial practices within the burgeoning academic fields of exhibition studies and exhibition histories. An exciting range of presentations examining key, but often overlooked exhibitions involving black British artists will explore their impact on artists and art institutions, their subsequent historiography and the absence of certain artists and artworks from them. Given that artworks are intimately bound up with the mode of their appearance in exhibitions, such a focus is essential in ensuring that black artistic practices are framed within central discourses of art and its histories, and not in the parochial spheres that their concomitant exhibitions often have been.
Confirmed speakers: Bryan Biggs MBE, Sonia Boyce MBE, Bev Bytheway, Alice Correia, Anjalie Dalal-Clayton, Paul Goodwin, Jean Hui Ng, Sophie Orlando, Keith Piper, Marlene Smith, Lucy Steeds.
The symposium is organised by Black Artists and Modernism (University of the Arts, London and Middlesex University) - a 3-year, AHRC funded research programme investigating the often-understated connections and points of conflict between black British artistic practices and objects and their relationship to modernism.
Spaces are free but limited; booking essential: https://workbetweenus.eventbrite.co.uk
#WorkBetweenUs
For information, contact Dr Anjalie Dalal-Clayton: a.dalalclayton@arts.ac.uk
---
[1] At a 2009 symposium titled 'Exhibitions and the World at Large' (2009) which focused on the year 1989 and the exhibitionsMagiciens de la Terre,The Other Story and the 3rd Havana Biennale, a participant questioned the inclusion of The Other Story, stating that it was 'so provincial'.
[2] Jean Fisher, 1997, 'The Work Between Us' in Trade Routes: History and Geography, Johannesburg Biennale, p.20