Actions and Detail Panel
The Work/Life Talk Show - Thursday 27th April 2017
Thu 27 April 2017, 18:30 – 20:30 BST
Description
LightStart presents... The Work/Life Talk Show!
Behind every great success story...
...are a lot of OTHER stories you don't generally get to hear.. stories of sacrifice, unseen support from family and friends - stories of directions changed and roads abandoned. We're inviting successful individuals to come and tell THOSE stories.
Every life has a work/life balance - we want to hear how those scales swung back and forth!
Over a couple of hours, with food and drink in a super informal setting, we'll be collectively and honestly interviewing three normal people who happen to have a success story to tell... and finding out what it really cost to achieve what they have achieved.
Our Guests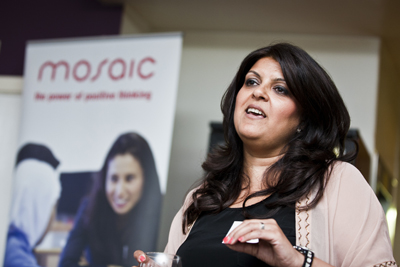 Sarah Khan-Bashir MBE
We're very pleased to be able to talk to Sarah Khan-Bashir, who is by ANY measure an extremely busy woman!
Sarah is a partner at Shire Solicitors, the legal practice she established in 2007. She is chairman of the Yorkshire region of Mosaic - a registered charity founded by HRH The Prince of Wales in 2007, who's mentoring programmes create opportunities for young people growing up in our most deprived communities. She was awarded the Eleanor Roosevelt Award by Brunel University for her services to Law and in 2014 received an MBE from the Queen for services to charity.

As well as being nominated for a Lloyds TSB Jewel award, and being one of the finalists for the Professional Excellence Award - she was also a Woman in Business finalist in the Bradford Business awards.

As a Director of 2:16, a West Yorkshire based training company which specialises in cultural awareness programmes - Sarah is involved is providing specific training in relation to the Muslim communities in West Yorkshire.

Sarah grew up in humble circumstances in Bradford. Having achieved outstanding business success as a qualified lawyer and founder of Shire Solicitors, she has used her position powerfully to champion, lead and support important charitable causes in Yorkshire and nationally. She even runs her own business – the Atticus Coffee House in Shipley!

In keeping with the Work/Life balance of our talk show, Sarah is married with three children, the youngest of whom is 12! We are greatly looking forward to talking to Sarah about how she manages her time.
---
Plus more guests to be confirmed very soon!
---
If you know someone with an amazing story - who you think would be comfortable being open and honest about their private and working lives - drop us an email at ideas@lightstart.co.uk and we'll get in touch with them.
---
This event is FREE, informal, and lasts about two hours. The venue is TBC but will be in or around Leeds centre.
Date and Time
Location
Duke Studios / Sheaf Street Cafeteria
3 Sheaf Street
Leeds
LS10 1HD
United Kingdom