The Workshop Toolkit - Tips and Tools for Outstanding Workshops.
Description
A morning learning about workshops (Workshop Essentials) might not feel like quite enough and if you are game for more then please book onto the Workshop Toolkit too!
If you've found an ice breaker that works - GREAT!
If your brainstorming techniques get good discussions going - FANTASTIC!
But do you ever feel like your workshop toolkit is a bit light?
Coming up with a range of activities to keep your workshops fresh and interesting is a constant challenge. If you can develop a good catalogue of engaging, stimulating and participatory tools then you will be able to keep your participants and yourself interested for many a workshop to come.
Ready for some new ideas, an injection of creativity and some easily adaptable methods and activities?
Then come along to The Workshop Toolkit - Tips and Tools for Outsanding Workshops to create a toolkit that will really keep your workshops sizzling.
In this 3 hour workshop we will focus on:
Introducing and trying out a selection of interactive tools to enable you to create and enhance your own workshop "toolkit".

Understanding how and when different activities work best, and how you might be able to adapt them for different groups.


Digging deep into workshop design so you can really align those aims, get the timing right, choose appropriate materials and concentrate on the workshop process.


Familiarisation with a range of different materials and learning a few tricks of the trade
In addition you will receive a free copy of The Workshop Toolkit Workbook packed full of ideas.
AND
A free 30 minute follow up call for 1:1 support in designing your own workshop.
AND
Be eligible to join the Workshop Hub facebook group.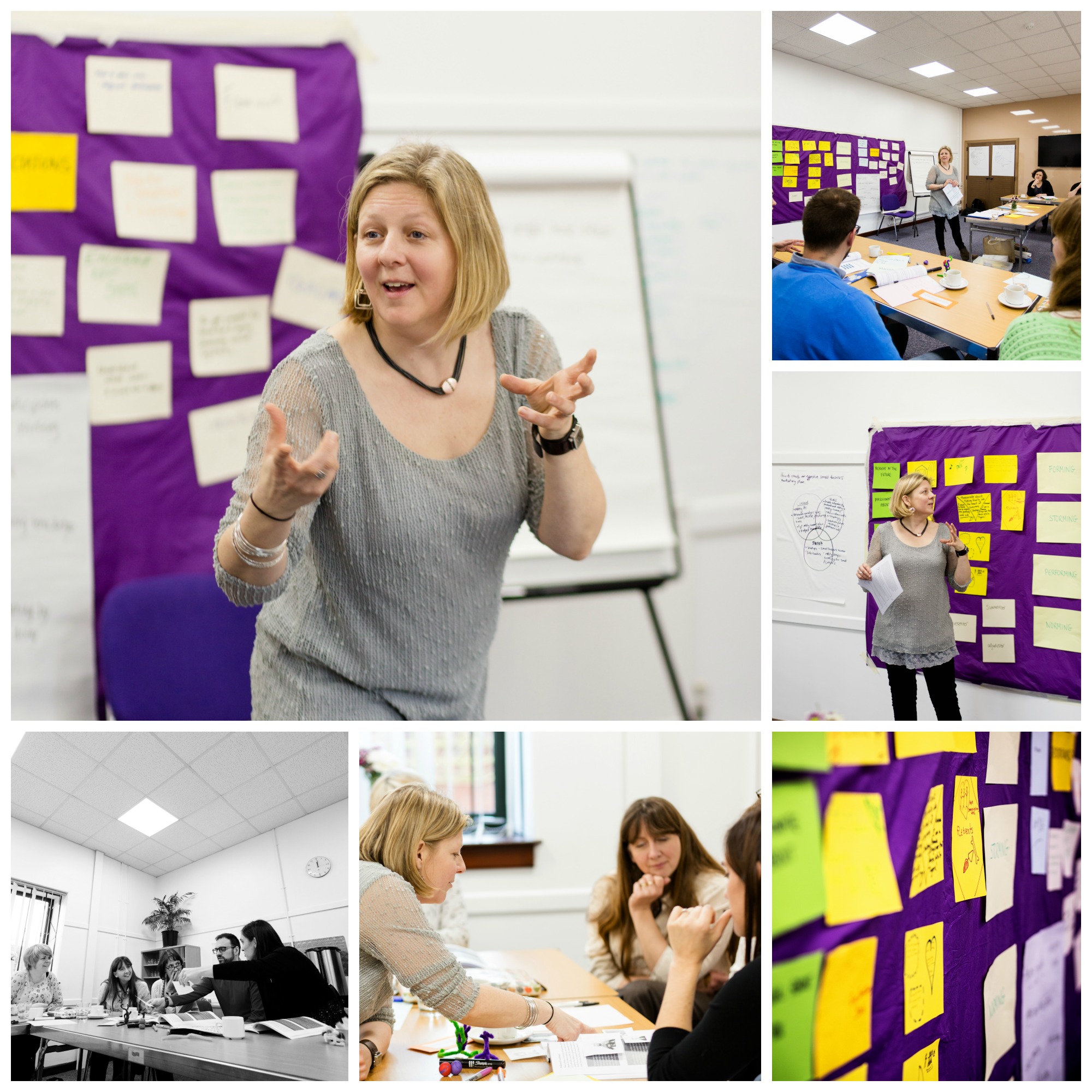 This workshop is only available to those who have completed Workshop Essentials in the morning, or on a previous occasion.
What have people said about my workshops so far?
I'm feeling a lot more confident in planning and running a workshop. There are several exercises I could usefrom this workshop and have also had several ideas abouit adapting them for my own use, The most important part for me is to continually check your aims and objectives" Shelley Harris Shelley's Success Strategies
Really enjoyed this afternoon. Consolidated topics we'd covered this morning and I feel much clearer and more confident. Thank you! Robyn Harris, Equenergy.
"Excellent! Lots of aha moments, some concepts really stuck. 10/10. I'm feeling confident that my own workshop will be engaging. I've got lots of ideas for my own workshop" Karen Weider, Weider Wed Solutions
"It's not until you work with an expert that you realise how much more there is to facilitating and managing a workshop with inspiring and compelling content that motivates delegates into action. Helene's help has been significant in shaping our Ready for Export workshops that help companies get started on their journey into international trade." John Rubidge, Head of Innovation Services, UK Trade and Investment South West (THE WORKSHOP TOOLKIT delivered in house May 2016)
"I recently attended one of Helene's workshops and it was excellent. Helene clearly knows how to run a workshop and teaches others in an enjoyable way.
As someone who has previously planned and delivered a workshop, I was looking to find ways to do it better. Helene helps her clients think through aspects of workshops that they might not have considered, and they should consequently be well prepared and more confident when the day of their workshop arrives." Mark Poarch,

Chief Executive at BRACE - Alzheimer's Research (WORKSHOP ESSENTIALS September 2016).


Any questions?
Contant me for more information:
Helene@jewellfacilitation.com
www.jewellfacilitation.com
@HeleneJewell
*Refunds will only be given in exceptional circumstances