'The World is Your Oyster' - Exploring & Enhancing International Trade
Description
Are you looking for growth in your business?
Do you want to increase your product sales?
Then the rest of the world outside the UK is YOUR MARKET place!
Come and listen to the experts at this
FREE TO ATTEND EVENT!
Department for International Trade in partnership with British Marine, and Portsmouth City Council is hosting an exciting event to provide you with expert opinion, case studies, and a 'meet the expert' networking opportunity on at the world renowned Portsmouth Historic Dockyard and includes a tour of HMS Victory! (Limited Availability - first come first served)
This free to attend event is available to businesses in the world of marine and maritime and is a fantastic opportunity to mix and mingle with like minded businesses and service providers to explore how your business can grow via exporting your products and services around the globe.
Specifically designed for SME's who are interested in growing their business in the International arena the a half day of information about international trade and export.
Discover why you should export, how to export, regulations surrounding exporting, and the support and funding that is available for overseas events and much more.
The day includes:
Real life success stories from companies already exporting.
Presentations from the experts in international trade and finance
Opportunities to arrange 1 to 1 support at a later date.
"Meet the Expert networking event" providing you with an opportunity to mix and mingle with potential buyers over a buffet lunch.
Tour HMS Victory (Limited spaces)
Who should attend?
Respresentatives from marine and maritime businesses that are exploring or looking to enhance their international trade objectives and seek advice, opinion and support to achieve those aims.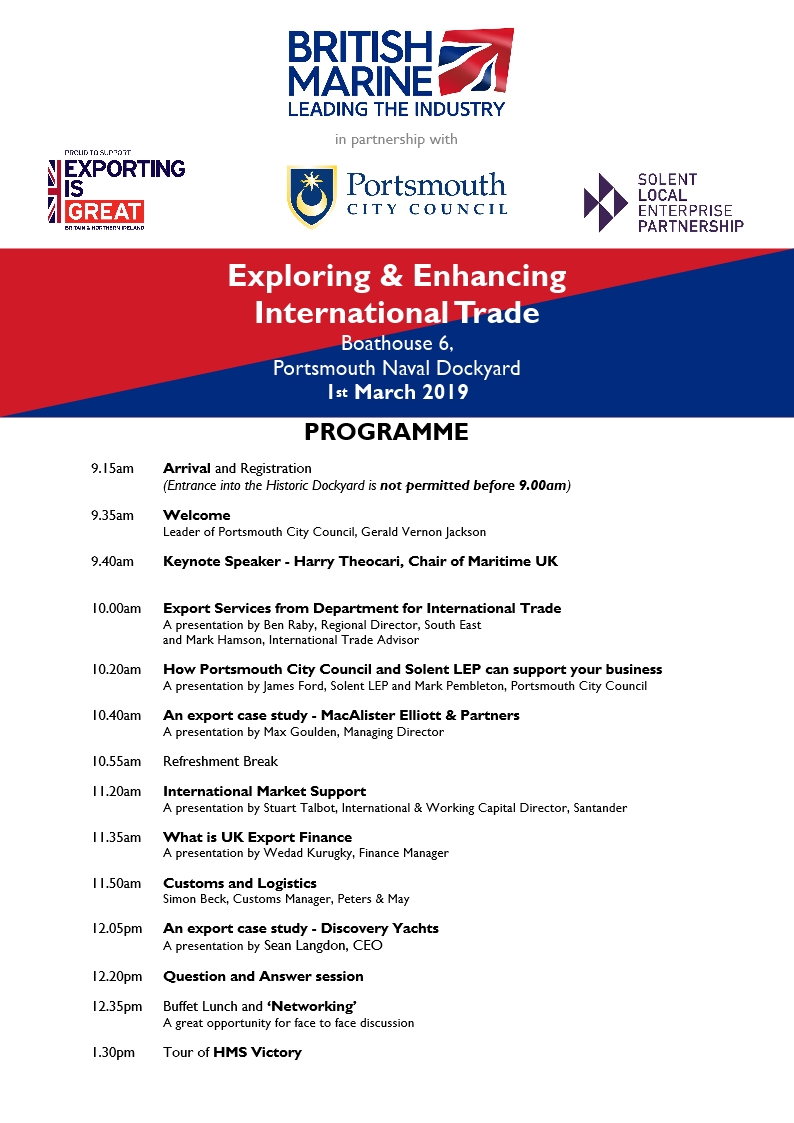 Entrance is via Victory Gate into the Naval Dockyard, Main Road, Portsmouth and is NOT PERMITTED BEFORE 9am.
The nearest rail station is Portsmouth Harbour - 5-7 minute walk

The nearest pay and displayccar parks are situated in:
Wickham Street
Portsmouth
PO1 3DS
Havant Street
Portsmouth
PO1 3EQ
Please note: This is a limited place 'free to attend' event. However ticket holders who fail to attend may be invoiced £10.00 to cover the cost of catering
More information available from Johanna Sargeant - jsargeant@britishmarine.co.uk
The programme is subject to change and will be updated accordingly.