About this Event
Join us for our next networking event for London-based black female travellers!
2019 marks 400 years since the first enslaved African arriving in Jamestown, Virginia, USA and we'll be discussing all aspects of travel for the diaspora this August.
Ever wanted to explore the African continent but unsure where to start? Have countries changed their image from media perception? How are black women accessing travel to their home countries? Why are the flights back home so expensive?! Hear all this and more at our next networking event!
Mingle with other travellers and listen to their tales. Be inspired by their journeys and share your own dream destinations. Come solo or get your friends to book a ticket and come along - we'll have canapes, good conversation and good vibes on the night!
On the night we will be giving out prizes which include flight vouchers to go towards booking a holiday!
Being a black woman travelling the globe can be tough - we hope this evening will shape and inspire your future journeys for the year!
The night will include a panel discussion, Q&A and plans for our future BFTLDN trips!
Timeline
6.30 pm - Registration
7.00 pm - Introduction and welcome from Founder
7.15 pm - Panel presentations
7.45 pm - Break
7.55 pm - Panel Discussion
8.30 pm - Networking and Drinks
Speakers and Panel
Ty Adjei - Travel Content Creator | @wheretygoes
Is Ghana at the top of your African continent bucket list? All round travel guru Ty will be discussing her recent trip and giving you her top tips on how best to see the sights and sounds of the Gold Coast.
Bianca Malata - Travel Blogger at Its All Bee | @itsallbee
An adventure-loving traveler with a firm belief that travel does not need to be expensive. It also starts right from home. Bianca created It's All Bee to showcase her adventures and to inspire others to seek out and explore this beautiful and vast world we live in. Find her adventures through Africa, Europe, and Asia on her blog as well as tips to help you plan your next trip.
Dr Noreen Nguru - Founder and CEO| What The Doctor Recommends and Luxe On A Budget Tours
What The Doctor Recommends specialises in assessing the individual travel wants and needs of solo travellers and small groups, then prescribing and curating the holiday of their dreams. Noreen will be discussing her work with pioneering the world's first prescribed travel service and delve into the group tours which this year include trips to Morroco and Nigeria.
Dodzie Numekover (Counsellor) - Head of Public Affairs and Information, Ghana High Commission UK/Ireland
Our special guest Dodzie, will be providing more insight into Ghana's campaign in to the Year of the Return, and the imporatnce of travelling back to Ghana. Find out about the special events to be held in Ghana this year to help you book your trip!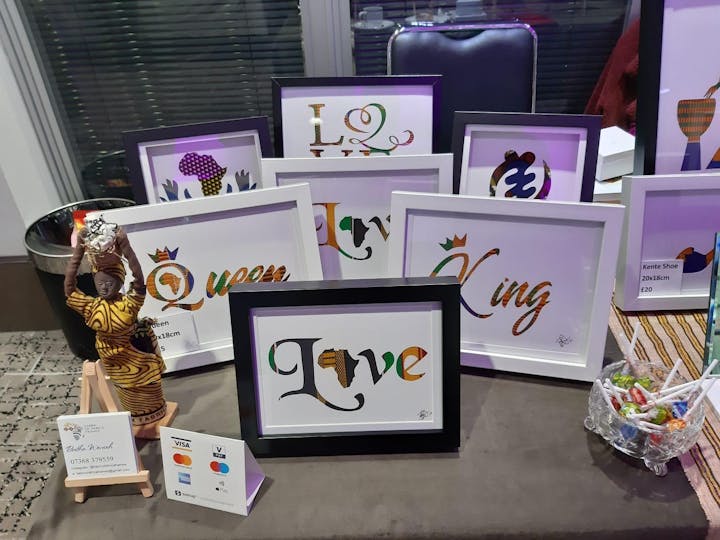 On the night Fabric of Africa Frames will be selling handmade bespoke frames with a touch of Africa. Authentic African fabric is used to create and frame beautiful peices of art. Authentically African - Authentically Ghanaian. | @fabricofafricaframes