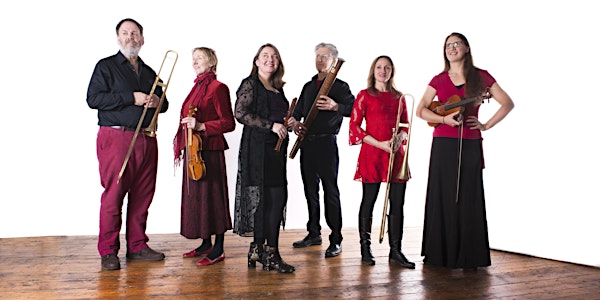 Multiple Dates
The York Waits - The Waits' Wassail: Music for Advent and Christmas
Carols, songs and dance from across medieval and renaissance England and Europe presented by York's very own Renaissance Town Band.
About this event
Tim Bayley shawm, bagpipe, curtal, crumhorn, recorder, vielle, harp, portative organ
Lizzie Gutteridge shawm, bagpipe, curtal, crumhorn, recorder, fiddle
Anna Marshall sackbut, crumhorn, recorder
Susan Marshall fiddle, rebec
William Marshall sackbut, crumhorn, recorder, flute, bagpipe, gittern, guitar
with
Deborah Catterall voice, recorder
"Characteristically infectious and, as always, they brought music from days gone by to vivid, brilliant life." York Press
theyorkwaits.org.uk
Please book tickets in advance this year so that we have details for contact tracing purposes. On arrival you can show your ticket either as a print out or on screen on your device. Seating will be socially distanced in small groups. Please wear a mask when inside the church if you can.
Organiser of The York Waits - The Waits' Wassail: Music for Advent and Christmas

Medieval and Renaissance concerts on Sunday afternoons
Colchester Early Music showcases small groups performing Medieval and Renaissance music to the highest standards. Regular performers include Blondel & The York Waits and other past performers include Trouvere, Gaita and Passamezzo.
Our venue:
St Andrew's Church in Marks Tey combines a beautiful period backdrop & acoustic with modern amenities including ample parking, disabled access, modern WCs in the adjacent church hall, comfortable seating and under floor heating. The church is located in Church Lane, Marks Tey CO6 1LW and is signposted from the A120. It is a 10-15 minute walk from Marks Tey railway station or 5-10 from the nearest bus stop.
Concessions:
We will sell tickets at the concessionary rate to anyone who asks for one – and we don't need to know why. You might be a pensioner, a student or unwaged, or you may just be waiting for pay day. We'd rather that you come and hear the music without stress than that you struggle to pay or fret about the cost.
Fancy a cuppa?:
Tea, coffee and biscuits are served by members of the church congregation either during the interval or after the concert, depending on the length of the performance. Donations to church funds are gratefully received, and do take this chance to chat with our performers, take a look at the instruments and ask any questions you might have...
PS
This festival receives no arts or other funding. Instead, it is run by musicians for musicians, on a cooperative basis. Any profit goes direct to the performers. Thank you for your support!