The Youth Progress Index is back for 2021! Join us for the live launch with the European Youth Forum and Social Progress Imperative.
About this event
We are at a critical moment in time. Young people have been hit hard by the pandemic, with many facing disrupted education, skyrocketing unemployment and a growing mental health crisis.
So how can we protect and improve the quality of life for our young people and future generations?
The Youth Progress Index 2021 by the European Youth Forum with the support of the Social Progress Imperative, brings together data from over 150 countries around the world. By combining the crucial components of basic human needs, wellbeing and opportunity, the Youth Progress Index provides a unique insight into the progress states are making to empower their young people.
Join our live virtual event on 10 June, where the results of this year's Youth Progress Index will be revealed and you will have the opportunity to discuss the reality of young people today, including the impact of Covid-19 and the climate crisis with policy-makers and civil society organisations.
Watch the LIVE online: https://youthprogressindex.org/youth-progress-forum/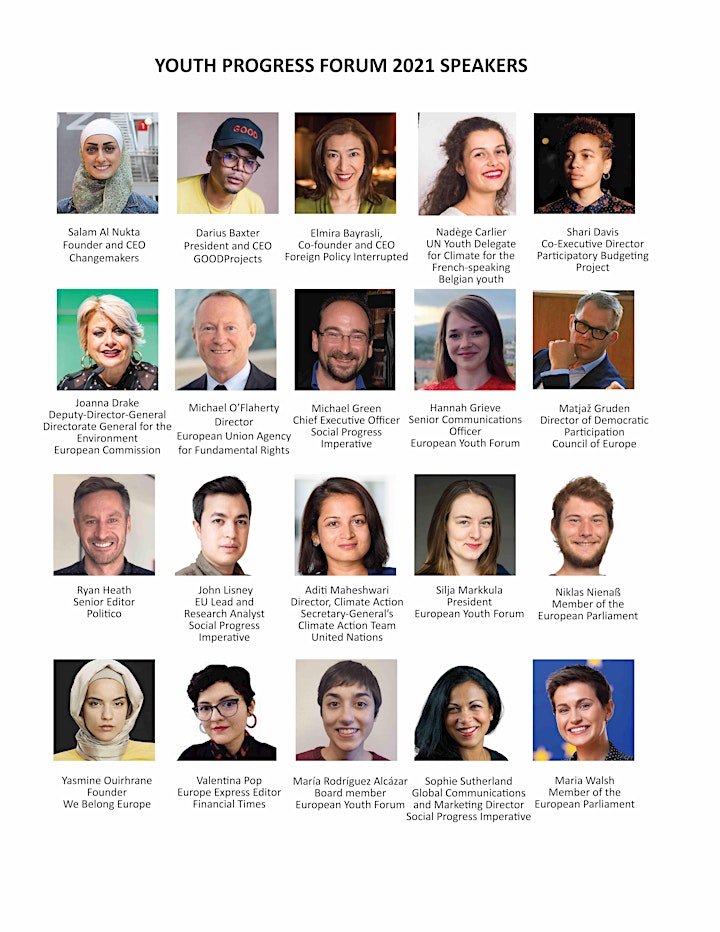 Programme Agenda
Time zone is CET
3.00 pm Welcome remarks
María Rodríguez Alcázar, European Youth Forum Board member
Silja Markkula, President, European Youth Forum
3.15 pm Presentation: Youth Progress Index 2021 Results
Michael Green, CEO, Social Progress Imperative
3.30 pm Climate Change: Innovation, Activism, or Governance?
Youth activism pushed climate change to the forefront of the conversation and forced policymakers to pay attention. From the European Green Deal to the Biden climate plan, policies for a carbon-neutral future are moving forward, albeit with resistance. Some would argue that the plans are too little too late and that we need big societal change, not incremental policy. Techno-optimists would say silver bullets in clean energy, carbon capture, and other innovations will save the day. So who is right? How do we align on the best way to move forward and put out the fire which is already raging?
Part one - A conversation with Aditi Maheshwari, Director, Climate Action, Secretary-General's Climate Action Team, Executive Office of the Secretary-General (EOSG), United Nations
Interviewer: Sophie Sutherland, Global Communications and Marketing Director, Social Progress Imperative
Part two - Interactive discussion
Nadège Carlier, UN Youth Delegate for Climate, for the French-speaking Belgian youth
Joanna Drake, Deputy-Director-General, Directorate-General for the Environment, European Commission
Niklas Nienaß, Member of the European Parliament
Moderator: Ryan Heath, Senior Editor, Politico
4.10 pm Youth and Covid-19: The fallout and bringing back optimism
Young people around the world have been among the hardest hit by the shutdown, despite their resilience to the virus. From job and income loss to a dramatic rise in mental health issues, this generation's youth are facing deep and long-term consequences from the pandemic. Disruptions to education and the existing digital divide make it likely that inequalities have been exacerbated and it could be years before we find out the true cost of the virus. This discussion will address what it means to be young during Covid-19, the potential policy and civil society actions we can take, and how we bring optimism back.
Part one - A conversation with Maria Walsh, Member of the European Parliament
Interviewer: Hannah Grieve, Senior Communications Officer, European Youth Forum
Part two Interactive discussion
Salam Al-Nukta, CEO and Co-Founder of ChangeMakers
Maria Rodriguez, European Youth Forum Board member
Moderator: Valentina Pop, Europe Express Editor, Financial Times
4.40 pm Civic Space and Youth Rights
As marginalised groups and minorities have been disproportionately impacted by the global pandemic, it has shone a light on the deep systemic inequalities in our society. Covid restrictions have also limited people's capacity to meet and mobilise, contributing further to a growing global trend of governments' pushback on civic space. How can youth-driven social movements become the change we need for future generations, while governments are acting to restrict their civic space? How have Covid and related measures contributed to further restrictions on young people's ability to mobilise for social causes?
Part one - A conversation with Michael O'Flaherty, Director, European Union Agency for Fundamental Rights
Interviewer: John Lisney, EU Lead and Research Analyst, Social Progress Imperative
Part two Interactive discussion
Darius Baxter, President and CEO, GOODProjects
Shari Davis, Co-Executive Director, Participatory Budgeting Project
Matjaž Gruden, Director of Democratic Participation, Council of Europe
Yasmine Ouirhrane, Founder of We Belong Europe
Moderator: Elmira Bayrasli, Co-founder and CEO, Foreign Policy Interrupted
5.15 pm Closing performance - When Art meets Activism
FaBRECOLLECTIV
5.20 pm Closing remarks
María Rodríguez Alcázar, European Youth Forum Board member
5.30 pm End of event
Organiser of The Youth Progress Index 2021: Covid, Climate and Commitment
The European Youth Forum (YFJ) is the platform of youth organisations in Europe. Representing 100+ youth organisations, both National Youth Councils and International Non-Governmental Youth Organisations, we believe youth organisations are the tool through which we empower, encourage, involve, represent, reach out and support young people. The Youth Forum brings together tens of millions of young people from all over Europe, organised in order to represent their common interests.
See more at: http://www.youthforum.org