About this Event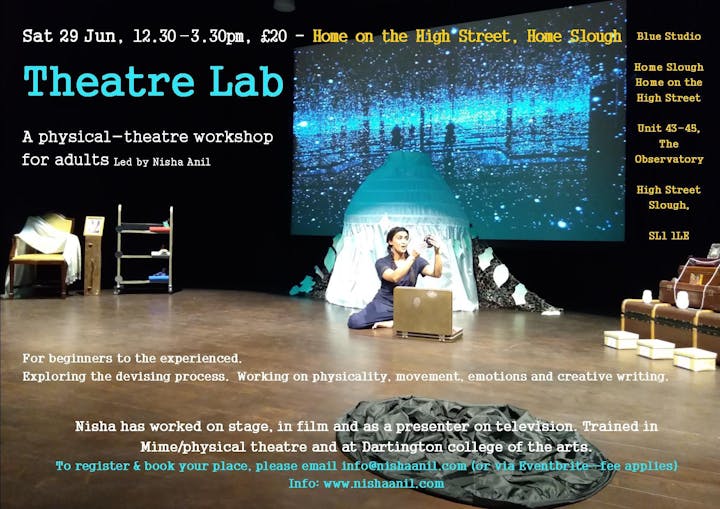 Theatre Lab (for Adults) at Home Slough on the High Street, Berkshire, 12.30pm – 3.30pm, Saturday 29th June, £20
Limited capacity, (advance Booking advised) – to book and register your place please email info@nishaanil.com or via Eventbrite, (additional booking fee applies)
The venue is located in the old Top Shop near the Observatory Shopping centre and there is parking onsite in the Observatory Shopping Centre Car Park. Or you can choose other nearby car parks.
It is approximately 10 minute walk, from Slough Train & Bus Station.
Nisha has worked on stage, in film and as a presenter on television, has trained at The Desmond Jones School of Mime and Physical Theatre and studied Theatre at Dartington College of the arts.
For more info about, please visit www.nishaanil.com
The Workshop
We will warm up together, shaking away preconceptions that can hamper performance and I will lead you through practical exercises for the body and some devised theatre processes to create compositional performance material. But most importantly, 'Theatre Lab' is a physical-theatre workshop; it is a place to explore, experiment & play. It is for beginners to the more experienced, for dancers, performance artists and poets, theatre-makers, actors – it is for anyone who likes to MOVE and is happy to share with each other (no public performance). For all art forms, for the creatively curious and for all intrigued by or involved in theatre making.
- Raise awareness and confidence
- Test out thematic ideas
- Invent something new
- Share and develop your theatre skills
However, emphasis on skill is not so important but a willingness to engage in the activities exercises and share with each-other in a safe environment.
The framework for exploration for Theatre Lab includes, but is not defined by, working with 'characterisation through walking', exploring the 'elements', physicality of the human 'emotions', a creative–writing exercise and storytelling. Working on performance composition using story/text, song/sounds, dance/movement, to then create a new story and present them to each-other as a way of learning throughout the duration of the workshop.
You are welcome to arrive, 15mins before the workshop starts to do your own physical warm-up and stretching. The Kitchen is under refurbishment but there are plenty of places to eat or purchase food before or after the workshop, in the town. Please bear in mind, the workshop is quite physical, light lunch/snacks will not weigh you down. Please wear comfy clothes you can stretch and move about in, bring layers to keep warm, a bottle of water and an open mind.