Description
Fashions Finest Africa in conjunction with the British Council & Lagos Theatre Festival will be presenting the 'Theatre of Fashion' show taking place during the Lagos Theatre Festival on Sunday 4th March.
This is an amazing opportunity to see and understand how important fashion is to theatre productions. The fashion show will feature amazing collections from some of the biggest theatre productions in Nigeria, which have been designed by some of Nigeria's top designers.
It will be a red carpet affair, full of entertainment, featuring spoken word as well a distinguished panel talking about fashion in theatre and the opportunities available within this growing industry and an amazing way to bring the Lagos Theatre Festival to a close.
Fashions Finest Africa continues to bring you the best fashion events in the country, featuring top designers at no cost to yourself.
FOOD & DRINK would be available for purchase on the night.
We have a limited number of tickets available so book your tickets early!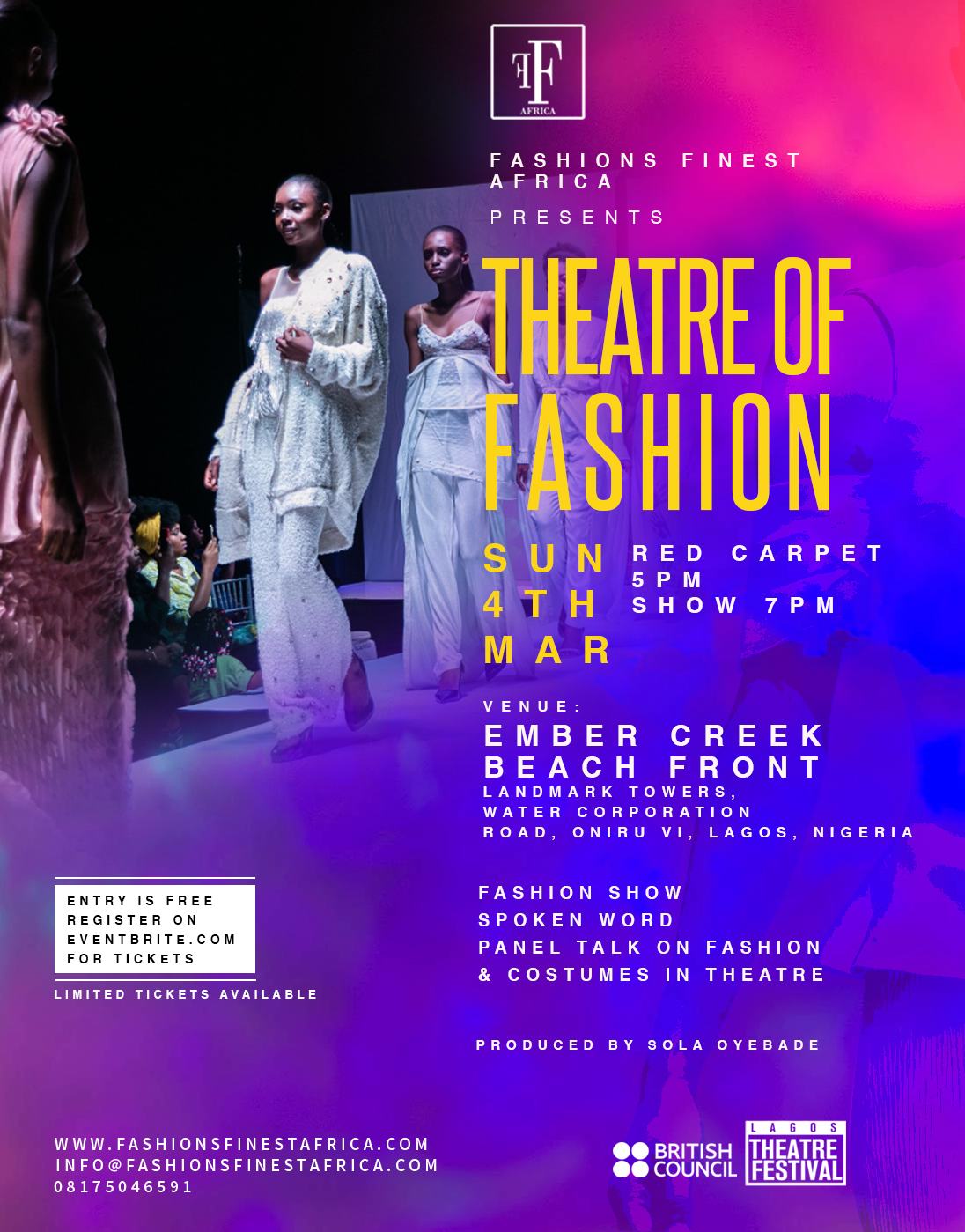 Organiser of Theatre of Fashion
The African Fashion industry is about to take a new turn as the multi award winning event management Company and online fashion magazine, Fashions Finest expands to Nigeria and Africa as a whole.
Fashions Finest Africa is set to be a platform that assembles the very best fashion industry talents out of Africa so as to expose and showcase their craft, creativity and uniqueness. We believe that the very best talents in Africa are still untapped and undiscovered, so we are bringing Fashions Finest to Africa to bridge that gap. We won't only be paying attention to just the fashion designers but the entire fashion industry will be our forte. Photographers, Make-up Artists, Hairstylists, Fashion Stylists and models with potential and talent will be under our tutelage, as we would also have them trained and mentored by experienced and established industry professionals.
Fashions Finest Africa is produced by Mahogany International.