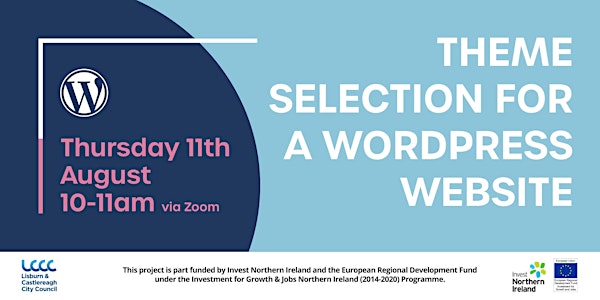 Theme Selection for a WordPress Website-What Theme is best for your Website
Learn how to select the best template for your wordpress website - so you can select, edit and push live a new wordpress website
About this event
Who Is This For
Every business can benefit from understanding how to use WordPress to create a team and push a website live. This can be combined with other webinars we are offering on the same topic.
Digi-Growth Programme
The Digi-Growth Programme is focused on helping Lisburn & Castlereagh businesses improve their digital skills. This bespoke business support programme will help businesses to enhance their ecommerce capabilities and integrate digital technologies within their businesses to improve engagement and change their business model to the economic climate.
Businesses can be supported with their website, digital strategy, ecommerce set up, content, SEO strategy, social media, video creation and many more areas. This digital transformation support is part of the programme delivery to upskill local businesses with digital skills.
To find out more about the Digi-Growth Programme and other business supports available, visit the following webpage on the LCCC website https://www.lisburncastlereagh.gov.uk/business . To apply for this programme, email Emma emma.fearon@lisburncastlereagh.gov.uk for an expression of interest form.
"This project is part funded by Invest Northern Ireland and the European Regional Development Fund under the Investment for Growth & Jobs Northern Ireland (2014-2020) Programme."