Event Information
Refund Policy
Contact the organiser to request a refund.
Eventbrite's fee is nonrefundable.
Going beyond self-hate, accept yourself exactly as you are
About this Event
There is nothing wrong with you.
Most of us have been taught at some level that there's something fundamentally wrong with how things are. Always something to fix or make better and ultimately with ourselves, "I should be more like this, less like that."
I suspect that for you too, at some depth, sometimes subtle, sometimes very obvious, there's this horrible feeling of never being okay, always needing to be different than you are. It's completely okay, I believe it's a common human experience.
This is a practice to accept yourself without needing to be in any specific way, exploring vulnerability, meditation and self-love with other genuine, kind, open-hearted, inspiring people.
Some of the ways in which self hate manifests are: self-sabotaging, taking blame but not credit, not being able to receive, seeing what is wrong with everything, blaming others, trying to be perfect, trying to be different from what you are, strong body pain.
Self-hate is the ultimate addiction, many (including me) find that once they have uncovered their self-hate and replaced it (even partially) with more loving self-talk, other addictions fades away naturally as well
We will explore how egocentricity and self-hate are really the same things, and freedom comes from lovingly making our sense of self less fixed and more universal.
The self can't be destroyed for it was never there to start with, but we can embrace all of our negative self-stories, without believing them but holding them kindly with compassion, and seeing their ultimate emptiness.
There's an alternative way of being: one where things are ok, where there's no need to judge yourself or others, where the self gently dissolves into love for everything.
I'd love for you to experience it, it feels good.
It will be a small intimate group.
We start with a short Heart sharing
Then we have a short Meditation for connection with ourselves and others
Then we explore and release some unhelpful stories about ourselves (or any feeling that "things are not OK", "there's something wrong with me or the world", etc)
If you have, you may bring your tea kit and drink some tea during the evening.
Your presence without needing to be or do anything, in particular, is the most important ingredient, nothing to worry about, nothing to do, no one to impress, no one to defend from, just peacefully being as you are.
Being witnessed by others is the other very powerful ingredient, scary as it might sound you might surprise yourself with how brave you feel when you are centered and present.
With this practice, you will find a growing sense of inner peace, less guilt, a feeling of being true to yourself, and freedom from worrying about what others might think of you.
Based on the brilliant book by zen teacher Cheri Huber "There is nothing wrong with you", I'm so passionate about this work I really would love for as many people as possible to achieve true self-love and acceptance.
WHEN
Wednesdays 7-9pm (UK time)
25th November 2020
9th December 2020
16th December 2020
WHERE
Zoom Meeting Online
SOME WORDS FROM OUR PREVIOUS EVENTS
"Serene, blissful, enriching, peaceful and deeply nourishing by the beautiful souls around and the tea medicine magic."
Kristen (Estonia)
"My stays here are filled with presence, joy and gratitude. The close proximity to nature makes this place truly peaceful and relaxing. My tea ceremonies here really connected me to the wild and wise spirit of tea. They opened up my heart to acceptance, gratitude and love."
Liuda (Russia)
Ceremony Facilitator
Paolo the founder of Enlightenment Tea has lived in a few Buddhist retreat centers, with countless meditation retreats, practicing silent sitting for a year in total, he has also studied Tea Ceremony with western and eastern masters in Malaysia and Taiwan, read more ...
Cost
General Ticket £15 (+ online booking fee)
Concessions Ticket £10 (+ online booking fee)
Refund Policy Please contact us if you cannot make an event 14 days prior to the event, your payment can be used towards another event or a Tea Purchase.
W: http://enlightenmenttea.org/
E: enlightenmentherbs@gmail.com
FB: www.facebook.com/enlighttea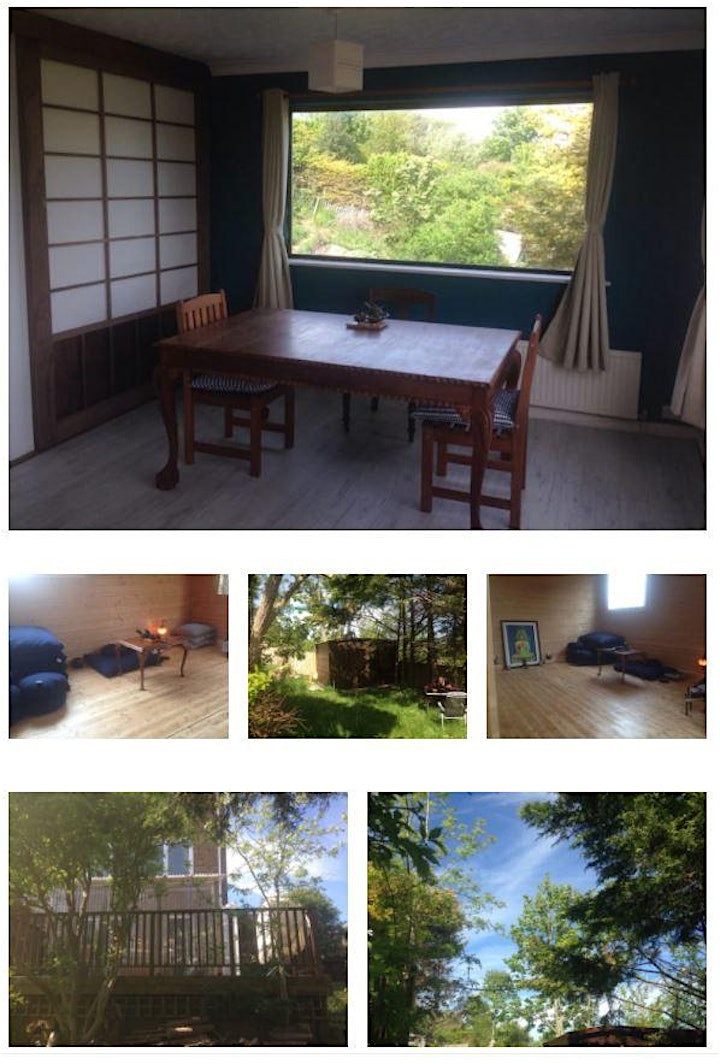 Date and Time
Location
Refund Policy
Contact the organiser to request a refund.
Eventbrite's fee is nonrefundable.