Description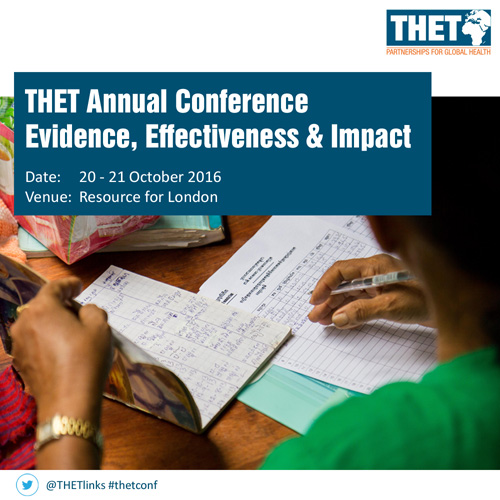 Tickets are now sold out!
We are sorry that you could not get a ticket for our conference. Please note that there won't be any tickets available at the door.
If you wish to be added to our waiting list please email us at conference@thet.org
About the Conference
After two years in Birmingham, we are excited to announce that our Annual Conference is back in London. This year we will be welcoming you at Resource for London on 20 – 21 October 2016.
THET's annual conference is an opportunity to discuss new ideas, share experiences, and meet with people who work every day to offer new solutions to old problems and change the face of development.
Speakers:
Hon Dr Joyce Moriku Kaducu - State Minister for Health - Primary Health Care, Uganda
Rory Stewart MP OBE - Minister of State, DFID
Jim Campbell - Director of the Health Workforce Department, WHO
Dame Tina Lavender - Professor of Midwifery , University of Manchester and Director of the Centre for Global Women's Health
Dr David Musoke - Lecturer, Makerere University School of Public Health, Uganda
Dr Lucie Byrne-Davis - Health Psychologist & Senior Lecturer in assessment & psychometrics at Manchester Medical School
Dr Paula Baraitser - Academic Lead Global Health MSc, King's College, London
Neil Pakenham-Walsh - Coordinator of the HIFA campaign & current Chair of the Dgroups Foundation
Prof. Judith Ellis - Chief Executive of the Royal College of Paediatrics and Child Health
Barbara Stilwell - Senior Director Health Workforce Solutions, IntraHealth International
Prof Sir Andy Haines - Professor of Public Health & Primary Care, London School of Hygiene & Tropical Medicine

Tutu Jacobsen - Manager for Team Health & Senior Program Adviser, FK Norway
Susanne Brovold Hvidsten - Senior Program Adviser, Health Team, FK Norway
David Weakliam - Global Health Lead, Health Service Executive Ireland
Bruce Compton - Senior Director, Catholic Health Association of the United States
Georgia Taylor - Director, Health Partners International
Nicola Watt - Global Health Policy Adviser, DFID
Elaine Green - Independent Health & HIV Consultant, E M Green Consulting
Neil Squires - Director of Global Public Health, Public Health England
Eunice Sinyemu - Zambia Country Manager, THET
Graeme Chisholm - Volunteer Engagement Manager, THET
Ben Simms - Chief Executive of THET
What is the conference about?
The conference will focus on the theme 'Evidence, Effectiveness and Impact' debating how health partnerships are changing the face of development and the role that they play in response to the challenges set by the new Sustainable Development Goals (SDGs). We are entering an era in which traditional approaches to overseas aid are giving way to new forms of mutual benefits and co-learning. Speakers on both days will explore how the UK can best respond to the challenges thrown down by the SDGs, and in particular how health partnerships can deliver the transformative change required.
Sponsorship and Exhibitor Packages

This year, we are also offering a broad range of opportunities for health partnership suppliers to promote their brand by benefiting from pre-event, onsite and post-event marketing. If this is something you or your organisation would be interested in please email us at: conference@thet.org
Photography and Video
By purchasing a ticket to the THET Conference 2016, you are consenting to your photograph and/or video being taken, which may be used for future communication purposes by THET.
Refunds and Transfers
If you have purchased a ticket and are no longer available to attend, please contact conference@thet.org by 14 October.
In association with

Sponsored by

Exhibitors & Contributors

THET is reliant on individual donations to train health workers overseas. Support us today.