Description
Golden Hare Books is very excited to host the Edinburgh book launch for Kirsty Logan's new collection of short fiction, Things We Say in the Dark.
At the atmospheric Rose Street Theatre in Edinburgh's New Town, we welcome you to a cabaret of queer horror writing headed up by one of Scotland's most exciting and talented writers. A celebration of the darker side of fiction, you won't want to miss this...
We'll start with a showcase of writers presented and MC'd by Kirsty Logan: C.A. Steed, Hidden Ink Child and Katalina Watt.

Followed by a Q&A and reading from Things We Say in the Dark with Kirsty Logan and Heather Parry.
There will be an opportunity for audience questions and a signing will take place after the event. There is a chance to buy Kirsty's books before and after the event starts, and you can select the 'Ticket + Book' option on this Eventbrite page to reserve a copy ahead of time (pick up on the evening).
No complimentary drinks will be served at this event but there is a fully-stocked bar accepting cash and card payments in the same room as this event. We'd encourage attendees to enjoy a drink and support this beautiful, independent venue.
---
About Things We Say in the Dark by Kirsty Logan (Harvill Secker)
So here we go, into the dark.
Some things can't be spoken about in the light of day. But we can visit our fears at night, in the dark. We can turn them over and weigh them in our hands and maybe that will protect us from them. But maybe not.
The characters in this collection find their aspirations for happy homes, happy families and happy memories dissected and imbued with shimmering menace. Alone in a remote house in Iceland a woman is unnerved by her isolation; another can only find respite from the clinging ghost that follows her by submerging herself in an overgrown pool. Couples wrestle with a lack of connection to their children; a schoolgirl becomes obsessed with the female anatomical models in a museum; and a cheery account of child's day out is undercut by chilling footnotes.
These dark tales explore women's fears with electrifying honesty and invention and speak to one another about female bodies, domestic claustrophobia, desire and violence. From a talented writer who has been compared to Angela Carter, Things We Say in the Dark is a powerful contemporary collection of feminist stories, ranging from vicious fairy tales to disturbing horror and tender ghost stories.
About Kirsty Logan
Kirsty Logan is a writer of novels and short stories. Her books are The Gloaming, The Gracekeepers, A Portable Shelter, The Rental Heart & Other Fairytales and now Things We Say in the Dark. She is also developing several film and TV projects, and collaborating with musicians and visual artists on new projects. She is 34 and lives in Glasgow, where she mostly hangs out with her wife Annie and their rescue dog Rosie, reads books, drinks coffee, falls into YouTube pits, listens to podcasts, and dreams of the sea.
Not your average book launch: at this special event, discover three upcoming writers presented by Kirsty Logan...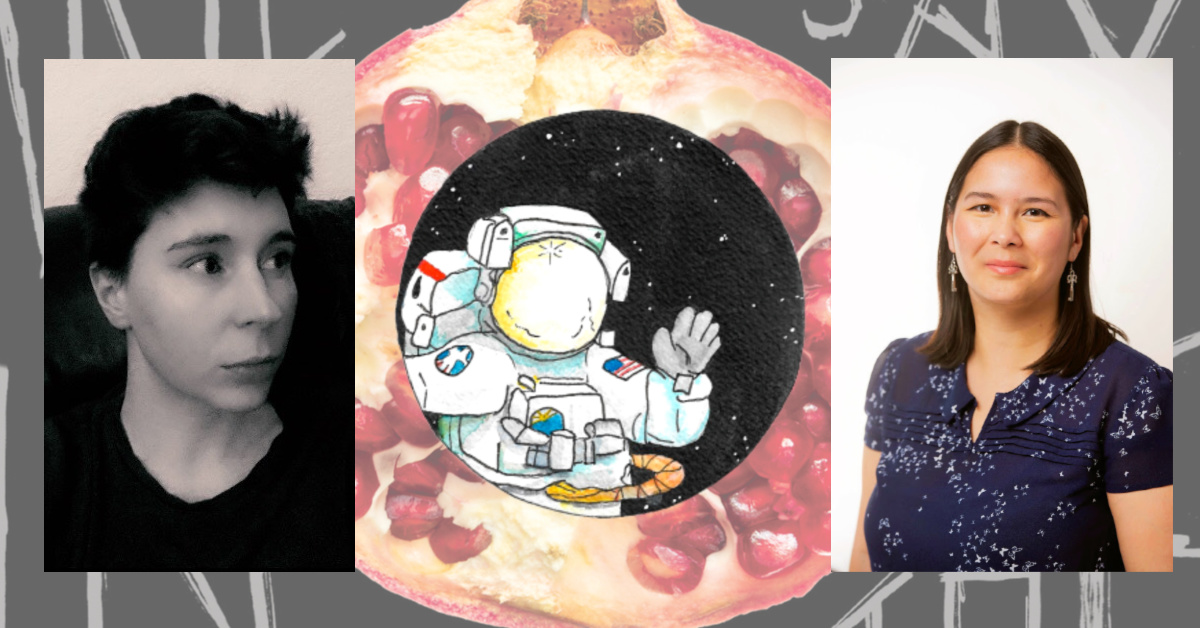 C.A. Steed is a writer from Glasgow, and has been published by New Writing Scotland, Boudicca Press and Barren Magazine. Their work focuses on themes of gender, identity and memory. Find them on Twitter @ZaciDeets.
Hidden Ink Child is a self taught artist, poet, author, photographer and zine maker. They create and have featured in multiple zines & publications, and they have exhibited film, installation and printed work in the "Out of Sight, Out Of Mind" exhibition since 2017. They spend their spare time in public libraries or swimming in the sea.
Katalina Watt studied English Literature at the University of Glasgow, where she completed a creative writing thesis about a time-travelling orgasm. Her fiction received First Prize for Glasgow University's Creative Writing Society Short Story Competition 2014 and an Honourable Mention for IntroComp 2017, and been featured in literary anthology Narissa, for which she is creator and editor, and online for Glasgow Women's Library. She has forthcoming pieces in Haunted Voices and a collaborative pamphlet by Tapsalteerie and the Scottish BAME Writers Network.
---


About the Rose Street Theatre
Accessibility: Please be aware this venue can only be accessed by 40 stairs up.
This event will take place in the Cabaret Bar, the largest and most spectacular performance space at the Rose Street Theatre. Fully refurbished with built in church style pew seating and a stage area of approximately 6m by 6 under a proscenium arch, we'll have this set up like a cabaret you won't forget in a hurry.
The Rose Theatre was founded by esteemed ballet dancer and director Peter Schaufuss. The completed venue will bring four brand-new, mid-scale theatre spaces to Edinburgh's city centre, with its Main Theatre space housing 300 seats. For the Fringe the Gilded Balloon take over the entire building to present an eclectic programme of over 40 productions.
Organiser of THINGS WE SAY IN THE DARK: an evening with Kirsty Logan + special guests