Think Act Vote presents The Future We Choose \\ Pop Up Radical Think Tank a...
Sales Have Ended
Ticket sales have ended
Looking forward to seeing you on the 25th! No need to print your tickets. We will have your names on the door! ?!X
Sales Have Ended
Ticket sales have ended
Looking forward to seeing you on the 25th! No need to print your tickets. We will have your names on the door! ?!X
Description
Join us for an afternoon and night of interesting conversation, live music and surprises to celebrate The Future We Choose - A Collection By Think Act Vote.
The launch event hosted at The Arch Gallery in East London will be in two parts. From 2-6.30pm, we will host a pop-up radical think tank with contributors from the book sharing their ideas on creating the future we choose, along with a futures interview workshop.
Then from 6.30pm, we will have live music from Peter Gregson, Delirium Tremens and Sharliza Jelita plus special guests, a collective book reading, food, drinks, dancing and more.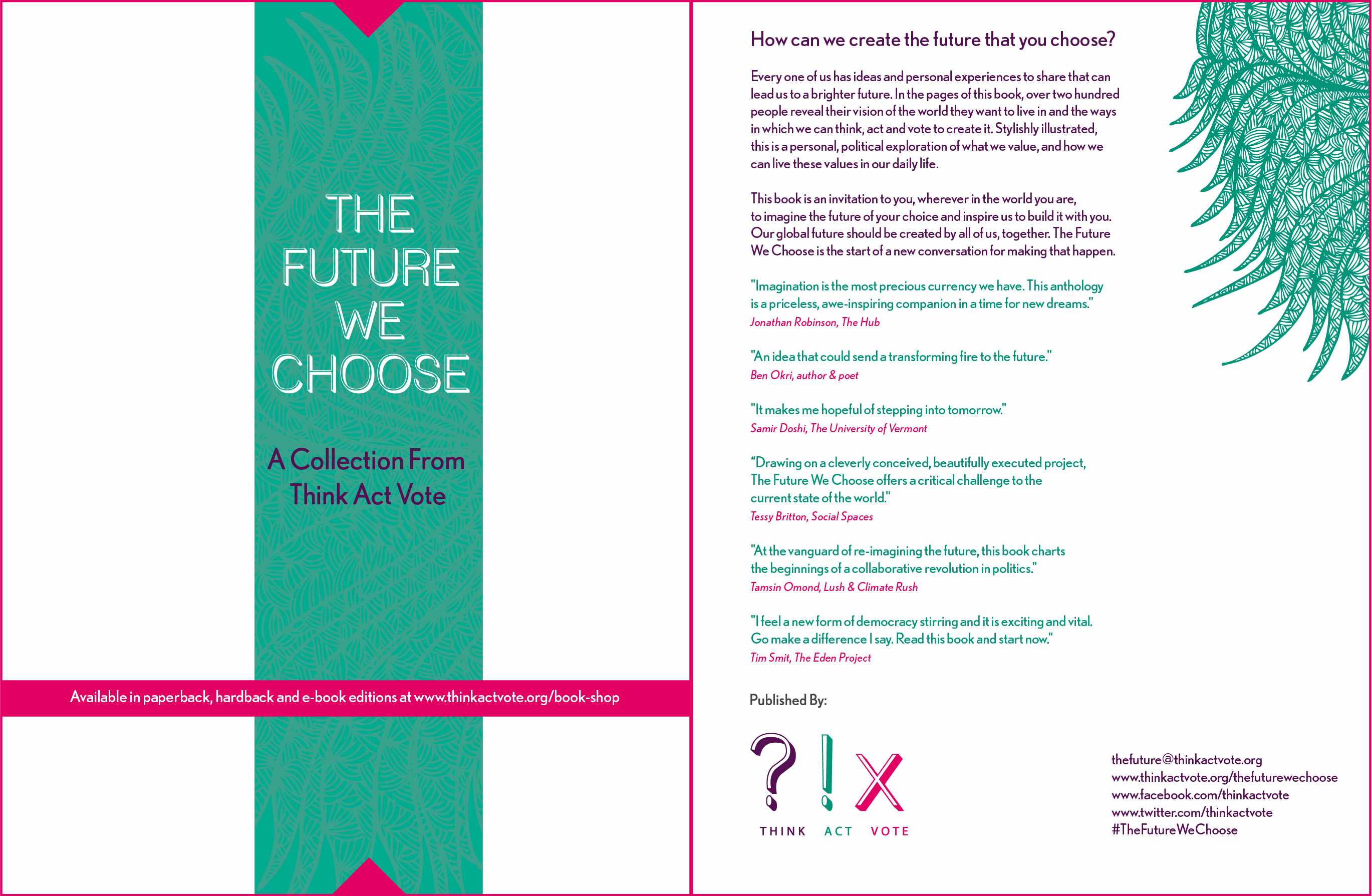 **********************************************************
Pop-Up Radical Think Tank (2-6.30pm)
A workshop, speakers and performance including:
Futures
Ed Gillespie on Green, Not just a Colour.
Co-founder of Futerra communications agency; @frucool
Jonathan Bartley on Inclusion.
Religious commentator and Vice Chair of the Electoral Reform Society; @jon_bartley
Phillipa Young on Restructuring Society.
Writer, filmmaker and producer; @_philippayoung_
Christina Rebel on Empathy.
Researcher in sustainable lifestyles and women empowerment; @chrmoment
Thinks
Melissa Sterry on Solutions Found In Nature
Design scientist and futurist; @melissasterry
Michael Norton on 365 Ways to Change the World
Social entrepreneur and incubator of social change ventures; @Norton_CIVA
Annegret Affolderbach on People
Award-winning fashion entrepreneur; @Choolips
Emily Wilkie on Poetry
Fundraising and Communications Coorinator at Street Kids International; @EsWilkies
Acts
Chris Arnold on Simply Acting
Founder of Creative Orchestra ad agency and author; @ecosuperman
Olivia Sprinkel on Creating One Thing A Day
Communications consultant in sustainability and engagement; @sustainable_
Jessi Baker on Data and Visualisation
Designer and Technologist; @jessibaker
Patrick Hussey on Independent Thought
Digital expert for the arts and business;@PatrickRiot
Votes

Peter Gregson on Defending Your Tastes
Cellist and composer; @petergregson
Paul Hilder on Making Things Right
Social entrepreneur, writer and organiser; @paulhilder
Lucie Barat on Creative Talent
Actress, singer/song writer, poet, author and screen writer; @LucieBarat
Amisha Ghadiali on Rules To Dress By
Writer, sustainable fashion campaigner and very occasional comedian; @amishaghadiali
Plus
Live Music from Spencer Maybe Pearce
Singer, songwriter, burlesque dancer and artist; @spencermaybe
Performance Poetry from Alan Wolfson
The Party (6.30pm til late)

There will be food, drinks, dancing, Dj's and a collective book reading. Activist and Author of our afterword Sam Roddick will be saying a few words. Come and join the fun, and bring your friends. There will be live music:
Cellist and Composer - Peter Gregson
www.petergregson.co.uk

"…at the forefront of the new music scene…" The New Yorker

"…music to our ears" Wired

"…pushing the classical performance envelope…" Classical Music Magazine

"…he has the world at his fingertips…" The Scotsman

Folk Noir Band - DELIRIUM TREMENS
http://www.myspace.com/deliriumtremenssongs
Karis McLarty on Vox/Clarinet; Nick Bovaird on Acoustic Guitars/Vox; Matt Povey on Electric Bass;
AND INTRODUCING THE NEW BREED: Jacob Doran on Electric Guitars; Alexandra Moniz on
Drums and Lee "The Boom" James on Double Bass

"Gypsy Rose Lee meets David Bowie… and breaks his heart." Standon Calling

"Naughty and glamorous" - Immodesty Blaize

"Sensitive. Really unique. I like it a lot". - Mike Figgis

"Folk Noir band Delirium Tremens causing a record company stir playing amazing sets at London's most
debauched parties " Scottish Sun

"True" - Benjamin Zephaniah
Electric Pop Singer - SHARLIZA JELITA
Sharliza does eccentric eclectic pop songs packaged in rainbows and lightning.
"...her first debut album entitled 'Strange Things' best describe what Sharliza's essential individuality is all about... This indeed will be one of the best albums of the year we've heard." - South East Asian Indie
"Absolutely Bonkers, Gaga goes Kraftwork… With her increasingly eccentric live shows and videos, Sharliza could become this year's quirky princess." - BRFM

********************************************************************
Press release, available to download, here.
Follow the event on the day at twitter #TFWC
*******************************************************************
About The Book:
After holding a book preview in Rio, we officially launch the book in London.
The Future We Choose - A Collection from Think Act Vote

How can we create the future that you choose?

Every one of us has ideas and personal experiences to share that can lead us to a brighter future. In the pages of this book, over two hundred people reveal their vision of the world they want to live in and the ways in which we can think, act and vote to create it. Beautifully illustrated, this is a personal, political exploration of what we value, and how we can live these values in our daily life.

This book is an invitation to you, wherever in the world you are, to imagine the future of your choice and inspire us to build it with you. Our global future should be created by all of us, together. The Future We Choose is the start of a new conversation for making that happen.

"It is rare that someone writes a book with passion where the effort is aimed not at knowing the answers but understanding the question...I feel a new form of democracy stirring and it is exciting and vital. Go make a difference I say. Read this book and start now." Tim Smit, The Eden Project

"Imagination is the most precious currency we have. This anthology is a priceless, awe-inspiring companion in a time for new dreams." Jonathan Robinson, Founder of The Hub

'An idea that could send a transforming fire to the future.' Ben Okri, Author & Poet

"At the vanguard of re-imagining how we can participate in creating the future we choose, this book charts the beginnings of a collaborative revolution in politics." Tamsin Omond, Lush and Climate Rush

"What keeps us trapped by the mistakes of the past? Often it is the inability to imagine the world being truly different, a lack of example or inspiration to follow, or simply not believing that we can make a difference. The Future We Choose from Think Act Vote has a cure for each of these ills." Andrew Simms, New Economics Foundation

"Drawing on a cleverly conceived, beautifully executed project, The Future We Choose offers a critical challenge on the current state of politics and the world in general." Tessy Britton, Social Spaces