Location
OmvedGardens
Townsend Yard
London
N6 5JF
United Kingdom
Refund policy
Refunds up to 1 day before event
Eventbrite's fee is nonrefundable.
Authors discuss their books, the trees of OmVed, and how we might think like a forest.
About this event
We are delighted to welcome authors Ben Rawlence, Tom Jeffreys and Ellen Miles to discuss trees, our relationship with them, and how we might think like a forest. The event will be introduced by Where the Leaves Fall magazine and hosted by the artist, architect and researcher Kirsty Badenoch whose work centres around ecological interactions and environmental regeneration. The evening will involve a guided walk around the gardens with a few stops as the writers connect with the trees of OmVed Gardens and present their work, followed by a Q&A and book signing.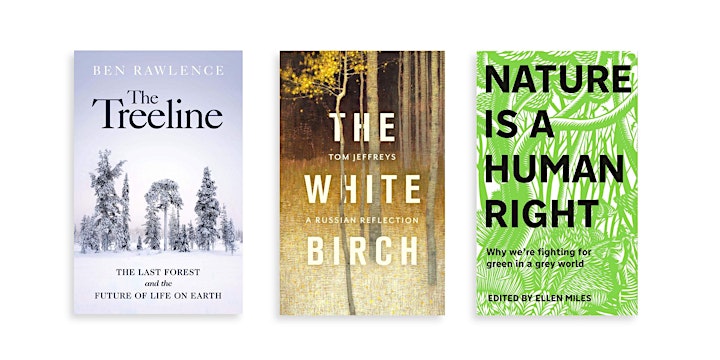 Ben Rawlence is the author of The Treeline: The Last Forest and the Future of Life on Earth
At the treeline, Rawlence witnesses the accelerating impact of climate change and the devastating legacies of colonialism and capitalism. But he also finds reasons for hope. Humans are creatures of the forest; we have always evolved with trees. Ben says: "I went north, to the Arctic circle, to catch a glimpse of the future where the planet is warming fastest: where the trees are on the move more than ever. I was completely unprepared for what I found… Trees offer us a warning but also consolation, and in their generous, creative and social, example they show us a way out of the dead end we have driven down. The Treeline is an invitation to take a walk in the woods and participate in the infinite, mysterious and majestic unfolding algorithm that is the co-evolution of all life on earth.'
Tom Jeffreys is the author of The White Birch: A Russian Reflection
The White Birch is a wide-ranging history of the relationship between Russian art, landscape and identity, through the lens of the white birch, Russia's unofficial national tree. Tom says: "It has been hand-planted by Tsarinas and felled by foresters. It has been celebrated by peasants, worshipped by pagans and painted by artists. It has self-seeded across mountains and rivers and train tracks and right through the ruined modernity of a nuclear fall-out site. And like all symbols, the story of the birch has its share of horrors (white, straight, native, pure: how could it not?). But, maybe in the end, what I'm really in search of is a birch that means nothing: stripped of symbolism, bereft of use-value . . . A birch that is simply a tree in a land that couldn't give a shit."
Ellen Miles is the editor of the book Nature is a Human Right – Why We're Fighting for Green in a Grey World
This book brings together a collection of engaging essays, interviews and exercises, curated by Ellen, from a selection of expert ambassadors and supporters (including authors, scientists, human rights experts, TED speakers, and climate activists). Nature deprivation is a fast-growing epidemic, harming the health and happiness of hundreds of millions of people worldwide - especially vulnerable and marginalized groups. Ellen says: "We now know that green spaces contribute as much to our health and happiness as movement and nutrition. But millions of people today are deprived of access to them. This book is an international, intergenerational manifesto for a future in which access to nature is not a luxury, but a birthright."
Kirsty Badenoch is an artist, architect and researcher.
Engaging with landscape processes across practice and academia, her work centers around ecological interactions and environmental regeneration. She is Associate Director/Head of Research at Periscope and teaches at the Bartlett School of Architecture, UCL. In 2021 she curated the Cartographies of the Imagination festival of drawing at Omved Gardens. Her river works are currently on exhibition at Microscope, Dalston.