Description
Join artist Eleanor Minney, Professor Liz Tunbridge and artist-researcher Michaela Ross for a salon discussion with people involved in the mental health care system. Together we will explore some of the central questions and provocations from the exhibition Switching Perceptions and add our perspectives to the ever growing conceptual space that is the Think Tank.
The Think Tank concept was initiated by participant C.A.S. during workshops on the National Psychosis Unit and Eleanor and Liz understand it as a space in which people come together to have conversations, to share and to listen, contribute or observe, write or speak or draw. We invite a range of people – professors, the public, artists, care professionals, people with lived experience… it is as much about relationships as it is about individuals.
A meeting of minds about the mind.
Please note, places are very limited as the discussion group will be formed of no more than 15 participants.
'Aspectorial Think Tank', C.A.S. 2018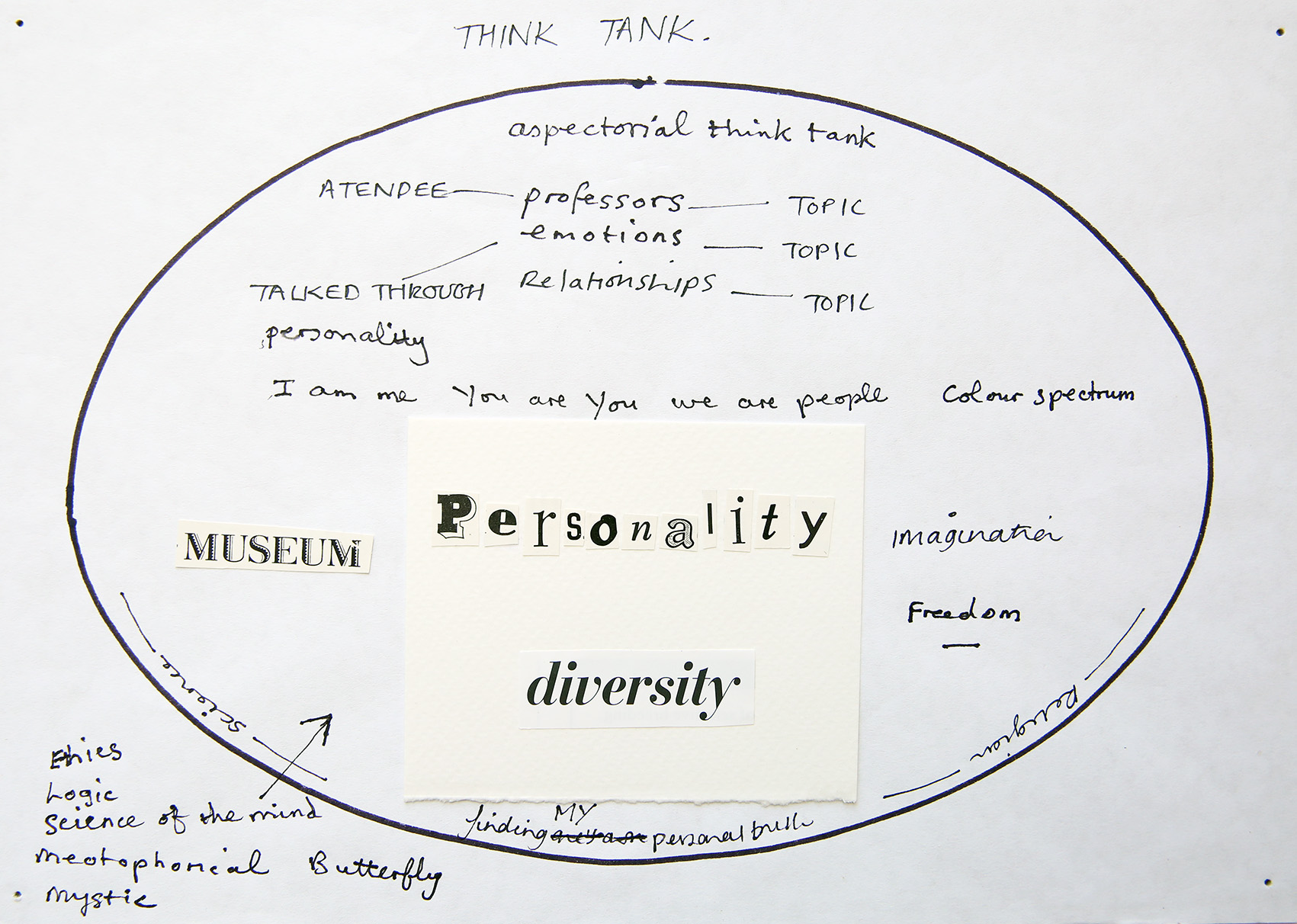 Organiser of Think Tank: A Bethlem Salon
The Bethlem Gallery, established 1997, is situated on the grounds of The Bethlem Royal Hospital.
Managed by a small, artist-led team, the gallery provides a professional space for high-quality artwork and fosters a supportive artist-focused environment.
Exhibitions and events are programmed throughout the year presenting a wide range of mediums and contemporary practice. The gallery is an ideal platform for experimentation, collaboration and skills exchange. Collectively we strive to develop the careers, experience and expertise of the gallery artists by creating opportunities for professional development. Our successful artist-in-residence projects also work with patients and staff on site to improve people's experience of the hospital environment.
The Bethlem Gallery programme includes collaborations with Bethlem Museum of the Mind, artists-in-residence, interdisciplinary research and partnerships with arts organisations across the UK and beyond. We campaign for access to the arts in healthcare environments and engage audiences in learning and debate on the subject of mental health and artistic practice.
The gallery is free and open to all. Donations welcomed
"Pills are ok, counselling is ok and it will get you back on the streets, but what keeps your mind alive is what you learn here. That's what it's about – keeping your spirit alive." – Lee, Bethlem artist.