Event Information
Location
Institute Directors
116 Pall Mall
London
SW1Y 5ED
United Kingdom
Join us to celebrate International Women's Day and make a difference!
About this event
Think Women Networking Event
Institute of Directors, London
Friday 6 March 2020
Sponsored by Mauve
Join the Think Women community to honour aspiring women across diverse industries who are doing great things in their sector or community. Workshop and lunch keynote speaker Vlatka Hlupic.
10.30 am Registration
11am Morning Workshop*
Participate in a fun, friendly and creative workshop. Explore how to support women to progress in international and professional careers. Discuss how inclusion, leadership development and education can promote more opportunities globally for women and girls. Share ideas around closing the gender pay gap, the value of international assignments and family-friendly benefits to support your career. Learn about the charities working with girls and women to help them into education or fulfilling roles where they can flourish.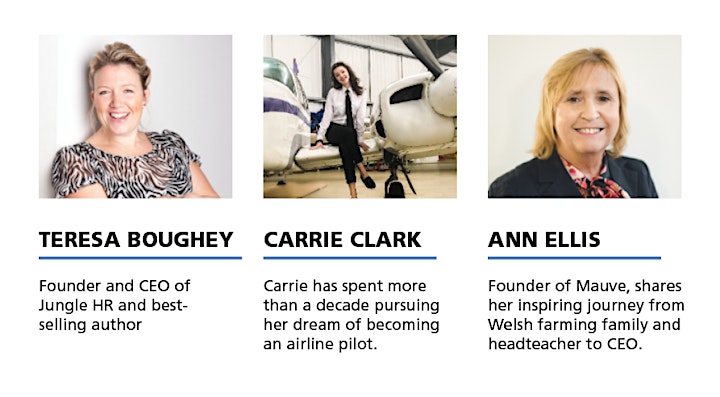 Think Women workshop speakers include:
Teresa Boughey is a fellow of the Chartered Institute of Personnel and Development (CIPD), founder and CEO of Jungle HR and best-selling author of Closing the Gap – 5 Steps to Creating an Inclusive Culture, which has been shortlisted for the Business Book Awards 2020. She is passionate about enabling organisations to create inclusive workplace cultures.
Carrie Clark, @pilotcarrie, has spent more than a decade pursuing her dream of becoming an airline pilot. She aims to make the male-dominated aviation industry more accessible to people from all backgrounds and encourage a more diverse group of young people to become the next generation of pilots – particularly women.
Ann Ellis, founder of Mauve, shares her inspiring journey from Welsh farming family and headteacher to CEO of a global workforce solutions company. She wanted to be an entrepreneur at the age of nine.
Ann was the first and only "back-office" employee of Mauve Group in the very early days, operating from a tiny cupboard-sized office in Teolo, Northern Italy. Today, Mauve Group is an international organisation providing services in more than 150 country locations worldwide.
We welcome women and men to share their stories and experience.
Come away with new ideas, friends and contacts to help make a difference in your organisation and further your career.
12.30pm Networking Reception and Lunch*

Keynote Speaker
We are thrilled to announce that Vlatka Hlupic is, our lunch keynote speaker.
Professor Vlatka Hlupic is an award-winning international thought leader, author of "The Management Shift" and "Humane Capital" books, leading academic and Professor of Leadership and Organizational Transformation at Hult Ashridge Executive Education, management consultant, inspiring speaker, executive coach, CEO and founder of The Management Shift Consulting and Drucker Society London.
Driven by her passion and purpose to make this world a better place, she is creating a global impact with her work, helping thousands of leaders and organisations worldwide to shift to a higher level of performance and profit whilst creating more engaging, purposeful and happier work places that do well by doing good.
She will speak to our Think Women audience about the power of creating positive ripples which can be transformational for women wanting to make a difference in their lives, careers, their organisations and in their communities. Her research driven approach, demonstrates how the few affect the whole, and her engaging talk and understanding of people and business will be inspirational to all. Join us and share your views over lunch.
We welcome women and men to share their stories and experience.
Tickets cost £80 (plus VAT) to include workshop and lunch
* Join us for the full event from 11 am to 2.30 pm, or just for lunch and keynote speaker, Vlatka Hlupic, at 12.30 pm if that suits you better. The price is the same for joining both sessions or just the lunch.
Call: +44 (0)1892 891334 for further details or to find out about sponsorship opportunities.
Email: events@relocatemagazine.com
Similar Think Women events will be held in March 2020 in EMEA, APAC and the Americas. Contract us to find out what is happening in your area.
Read more: Think Women: encouraging a workforce where women thrive
Get inspired: Find out what happened in 2019
Visit the Relocate Global website for more information
Think Women is a global community initiative from Relocate Global designed to support women in professional careers working in an international environment.
Watch Teresa Boughey speaking at our 2019 Festival of Global People:
Date and time
Location
Institute Directors
116 Pall Mall
London
SW1Y 5ED
United Kingdom