Description
Visit thinkforward.leasingfoundation.org for more details on speakers and the agenda for the day.
This year's Leasing Foundation Annual Conference is THINK/FORWARD.
It focuses on the changing landscape of asset finance and four connected themes
- understanding customers
- the agile organisation
- changing the culture of asset finance; and
- technology and change
The format for THINK/FORWARD is short talks and panel discussions on focused topics. Experienced and informed panel chairs and speakers will focus on both the big picture and the real detail. Speakers and panellists will provide not only thought-leadership, but practical, actionable examples that you can take back to your business.
Come prepared to engage in vibrant discussion and open debate on challenging ideas about the future of the industry.
OPENING SESSION/THINKING FORWARD ABOUT OUR INDUSTRY
Panel chair: Ian Isaac/Lombard. It's clear to everyone - and especially those entering our industry - that we are in a period of profound change. Organisational structures and culture, technology and ways of thinking are changing, and need to change. The Leasing Foundation, along with other industry bodies, should both serve the industry and promote new thinking to drive change. What you will take away: the way that collaboration really can work, the key challanges, and how industry organisations can help collaborate to promote success.
WHAT DO CUSTOMERS WANT?
Panel chair: Peter Thomas/The Leasing Foundation. Modern asset finance organisations need to understand what customers really want or face being left behind by new, forward-thinking competitors. What you will take away: what really works in understanding and designing the customer experience, with industry-leading examples of successful products and services.
THE AGILE ORGANISATION
Panel chair: Andrew Denton/Alfa plc. Modern organisations have to be agile, fast-moving and unafraid to experiment. What you will take away: real examples of how organisations can become agile and responsive based on examples from across the asset finance industry.
CHANGING THE CULTURE OF ASSET FINANCE
Panel chair: Sharon Butler/Ricoh Europe. The biggest barrier to change is not technology, or outdated processes but culture - a problem faced by leaders every day. What you will take away: insights into how the industry is changing, from those who are the future of the industry and how you can adapt to that change.
TECHNOLOGY AND CHANGE
Panel chair: Gary Amos/Siemens Financial Services. The digital revolution isn't a revolution any more - its business as usual. But the real value, and the real costs, of new technologies have been hard to assess in the asset finance industry. What you will take away: an understanding of the challenges, benefits and costs of new technologies and how the future will unfold.
CLOSING SESSION/CHALLENGES FOR THE INDUSTRY
Join an interactive discussion with Peter Thomas/The Leasing Foundation about some of the biggest challenges the asset finance industry faces - education and training, talent pipelines, professionalism, diversity and leadership in asset finance.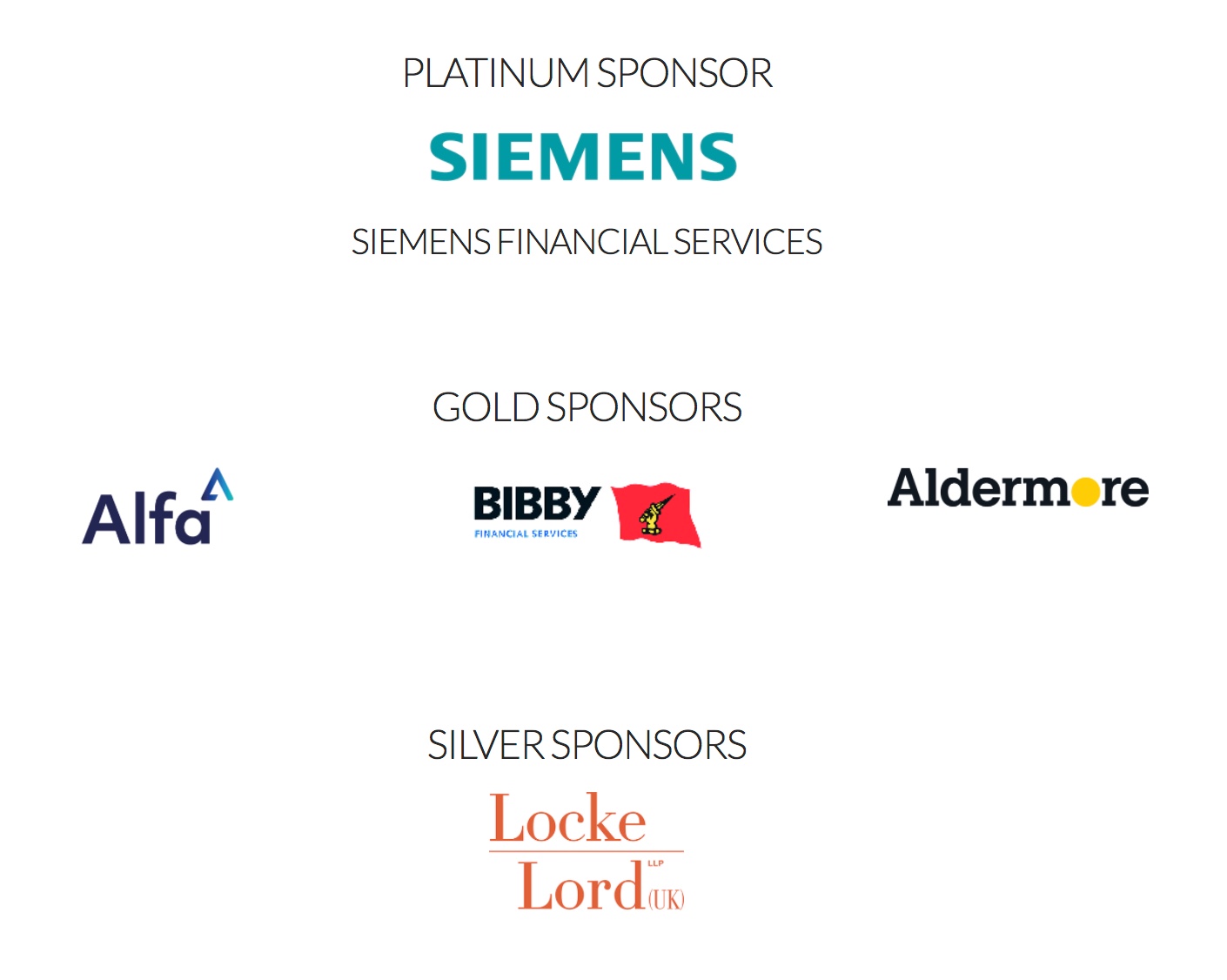 ---
AGENDA (09.45-16.45)
09.45-10.30 Arrival and coffee
10.30-10.45 WELCOME AND AIMS FOR THE DAY
Jonathan Andrew (Siemens Financial Services) and Peter Thomas (The Leasing Foundation)
10.45-11.30 THINKING FORWARD ABOUT OUR INDUSTRY
Chair: Ian Isaac (RBS)
Panellists: Stephen Sklaroff (FLA) and Carol Roberts (The Leasing Foundation)
11.30-12.15 WHAT DO CUSTOMERS WANT?
Chair: Peter Thomas (The Leasing Foundation)
Panellists: Peter Alderson (LDF), Andrew Denton (Alfa plc) and James Lovett (Funding Circle)
12.15-13.00 THE AGILE ORGANISATION
Chair: Andrew Denton (Alfa plc)
Panellists: Emma Thomas (Siemens Financial Services) and Tom Brewin (Scania Finance)
13.00-13.45 LUNCH - sponsored by LOCKE LORD
Poster presentations by the MA Leasing and Asset Finance students from LDF, Aldermore, Academy Leasing, Halo Corporate Finance, VIP Apps Consulting, and Scania Finance
13.45-14.30 CHANGING THE CULTURE OF ASSET FINANCE
Chair: Sharon Butler (Ricoh Europe)
Panellists: Paul Slapa (Wesleyan), Matthew Williams (Close Brothers) and Chris Watts (CAT Financial)
14.30-15.15 TECHNOLOGY AND CHANGE
Chair: Gary Amos (Siemens Financial Services)
Panellists: William Lorenz (Kwanji/1pm), Sach Gajree (Siemens Financial Services), Ian Smith (1pm plc) and Max Mortimer (InFund Technologies)
15.15-15.45 Coffee
15.45-16.30 GUEST SPEAKER - sponsored by ALDERMORE
Patrick Jelly (Aldermore) talks with Jamie Chadwick, the first ever female and youngest winner of the British GT Championship
16.30-16.45 CHALLENGES FOR THE INDUSTRY
Peter Thomas (The Leasing Foundation)
16.45 CLOSE AND DRINKS - sponsored by BIBBY FINANCIAL SERVICES
18.30 Depart