Thinking Together: Adult Social Care Research and Practice in Kent
Join us for a networking event to discuss priority areas for adult social care in Kent to improve the well-being of Kent communities.
About this event
The event
The Kent Adult Social Care Partnership (KASCP), the Applied Research Collaboration Kent Surrey Sussex (ARC KSS) and partners are organising a networking event to bring together adult social care partners, including social work and social care practitioners, people we support and carers, carer organisations and other health and social care professionals. The event provides an opportunity to share ideas and to think innovatively about what is important for adult social care in Kent to improve the well-being of its communities.
Kent Adult Social Care Partnership (KASCP)
The KASCP project starts June 2021 and will run for 4 years. It is funded by National Institute for Health Research (NIHR). It is one of six national social care capacity building partnerships and will contribute to the substantially growing national attention to issues around social care. Working as a partnership across social care, with the social care sector and people supported by Adult Social Care the project aims to build capacity in order to do more research, learn from research and apply into practice to improve outcomes for people. Key areas of the project include:
- implement effective partnership working and co-production of research ideas within adult social care;
- support with identifying strategic research priorities across adult social care, including knowledge and training gaps for social care staff;
- build research capacity and develop a positive culture of research in practice across the adult social care workforce through a community of practice approach;
- pilot a 'Researcher in Residence' model and evaluate its relevance and sustainability in adult social care;
- develop the evidence base around locally-relevant, co-produced social care interventions;
- develop sustainable and effective models of knowledge sharing and co-production and share this with others locally, regionally and nationally.
Applied Research Collaboration Kent Surrey Sussex (ARC KSS)
Funded by the National Institute of Health Research, ARC KSS is a collaboration of a number of member organisations across the region. The aim of the ARC is to carry out research that is informed by the needs and priorities of local populations and local health and social care systems, bringing together the public, practitioners, commissioners, providers, and academia to support evaluation and implementation, and to encourage evidence-based practice.
In the Social Care theme of ARC KSS, we are organising a series of virtual focus groups with professionals working in the adult social care sector. The aim is to identify views and experiences of current and potential innovation activities in adult social care. We are interested in hearing how developed these ideas and activities are in terms of progress, evaluation and/or implementation, which will help determine the priority areas for research support.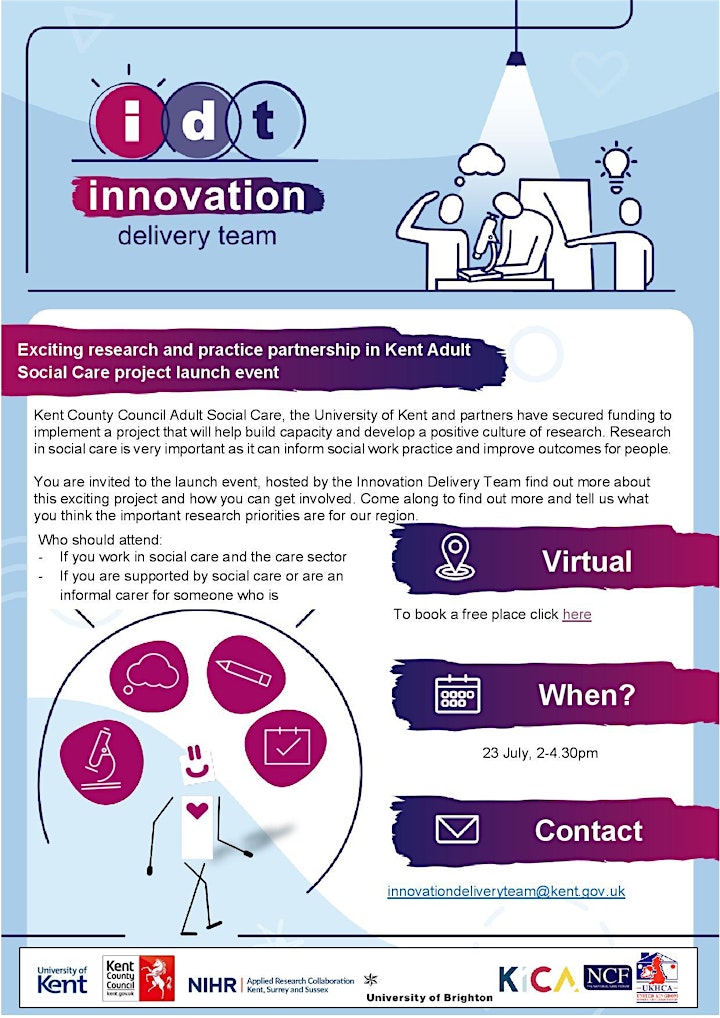 Organiser of Thinking Together: Adult Social Care Research and Practice in Kent