Thinking Touch Book Launch
Launch and gathering for the new book: Thinking Touch in Partnering and Contact Improvisation: Philosophy, Pedagogy, Practice.
About this Event
This online event will feature talks, sharing of movement and performance work, and practical activities from key artists and pedagogues in the field of contact improvisation, partnering dance, and somatic practices.
Malaika Sarco-Thomas Welcome
Jess Curtis The Way You Look (at me) Tonight - sharing of work, Q&A.
Lucia Walker Conscious Inhibition in Alexander Technique and Improvisation - talk and practical movement activity, Q&A.
Raffaele Rufo What can be learned about touch in partnering when touching other humans is forbidden to avoid the risk of contagion? - talk, video, and practice-led exploration asking how the specificity of a tango duet might enable us to connect with non-human elements such as a chair, and what this kind of focus can do to our experience of embodiment and perception. Q&A.
Ilya Vidrin Normative Ethics in Partnering - lecture demonstration and Q&A. As moving bodies are capable of harming and being harmed, partnering seems to fall squarely in the domain of ethics. But how are concepts like trust, responsibility, care, and generosity accounted for normatively? Is it our responsibility to trust each other? It is our duty to avoid harm? In this short lecture/demonstration, Dr Ilya Vidrin will discuss the significance of ethics in partnering through the lens of normative epistemology.
Biliana Vassileva Thinking Touch in Gaga Particles - talk and moving activity, including 1) comments about the post-pandemic crisis of physical touch in the arts/dance, and 2) a demonstration of how in Gaga skin can touch air, light, and more. Q&A.
Nita Little Attentional Touch - talk and practical activity, Q&A.
Malaika Sarco-Thomas Discussion and Closing Remarks
Event time: 2 hrs
Thinking Touch in Partnering and Contact Improvisation: Philosophy, Pedagogy, Practice is available for sale through Cambridge Scholars and as an eBook through Google Play.
Contents:
Touch: How does it Think? What does it do? by Malaika Sarco-Thomas
Part 1: Choreographies of Touch
The Way You Look (at me) Tonight: Touch Tours, Haptic Practices, and Sensory Strategies, by Jess Curtis
Touch Improvisations in Gaga, by Biliana Vassileva
Thinking Touch in Choreography: an Artist Dialogue, with Scott Wells and Charlie Morrissey
Part 2: Studies of Touch
Empirical Research in an Embodied Practice: Can the Study of Partnering Touch, Touch on Something New? by Corinne Jola
Contact Improvisation and the Health Sciences: Mapping the Terrain, by Malaika Sarco-Thomas and Rebecca Zammit
Facilitating Thinking-Touch through Process Philosophy and Contact Improvisation, by Dorte Bjerre Jensen
Touch in Tango as a Form of Contagion, by Raffaele Rufo
Part 3: Pedagogies of Touch
Touch and Other Senses in Teaching and Learning Contact Improvisation, by María Paz Brozas Polo
To Dwell in Possibility, by Lucia Walker
Sensing and Making Sense of Touch within Movement Pedagogies for Theatre and Performance, by Vanio Papadelli
Part 4: Philosophies of Touch
Of Honey and Waxwood: Encountering Inter-Animacy through Phenomenology, by Brandon Calleja Shaw
Of the animal body: transforming the notion of disability through different readings of touch, prosthetic devices, and contact improvisation, by Carolien Hermans
Embodied Ethics: the Conditions and Norms of Communication in Partnering, by Ilya Vidrin
Articulating Presence: Attention is Tactile, by Nita Little and Joseph Dumit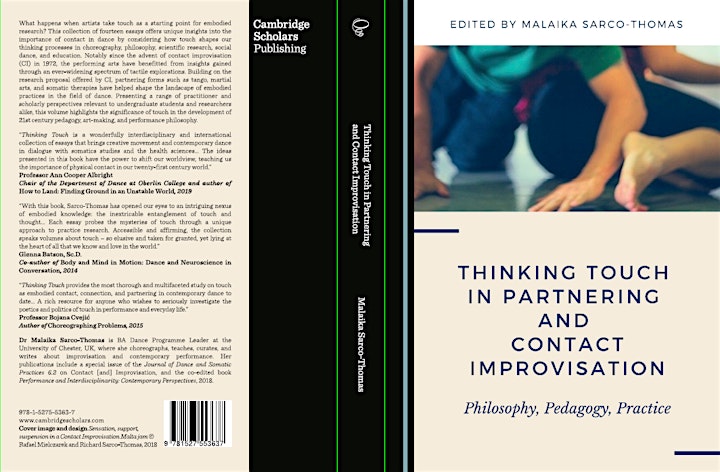 Those who sign up for the event will receive an invitation to meet via Microsoft Teams, with a link. Places are limited, so early registration is advised.