Description
Thinking without a brain
- how plants decide what to do
IMI Public Lecture, University of Bath
Speaker: Professor Ottoline Leyser, University of Cambridge
Time: 3.15 - 4.05pm


ABSTRACT
It is easy to assume that plants don't do much, however, they are in fact some of the most flexible organisms on the planet.
Plants constantly assess their surroundings such as light quality, nutrient availability, windiness etc. and adjust their growth and development accordingly.
Rooted to the ground, plants have to be able to survive herbivory, which means they have no unique parts, and therefore no central information processing system (no brain). As a result, they have to make decisions in a more distributed way.
In this talk, Professor Ottoline Leyser will explore how plants make these developmental decisions without a brain. This kind of self-organising system can be difficult to understand without maths.
Professor Ottoline Leyser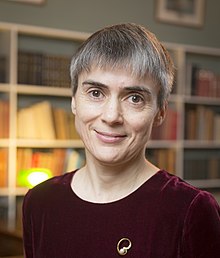 Dame Ottoline Leyser is Professor of Plant Development at the University of Cambridge and Director of the Sainsbury Laboratory, which aims to build an integrated understanding of plant growth and development.
Amongst the life-sciences community, she is perhaps most well-known for her identification of the auxin receptor and her world-leading role in promoting Arabidopsis to be the prominent model organism it is now.
Ottoline is a Fellow of the Royal Society, a Foreign Associate of the US National Academy of Sciences and a member of the European Molecular Biology Organisation and the Leopoldina. She is Chair of the British Society for Developmental Biology, and of the Royal Society's Science Policy Expert Advisory Committee, and serves on the Council for Science and Technology.
Over the years, Professor Leyser has received an impressive number of awards and honours, which include the UK Genetics Society Medal (2016) and the EMBO Women in Science Award (2017). She was appointed a Dame Commander of the Order of the British Empire (DBE) in 2017 for services to plant science, science in society and equality and diversity in science.

This IMI Public Lecture is FREE to attend and open to all with a ticket.
For further information, please email s.terry@bath.ac.uk.