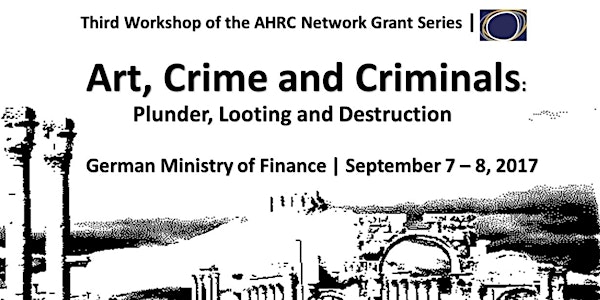 Third AHRC Workshop | Art, Crime and Criminals: Painting Fresh Pictures of...
Location
Federal Ministry of Finance
Wilhelmstr. 97
10117 Berlin
Germany
Description
Third Workshop of the AHRC Network Grant Series on:

Art, Crime and Criminals: Painting Fresh Pictures of Art Theft, Fraud and Plunder
Organised by Professor Duncan Chappell, Dr Saskia Hufnagel and Ms Marissa Marjos.
Dr. Saskia Hufnagel and Prof Duncan Chappell have been awarded funding by the Arts & Humanities Research Council to put together a workshop series on Art Crime. We would like to invite you to attend the third and upcoming workshop on September 7-8 2017 being held at German Ministry of Finance in Berlin.
The third and final workshop to be conducted in Berlin in collaboration with the German Government is intended to highlight the major problems confronting numbers of countries around the globe with the protection of their cultural patrimony from plunder, looting and destruction. It is a sad reality of the contemporary international art scene that especially in areas of ongoing armed conflict in the Middle East and elsewhere cultural heritage objects are being systematically looted or destroyed for ideological purposes. Many such objects are finding their way onto the international art market. Some of the questions to be considered in the Berlin workshop will be:
What is the prevalence of this type of crime?
Who are the principal participants?
What are the economic drivers of this activity?
How is this form of art crime related to organised crime, money-laundering and the funding of terrorism?
How does corruption facilitate the trade in looted antiquities?
What are the risks involved in researching antiquities looting and can they be mitigated?
Which agencies are best placed to interdict trafficking?
What are the principle barriers that exist to recovery and repatriation of looted and stolen objects?
What is the most suitable mix of punishment and dissuasion to deter looting behaviours?
What existing public education models to change attitudes towards looting might be adopted?
The aim of the workshop series is to encourage interdisciplinary research, cross-jurisdictional sharing of knowledge and exchange of ideas between academics, practitioners and policy makers. Practitioners will be invited from various backgrounds, such as, police, customs, museums, archaeologists, galleries, auction houses, dealerships, etc.
The proposed network not only aims at bringing the different players together, but also establishes a communication platform that will ensure their engagement beyond the three workshops.
---
Confirmed speakers so far include:
Thursday 7 September, 2017
Protecting Cultural Heritage – Agencies' perspectives
Samer Abdel Ghafour (UNESCO)
Francoise Bertolotti (Interpol)
Mariya Polner (WCO)
Looting and the Grey Market – Legal Perspectives
Claudia von Selle (Zschunke Law Firm Berlin/Paris)
Patty Gerstenblith (DePaul University, Chicago)
Robert Kugler (Höly, Rauch & Partner Law Firm Berlin)
Terrorism, Iconoclasm and Related Trafficking
Lynda Albertson (ARCA)
Donna Yates (University of Glasgow)
Sam Hardy (American University of Rome)
The Special Problem of Human Remains Trafficking and Desecration
Duncan Chappell (University of Sydney)

Damien Huffer (Stockholm University)
Friday 8 September, 2017
Protecting Cultural Heritage I
Stefano Alessandrini (Consultant to the Avvocatura dello Stato, Italy and the Ministero per i Beni Culturali e Ambientali – Rome)
Laurie Rush (US Army, Fort Drum and Blue Shield)
Joris Kila (University of Vienna)
Protecting Cultural Heritage II
Lt. Col. Antonio Coppola (Commander of the Operational Department TPC, Carabinieri)

Valerie Higgins (American University of Rome)
Regional Case Studies
Stefan Gruber (Kyoto University)
Helen Walasek (Independent researcher, London)
Ulla Tervahauta (University of Copenhagen)
Regional Case Studies
Michaela Boland (Journalist, The Australian)
Vicki Oliveri (James Cook University)
Ken Polk (University of Melbourne)
---
Presentations from the first two workshops can be found on the Queen Mary University website via the link below.

http://www.law.qmul.ac.uk/research/funded/art-crime-and-criminals/