Description



The Paralympics show that disability is more about ability, how about putting that into an employment context?
We are delighted to have Channel 4 speaking at This-Ability as part of their Year of Disability. This year Channel 4 launched their 360° Diversity Charter, on 7th October at This-Ability they will discuss the incredibly beneficial impact this has had on the Channel.
Minister for Disabled People Justin Tomlinson MP said:
"Channel 4 programming has set the standard for disabled representation both on and off screen. By partnering with charities to raise awareness of specific issues and presenting believable disabled characters they have made a real difference. The ambitious goals in the 360 Degree Charter Report will enable them to build on this fantastic work'.
Is your business ready to follow in the footsteps of Channel 4? Are you prepared to embrace disability to access the vast amount of ability that is too often left untapped?
"One in five of us has a disability and although the employment rates for disabled people have increased gradually over the years, we know that all too often their talents are left untapped. Research shows that more disabled jobseekers cite employers' attitudes as a bigger barrier to work than transport, which is why we are working hard to support employers to become more confident about hiring disabled people. There are significant benefits to be had by employing someone with a disability. Research shows they can help increase the number of Britain's 12m disabled customers who use a business or service, and they tend to stay in their job for longer. Disability Confident is part of the Government's long-term economic plan to increase employment rates among disabled people. One in five of us have a disability — by providing employment and accessible services, businesses can tap into the £80bn potential spending power of disabled people." Mark Harper MP
Are you aware of the wealth of support that is available your business and workforce?
This Ability will bring together local initiatives such as Talent Match Humber on behalf of Humber Learning Consortium, PADD, Mencap, Hull JCP Disability Confident, NHS Learning Disability Pledge,The Humber Skills Pledge and Acess to Work to streamline accessibliy for employers in Hull and the East Riding.
This Ability will debunk those myths, allay those fears, ask 'those' questions..hang on....can we say that??
The event will give employers a unique opportunity to anonymously ask 'those' questions in a safe environment during a Q&A Panel hosted by Hull's Alan Johnson MP. All you need is to book on and bring your smart phone.


The event will be opened by the fabulouse Norris and Parker. If you missed them at Humber Business Week, heres another chance to catch them! Certainly one not to be missed!
www.norrisandparker.co.uk
We are looking forward to seeing you there.
Funded and co-produced by Talent Match Humber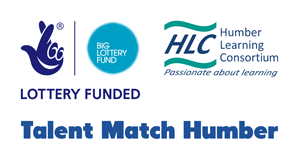 Created in partnership with