Description
This is Change is a first-of-its-kind event that will bring together leaders from across the construction industry to share best practice, innovation and thought leadership. Through a series of short, sharp talks, attendees will see what is great about the industry and that there truly are some amazing things happening every single day on our sites, in our depots and around our offices. The talks will be filmed, edited and shared for the whole industry to see.
This is Change is an event created to highlight what is great about the construction industry by celebrating the incredible things we do on a day-to-day basis and the inspiring people that make it all possible. Those that attend and view the content will be provided with an industry-leading insight into the lives of those leading and driving change across the industry. From sharing challenges, to giving inspiring accounts of success, to providing thought leadership as to where the industry could be.
This is Change will leave people feeling inspired and empowered with a renewed outlook on the construction industry in these times of change.
We need leadership to celebrate the construction industry and show the World what needs to change to ensure that this is an industry fit for the future. At the centre of so much change and negative sentiment towards the construction industry, we need to rethink the way that we do things. For too long we have accepted what is in the press. We have accepted that we are an undesirable industry. We accept that all we are is late delivery, with poor quality and consistently over budget.
This is Change is an event that aims to transform all of this.
---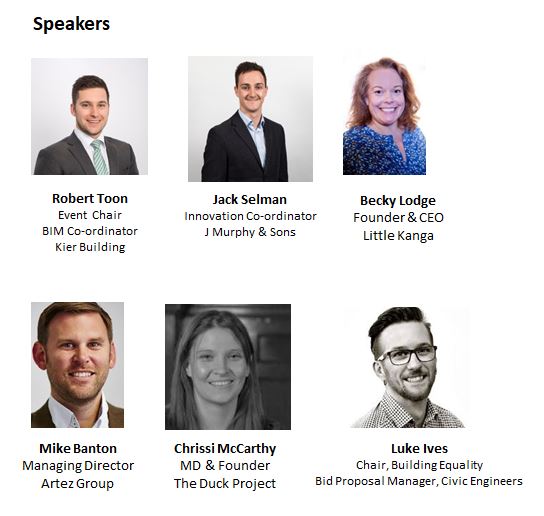 ---
The talks on the evening will be inspiring and wide ranging from a group of excellent speakers that have touched all corners of the industry. The talks will cover topics such as innovation in construction, the difficulties of driving change, inspirational messages of entrepreneurship and driving diversity within the industry. The talks will be sharp and honest and provide those who attend a real insight into leadership within the industry whilst the Q&A at the end of the event will allow people to share their voice on what will be a transformational evening for the industry.
With support from organisations and businesses from across the construction industry, the event is designed to celebrate the great things that are happening within the industry whilst shining a spotlight on those areas we must change in order to survive
We look forward to seeing you on September 25th.
For more information and additional questions, please email hello@thisischange.co.uk
Photography and filming will be taken during this event for information, marketing and promotional activities of This is Change. This may include the website, social media platforms, direct mail, e-shots, posters and online advertising. If you do not wish to appear in the photographs or films then please let the event organisers know.