Description
A group bike ride as part of the #ThisBrumGirlCan campaign.
What is This Girl Can?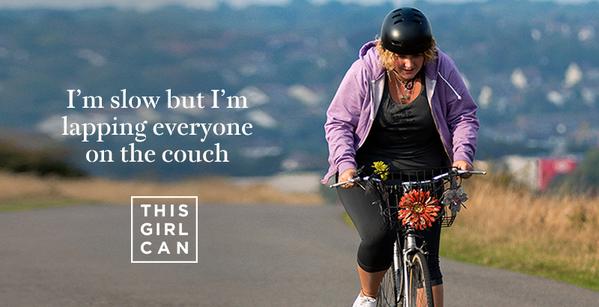 This Girl Can is a celebration of the active women everywhere who are doing their thing no matter how they do it, how they look or even how sweaty they get.
It is a national campaign developed by Sport England and a wide range of partnership organisations to inspire more women and girls to become active, and conquer fear of judgement as the primary barrier.
The campaign in the first half of 2015 is a launch pad to something much bigger, broader and longer, with the 'This Girl Can' message across the country hoping to create a lasting behavioural change and impact in local communities. www.thisgirlcan.co.uk
In Birmingham, the City Council and Sport Birmingham will be planning to maximise the impact of the national campaign that officially launched on 12th January 2015.
A series of events will be organised on, and around International Women's Day, culminating in a big party across the whole of the city to coincide with International Women's day. The aim will be to reach into the communities of Birmingham and get women and girls taking part in fun activities that improve their lives.
#ThisBrumGirlCan will be:
City-wide and local

FREE to all participants

Reflective of the many diverse communities - particularly the women in those diverse communities

Above all, activities will be FUN!

This ride will also celebrate International Women's Day by commemorating local Suffragette hero Julia Varley. On the ride we will pass Julia's former home, marked by a blue plaque. The ride will end with a short talk on the Suffragettes in Birmingham by local historian Louise Deakin (below), and a bring and share lunch at Northfield Ecocentre.

Starting at Victoria Common in Northfield, the ride will proceed along off-road routes to Bournville, where there is a short section of road. We will then return to Northfield for a bring and share lunch at Northfield Ecocentre (food can be stored at the Ecocentre at the beginning of the ride). All are welcome on the ride.

Booking is essential on all our rides for health and safety purposes. On all of our group rides, the pace will be gentle, we will go at the pace of the slowest rider and participants are free to stop for a rest if they need to.
Can I borrow a bike?
We have a limited number of bikes and trailers for hire. Bikes must be booked in advance and arrangements made to pick them up made in advance. Bikes can be collected on the day if they are booked in advance, except for early morning rides where bikes cannot be collected on the morning of the ride. Bikes are subject to availability. If you are interested in bike hire please complete a bike hire enquiry form.
Helmets
We politely request that children attending group rides wear a helmet. We have a small number of helmets for hire for these events only, subject to availability. If your child does not have a helmet and you would like to borrow one for the ride you are attending, please complete a helmet hire enquiry form. We also recommend that adults wear a helmet although we are unable to provide them.
Please note that #ThisBrumGirlCan merchandise is subject to availability and is only available to people who attend the ride.